What have we learned about Theresa May from her first Cabinet?
The new Prime Minister has appointed an older, less posh and more female team than her predecessor, with a 'ring of Brexit steel' to protect her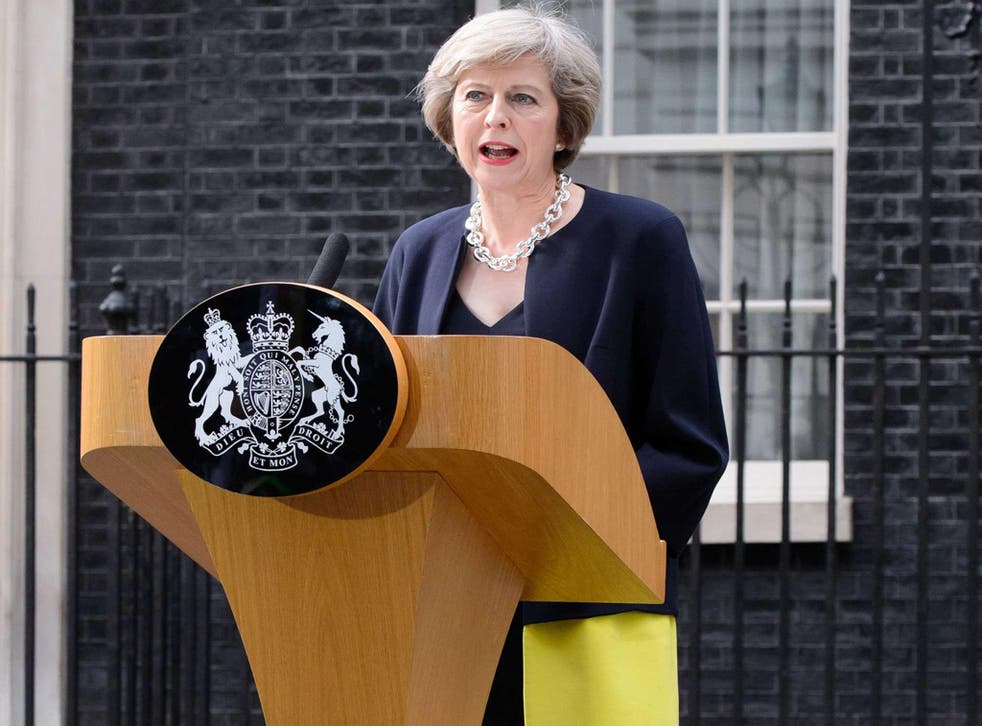 In the end, Theresa May made a bigger re-ordering of the Cabinet than Gordon Brown did when he took over from Tony Blair in 2007. Brown brought in five new ministers, May appointed nine. In part this was because her administration had to reflect a fundamental change in the Government's direction, not from one party to another, but from supporters of Britain's membership of the European Union to opponents of it.
In fact, the number of Leavers in the Cabinet only rose from five to seven, but May surrounded herself with a ring of Brexit steel at a high level, with the Foreign Office, International Trade and Brexit negotiations themselves all in the hands of Outers.
That means that May has protected herself from accusations that she – as a Remainer – will sell out the mandate of the referendum. She has adopted what is called the Pottery Barn principle, after the rule in the American retail chain, telling the Brexiteers: "You break it, you own it."
Boris Johnson's appointment was the biggest surprise of the new Cabinet, but it makes sense to give him, still the most popular politician in Britain, a senior post. May managed to complete two important Venn diagrams by giving one of the "great offices of state" (Prime Minister, Chancellor, Home Secretary and Foreign Secretary) to a Brexiteer, and by ensuring that half of the great offices of state are held by women for the first time.
The Cabinet as a whole is slightly older, slightly less posh (the number of Etonians has halved from two – David Cameron and Oliver Letwin – to one, Johnson) and slightly more female than it was under David Cameron. There are now eight women in the Cabinet, up from seven, and matching the previous record under Tony Blair in 2006-07.
In a way it was a defensive reshuffle, building ramparts against the Brexiteers and dismantling what was left of George Osborne's empire.
The biggest surprise on Thursday was the reappointment of Jeremy Hunt as Health Secretary. He appeared not to expect it himself, having taken off his NHS badge on his way into 10 Downing Street, and put it back on when he came out again.
Hunt was halfway to solving the junior doctors' dispute. He had reached agreement with the British Medical Association, but the revised contract was still rejected by the doctors themselves. He intends to impose the contract on them anyway, but it would have been better to persuade doctors to accept the new terms, and it might have been possible for a new Secretary of State to do so. Hunt has become such a hate figure for doctors that the dispute is now likely to drag on indefinitely, which cannot be good for the NHS.
So he survives, against all odds, for the second time in his career. He held on as Culture Secretary in 2012 despite having appeared to favour Rupert Murdoch's failed bid to gain complete control of Sky TV.
The new Cabinet leaves only four posts unchanged – Hunt, Michael Fallon at Defence and David Mundell and Alun Cairns at Scotland and Wales. Which makes it, I think, the biggest reshuffle ever for a Cabinet of the same party. She let nine Cabinet ministers go (although Patrick McLoughlin will still attend Cabinet as Conservative Party Chairman); Harold Macmillan sacked only seven in 1962.
That gives May a huge opportunity to present her Government as a fresh start, just a year after a general election. Her reputation for boring, discreet competence will be enhanced by the speed of the appointments, completing the whole Cabinet in less than 24 hours, by surprising the media, and yet by generally giving the impression of fitting round pegs in round holes.
Yet there are enough slightly square-ish appointments in a generally smooth and impressive operation to cause her problems in future. A prime minister is never so powerful as when making cabinets, and a new prime minister is the most powerful of all.
From now on, it is all downhill.
Join our new commenting forum
Join thought-provoking conversations, follow other Independent readers and see their replies