It's strange that Theresa May is so against safe spaces when her Cabinet is the ultimate safe space for rich white men
Justine Greening is the only openly gay cabinet minister, but it's a surprise that they haven't no-platformed her, lest she offend the identities of straight-lads-at-large such as Chris Grayling who won the Stonewall 'Bigot of the Year' award for saying that B&B owners should be able to turn away gay couples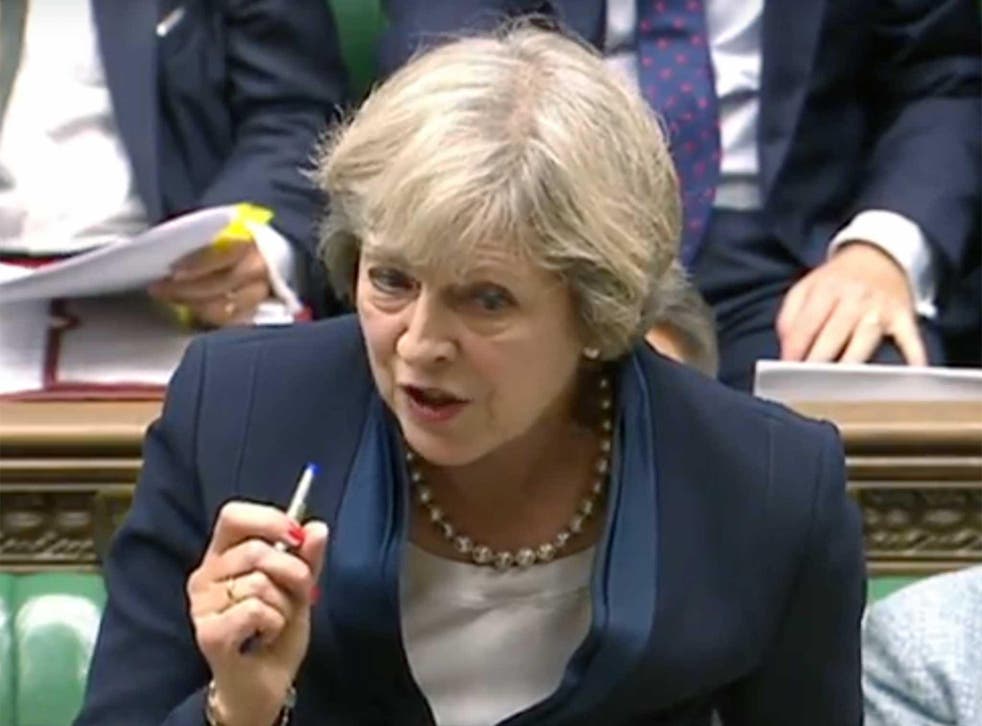 It's little wonder that Theresa May took umbrage to a question about safe spaces at Prime Minister's Question Time this week. The PM was, after all, the returning officer for the Oxford Union, while her husband, Philip John May, was president.
Her alumnus heart must ache watching her former debating society fall victim to the scourge of the safe space. At the beginning of this year, for example, an Oxford Union debate voted in favour of taking down the statue of white supremacist Cecil Rhodes; in 2015, France's far-right Front National party leader Marie Le Pen's speech was delayed by protestors; similar events took place at talks by former EDL leader Tommy Robinson and then Israeli Ambassador Daniel Taub; and an abortion debate was shut down on the grounds that the two speakers were men.
Victoria Atkins, the MP for Louth and Horncastle, asked May to denounce the "sense of ridiculous entitlement by a minority" to not be offended which, as a result, "shuts down debates". The Prime Minister agreed – which is great because otherwise that would have been a really awkward situation – saying, "We want our universities not just to be places of learning but places where there is open debate which is challenged and people can get involved in that." For May, the main concern was that this would serve to stifle innovation and prevent the country from developing socially and economically.
I'd have to agree. Safe spaces really do hinder the UK's development as a forwarding-thinking country. I'd go as far as to say that we should abolish them, starting with the safest space in the land: Theresa May's own cabinet.
The concept behind so called "campus censorship" is that universities should provide an environment in which people of all identities – no matter what colour, class, race, ethnicity, gender, sexuality, ability or creed – can express who they are. This means that those who hold views which could endanger any of the above individuals are prevented from attending events on campus.
Theresa May hits out at 'safe spaces'
At a Cabinet level, this protective measure seems to extend to anyone who doesn't look like they are extended family members. Seriously, take one look at the new Cabinet photograph and tell me the first thing that comes to your mind. One of the words will probably start the letters 'w' and rhymes with the expletive you might utter as you realise the country is ran by clones. Thankfully, a guide has been circulating on how to distinguish between the white male members, because it is actually a very challenging task. Work and pensions secretary Damian Green is basically indistinguishable from transport secretary Chris Grayling. The only member of the cabinet who doesn't immediately blend into this uniformly male, stale and pale foreground is the newly appointed foreign secretary Boris Johnson, on account of the vast geographical expanse his legs take up.
The statistics speak for themselves. Within May's Cabinet, out of the 28 ministers, two are from ethnic minority backgrounds and seven are women. 86 per cent of the British population is white, as compared to 92 per cent of Cabinet members; and 50.7 per cent of the population is female compared with 25 per cent in the Cabinet.
It would appear that if you don't sit somewhere in the Venn diagram of white, male, expensively educated and heterosexual, you've been asked to leave the room to protect some of the more vulnerable ministers – I'm looking at you, Jeremy Hunt: your body language in the new photo screams "give me a reassuring hug".
Justine Greening and David Mundell are the only openly gay cabinet ministers, but it's a surprise that they haven't no-platformed, lest they offend the identities of straight-lads-at-large such as Philip Hammond, who said that allowing gay marriage would "change" the institution; Liam Fox, who voted against the bill; David Davis, who opposed gay adoption; and Chris Grayling, who won the Stonewall "Bigot of the Year" award for saying that B&B owners should be able to turn away gay couples.
In fact, even when the Cabinet is required to face possibly offensive and opposing views in the House of Commons, they are protected by Parliamentary Privilege, alongside other MPs and Lords, preventing them from being held accountable in court over anything said in either House. It is, in essence, the ultimate safe space.
If safe spaces are to be denounced on the grounds that they prevent ground for open debate, then perhaps Theresa May should lead by example and open up her Cabinet to more diverse voices to challenge the regressive hegemonic ideals that dominate her party. But in the words of American academic Roxane Gay: "Those who mock the idea of safe spaces are most likely the same people able to take safety for granted."
Register for free to continue reading
Registration is a free and easy way to support our truly independent journalism
By registering, you will also enjoy limited access to Premium articles, exclusive newsletters, commenting, and virtual events with our leading journalists
Already have an account? sign in
Join our new commenting forum
Join thought-provoking conversations, follow other Independent readers and see their replies