Those who call for Brexit are handing European power to the Kremlin
Russian propaganda is now firmly on the side of the Out campaign - and the Kremlin's aims are far scarier than the free trade economics of Michael Gove and Boris Johnson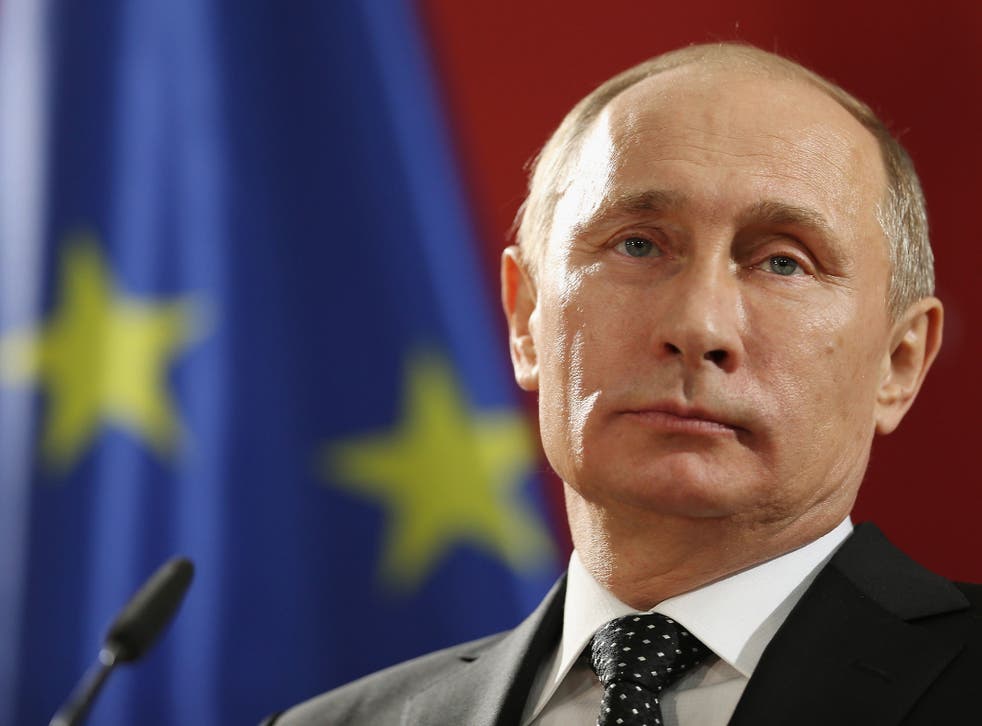 Only one world leader wants Brexit: Vladimir Putin. From the tweets of the Russian Embassy to the programming of Russia Today, the Kremlin is pushing for Out.
Why? We may not have noticed it in little England, but Russia is stress-testing the EU. The Kremlin, chafing under EU banking sanctions imposed to punish it for invading Ukraine, is pushing as hard as it can to snap European resolve. With oil prices on the floor, Moscow is heading towards a fiscal crunch and is determined to overthrow these Euro-sanctions.
Moscow's first weapon is the Syrian refugee. Nato's Supreme Commander in Europe, Philip Breedlove, has warned that Russia, together with the Assad regime, is "weaponizing migration in an attempt to overwhelm European structures and break European resolve." Right now, Russian warplanes are bombing civilian areas, turning northern Syria into a refugee factory. Pushing them to Germany, Russia hopes, will force Berlin to lift sanctions, so desperate will it be for refugees to stop.
It's second weapon is the European fascist. The old sponsor of the far-left, the Kremlin is now Europe's sponsor of the far-right. In France this is out in the open, with Marine Le Pen's xenophobic National Front funded by Russian banks. In Central Europe, in a dark mirroring of EU democracy promotion efforts in the ex-USSR, Russian intelligence is seed funding the far-right underground. And all of them have committed anti-Europeans.
And Moscow's prize? Angela Merkel's head. Nato experts are now joining the dots, warning Moscow is trying to "topple Angela Merkel," the enforcer of EU consensus on sanctions. Propaganda, the Kremlin hopes, will ignite a Europe of the far-right and refugees. Russia has thrown into TV and YouTube forces into fermenting anti-refugee hysteria across the EU. The message is as crude as it seems effective. Anti-refugee parties have made striking gains in Slovakia's recent elections.
Skeptical? Look at Russia Today: "migrant rape" is a constant news item. Berlin says many such stories are fabricated and has ordered its counter-espionage service to investigate Russian propaganda and refugees. Angela Merkel is reported to have "a personal interest" in this probe.
This seems a world away from the planet of Boris Johnson and Michael Gove. While Brexiteers talk breezily about free trade and the Switzerland-model, as if this is Europe 1996, the Europe of 2016 is becoming a darker place.
Kremlin propaganda is now actively pushing Brexit. Sputnik, Russia Today and even the Russian Embassy have been running pro-Brexit coverage, offering platforms to even the most fringe Brexit spokespeople while ignoring the In campaign.
Putin has two objectives. First, he wants to end European expansion, ensuring states such as Ukraine and Georgia fall forever into a Euro-Russian twilight zone where he can intervene militarily at will. Second, he wants the 500m European bloc - which dwarfs a 143m strong Russia, with its more-or-less common foreign policy - to disintegrate, leaving 28 divided and embattled small states that with which a much larger Russia can play divide and rule.
The warnings of German officials have fallen on deaf ears. The chairman of the influential German foreign affairs committee, Norbert Rottgen, has warned that Russia might start funding Brexit groups. "Everything that weakens the West and the Europeans is very much appreciated by Russia and Putin," he said.
Brexiteers make a case about Britain, and only about Britain – ignoring that a move which may or may not be good for British trade might also assist a hostile, reactionary dictator in achieving his own goals. This is not merry England setting sail to buccaneer with its former colonies once again. Sadly, the real Europe is coming under Putin's pressure. A broken EU, with the single market falling to pieces, leaving the Russian Embassy much more influential than the British for most remaining member states is far worse for us than the status quo.
This is, of course, a worst-case scenario - but enough of a risk for us to consider it before casting our votes in the referendum. There are other less fraught ways to deal with problems of EU overregulation, Eastern European immigration and the benefit system than this.
Register for free to continue reading
Registration is a free and easy way to support our truly independent journalism
By registering, you will also enjoy limited access to Premium articles, exclusive newsletters, commenting, and virtual events with our leading journalists
Already have an account? sign in
Join our new commenting forum
Join thought-provoking conversations, follow other Independent readers and see their replies