An obituary for Tilikum, SeaWorld's saddest orca
When he was no more than a two-year-old baby, Tilikum was ripped from his ocean home off the coast of Iceland in November 1983. He would never see his family, feel the sea water on his skin or experience freedom again. Instead, he was sold to the highest bidder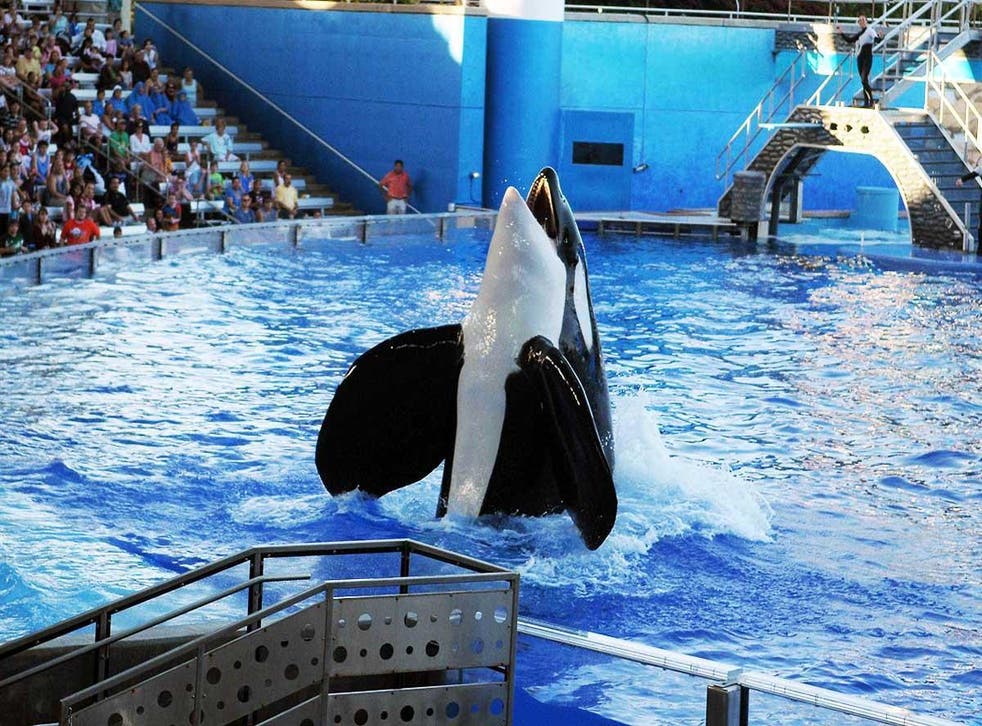 There's an outpouring of messages on social media expressing sadness at the news of the death of Tilikum, the orca who was the subject of Blackfish, but sadness is not what I feel. I can't be sad that after more than three decades, Tilly is finally out of his misery. No, what I'm feeling is anger – anger that death was the only way he could escape his hellish existence swimming in endless circles in a tiny, barren tank at SeaWorld.
Weighing a colossal 12,500 pounds and measuring nearly seven metres long, he was a giant among giants. According to SeaWorld, he had suffered from a "persistent and complicated bacterial lung infection". And while a necropsy is still required to determine the official cause of death, we all know that captivity is what killed him. When he was no more than a two-year-old baby, Tilikum was ripped from his ocean home off the coast of Iceland in November 1983. He would never see his family, feel the sea water on his skin or experience freedom again. Instead, he was sold to the highest bidder as though a mere commodity – first to the now-defunct Sealand of the Pacific in British Columbia and then to SeaWorld Orlando in Florida, where he would remain for the next 24 years.
The confinement drove him mad and made him lash out in frustration – and unsurprisingly, he was implicated in three human deaths, most notably that of experienced SeaWorld trainer Dawn Brancheau, whom he scalped and dismembered in 2010 before drowning her in his enclosure. Speaking of the incident, Blackfish producer Tim Zimmermann summed it up best, saying, "He killed three human beings. And yet when you learn about his life story, he does become the victim and you do sympathise with him." Indeed you do.
UK news in pictures

Show all 50
Tilikum was deprived for more than three decades of all that was enjoyable and natural to him. Day in and day out, this social, emotional and intelligent animal was prevented from satisfying his basic drives and from engaging in any type of natural behaviour, such as swimming over large distances. He was frequently cut, rammed and raked by other orcas, with whom he had no ancestral, cultural or communication similarities. (In the wild, each family unit, or pod, has its own culture as well as a unique group dialect.) Forced to live in grotesquely small enclosures, he could do nothing but swim in endless circles and perform tricks in exchange for dead fish. And to add insult to injury, he was repeatedly masturbated to produce sperm to artificially inseminate other orcas in order to provide a constant supply of baby orcas for SeaWorld to use or sell.
Seaworld penguin gets wetsuit because she's losing her feathers
His grim existence has changed public opinion about keeping orcas in tanks, and the backlash prompted SeaWorld to stop breeding orcas (even if the news came too late for Tilikum, who was bred 21 times – 11 of his offspring died before he did). While his death in a concrete cell marks the end of his diminished existence as a source of profit for SeaWorld, it is our hope that it also marks the beginning of a new future for animals incarcerated at the abusement park.
Tilikum may be gone, but there's still time for Katina, Kasatka, Ulises and Corky – the other orcas at SeaWorld – to be transferred to sea sanctuaries which can provide them with some semblance of the life that they've been robbed of for so long. If we are to honour Tilikum's memory, we must stop at nothing to ensure that his death is the last one inside SeaWorld's walls. That can be his legacy.
Mimi Bekhachi is the director of international programmes at Peta
Join our new commenting forum
Join thought-provoking conversations, follow other Independent readers and see their replies