To prevent terrorism we must lift EU sanctions against Russia
By blocking Russian heads of intelligence from visitng the EU we are unable to access valuable information the state has gleamed about Isis during its operations in Syria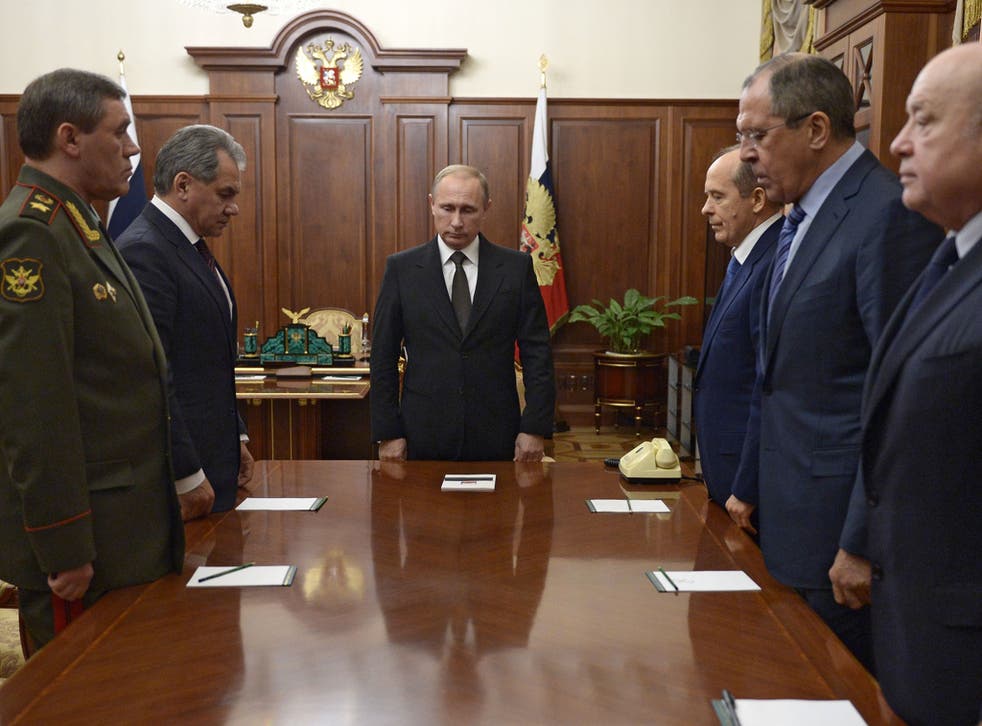 In October 2014, a few months after European Union sanctions had been decreed against Russia in reaction to the situation in Ukraine, we already thought that missing the Russian partner was a mistake both in a political context in Syria and on an economical level for our agriculture, and we would pay for it dearly.
Today, more than two years after the implementation of these sanctions, the warning signal is still red. In July 2014, the European sanctions were extended to personalities including some of the Russian intelligence, preventing them from receiving visas for countries in the European Union. Alexander Bortnikov, head of the Federal Security Service and Mikhail Fradkov, director of Foreign Intelligence Services, are both concerned by the sanctions.
Let us recall that the US has also imposed sanctions, mainly economic ones, to Russia, but they have never gone as far as jeopardising their security co-operation with the heads of the intelligence service. So, why are we putting so much effort into this, at the expense of our own security?
In pictures: Isis' Libyan stronghold of Sirte

Show all 10
These sanctions impact us twice, both on French and European levels, as demonstrated by the suspension since the Ukrainian crisis of the Cooperation Council on security issues. This council brought together the foreign and defence ministers from both French and Russian sides. These annual meetings have not taken place since October 2012 in Paris. And even if interactions did continue, lifting sanctions would allow full-scale exchanges.
Practically, this means that the heads of Russian intelligence would be able to get visas to the European Union so as to be able to directly meet and interact with their counterparts. In this field, trust is fundamental and visa bans clearly damages high level cooperation and dialogue, and we need them to confront the threat we are facing.
How can we explain that these sanctions are in our own interest, the interest of the Europeans, when one knows the impact and possible consequences of breaking or weakening the exchange of information between two countries? The attacks in Paris and Brussels sadly reminded us that this co-operation is far from being optimal, even within the EU. If we continue to weaken our cooperation with Russia in this field, we are participating in putting our citizens in danger.
Russia, thanks to its position in Syria, has access to valuable information on Isis, which we would be wrong to turn away from, as the enemy we face is multifaceted and ever-evolving. If it is not thanks to passion, let it be thanks to reason that we co-operate with the Russian state, in order to exchange critical information on the positions and intentions of Isis.
This realpolitik is no longer a choice: it is a duty imposed by the world around us. We may not agree on everything, and we can sanction where it hurts; but there are goals and interests that require us to go beyond the desire to punish. Take the example of Israel: Benjamin Netanyahu's government has decided to strengthen its ties with Russia, to enhance national security, even though Moscow is working closely with Iran, Israel's most hostile and powerful enemy in the region. Without taking any country's side in the region, the Israeli decision shows that realpolitik – the Israelis' security – goes beyond geopolitics. If Israel does it, why not us?
After two years of sanctions, we know that the cost of division is immeasurably higher than that of cooperation with Russia. Besides, Russia also wants to help us. To those who doubt it, let us remind them that following the 13 November attacks, François Hollande and Vladimir Putin agreed to establish closer co-ordination between both countries' armies on Syria.
The geo-economic war taking place between Russia and the European Union must no longer stand in the way of the fight against terrorism. While the European Council must decide on 28 and 29 June on whether to renew sanctions against Russia, let us call together to revive security cooperation between those two major players on the international scene.
More and more voices in Europe already call for a re-evaluation of sanctions and the lifting of sanctions applied to individuals, as shown by the French Senate's vote on 9 June, which called, with a wide majority, for a reassessment and even the lifting of the sanctions. History will prove right to those who find the political courage to make such a statement.
Letter signed by:
Rachida Dati - PPE France (Parti Populaire Européen)
Françoise Grossetete - PPE France
Hermann Winkler - PPE Allemagne
Alfred Sant - S&D Malte (Socialistes & Démocrates)
Alain Cadec - PPE France
Franck Proust - PPE France
Ivo Vajgl - Alde Slovenie (Alliance des Libéraux et des Démocrates pour L'Europe)
Marc Joulaud – PPE France
Stefano Maullu – PPE Italie
Aldo Patriciello – PPE Italie
Renaud Muselier – PPE France
Elisabetta Gardini – PPE Italie
Register for free to continue reading
Registration is a free and easy way to support our truly independent journalism
By registering, you will also enjoy limited access to Premium articles, exclusive newsletters, commenting, and virtual events with our leading journalists
Already have an account? sign in
Register for free to continue reading
Registration is a free and easy way to support our truly independent journalism
By registering, you will also enjoy limited access to Premium articles, exclusive newsletters, commenting, and virtual events with our leading journalists
Already have an account? sign in
Join our new commenting forum
Join thought-provoking conversations, follow other Independent readers and see their replies