Obamacare is becoming the electricity-loaded rail that politicians touch at their peril
It might be tough for Republican's to keep their promise to repeal Obamacare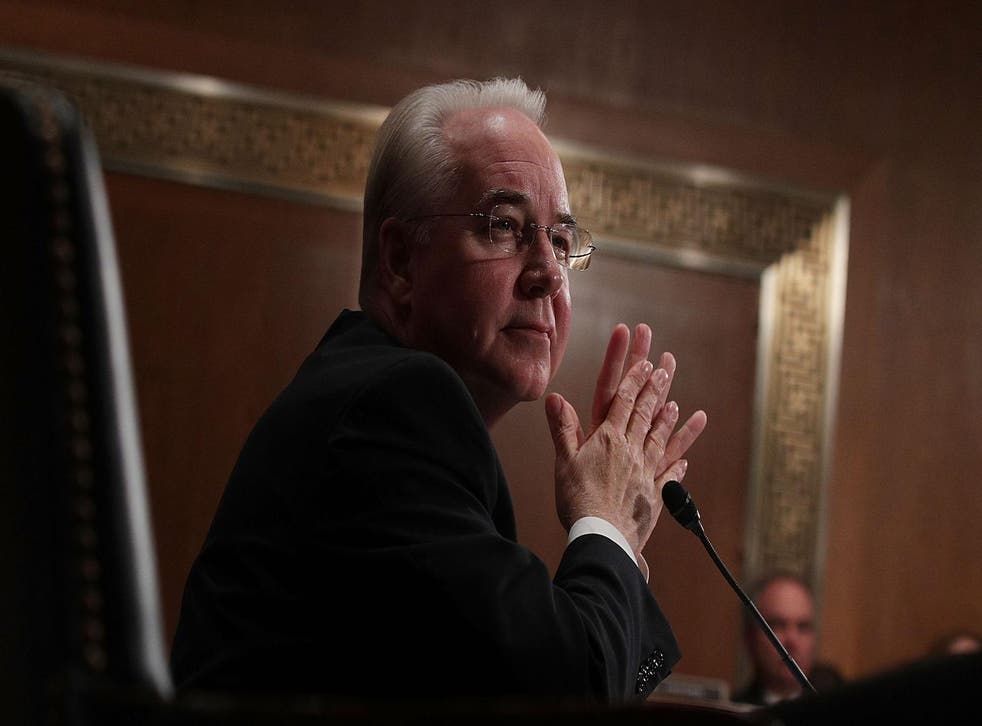 Tom Price, the Georgia Congressman who is President Trump's nominee to be Secretary of Health and Human Services went before the Senate Finance Committee today—and the grilling he underwent at his confirmation hearing only underlined how hard it will be for Republicans to keep their promise to swiftly repeal and replace the Affordable Care Act, aka Obamacare.
Right now, all is confusion. Congress has set in motion the process of repeal, and on his first day in office, Mr Trump, signed an executive order, directing government agencies to "minimise" the costs of implementing Obamacare. Taken literally, the order could threaten the individual mandate – the requirement that Americans purchase coverage or face a tax penalty for not doing so – and throw health insurance markets into chaos.
That might be acceptable, if Republicans had a ready-made plan to replace Obamacare. But despite voting some 60 times to repeal the ACA since it became law in 2010, they don't. Mr Trump has declared that a plan was all but ready and would be unveiled once his nominee was confirmed. But Mr Price, who spent most of his time avoiding direct answers, said nothing to bear that out – prompting one Democratic Senator to ask if the president had told a lie. Mr Price ducked that question as well.
The central problems for Republicans are two. First, key provisions of Obama are so popular their removal would cause uproar. These notably include the right of children to stay on their parents' insurance until the age of 26, and a ban on insurance companies refusing to cover people with pre-existing conditions.
Thousands attend Women's March on Washington

Show all 18
Second, Republicans have promised a system that offers improved benefits, maintains Obamacare coverage but costs less. Squaring that circle is all but impossible. The only specific Republicans agree on is that the replacement should be less bureaucratic and more "patient-friendly."
To achieve this they pin their faith in the magic of the markets – that improved choice and greater competition between health care providers and drug and insurance companies will increase options and drive prices down. That however rests on the dubious proposition that health care is a market like any other.
Then there is the Medicaid problem. Expansion of Medicaid—the health care coverage programme for the poor brought in by President Lyndon Johnson in 1965—accounts for 11m of the 20m people who have gained coverage under Obama, thus reducing the rate of uninsured to the lowest point in US history.
Right now this expansion is paid for directly by the federal government. Mr Trump and most Republicans however want to replace this system with one of block grants from Washington to individual states. But there is near-universal agreement that this will sooner or later lead to big cuts in in government-subsidised coverage for the poor.
Among Democrats moreover lurks a deeper suspicion: that changes to Medicaid would be but the opening salvo in a grand plan to rein in spending on Medicaid and its sister programme Medicare for the elderly, in part by privatisation.
Republicans of course will not say, repeating their mantra that they want to offer "access" or "opportunity of access" to coverage to all Americans. Whatever that might mean. As Bernie Sanders, the populist challenger to Hillary Clinton for the Democratic nomination, put it at a separate Price confirmation hearing last week, "I have 'access' to buying a $10m home, I don't have the money to do that."
No wonder Republicans, beyond their non-stop vilification of Obamacare, are so split on what to do. Some want to repeal it at once and let the chips fall where they may. Others insist that the ACA must stay until a comprehensive replacement is settled and ready to go. Some want to allow individual states to keep Obamacare if they wish.
One way and another, the issue is shaping up as a new 'third rail' of American politics, the electricity-loaded rail that politicians touch at their peril. Such is the difficulty of replacing an entitlement that for all its imperfections, roughly half of Americans want to keep.
Register for free to continue reading
Registration is a free and easy way to support our truly independent journalism
By registering, you will also enjoy limited access to Premium articles, exclusive newsletters, commenting, and virtual events with our leading journalists
Already have an account? sign in