Sally Morgan: Tony Blair should have made Gordon Brown foreign secretary in 2001
The former Prime Minister's political secretary told students: 'I went to bed thinking we were moving Gordon and woke up to find we were not'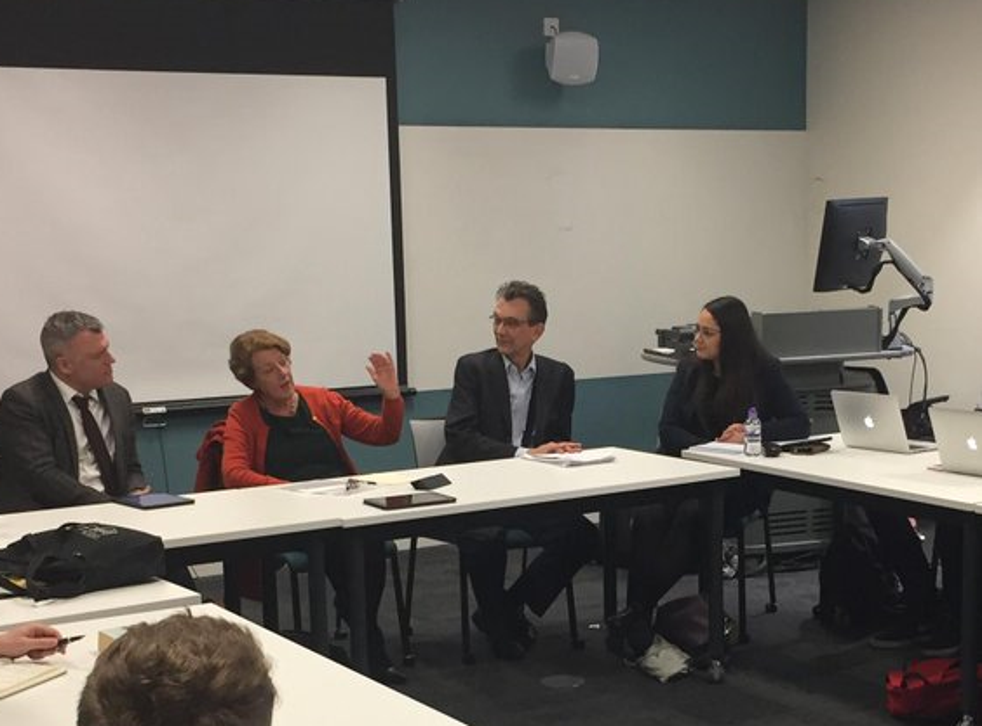 Sally Morgan, Baroness Morgan of Huyton, came to the "Blair Years" class at King's College London yesterday to talk about Tony Blair's inner circle. She was a member of it, as Blair's political secretary in 10 Downing Street, later briefly a minister and then back in No 10 as Director of Government Relations.
She defined the original inner circle as Blair, Gordon Brown, Alastair Campbell and Peter Mandelson. "It was a very small group: together with Philip Gould they created New Labour." But the division between Blair and Brown after the death of John Smith in 1994 was "a big fissure that became worse and worse".
Early decisions had been agreed by the group, she said, such as independence for the Bank of England. "The early days, the first two or three years, were not so bad. As Tony became more confident that's when it started to become much more tense."
So the class moved quickly on from discussing the inner circle to the central puzzle of the relationship between Blair and Brown.
"In the 2001 reshuffle I went to bed thinking we were moving Gordon and woke up to find we were not," said Morgan. She thought Brown should have been moved to the Foreign Office: "I think it would have completely changed things. Gordon was agitating, not happy. It was the moment of maximum political power [for Blair, having won a second huge majority].
"Tony had two fears. One was Gordon would be a nightmare on the back benches. The other was: Gordon is this super brain, do I dare move him? He would have kicked and screamed but I think he would have taken it. He would have grown on the world stage. I don't think he would have come back – I think he would have gone to the IMF or the World Bank. And even if he had come back, he could have been prime minister, but he would have been broader."
It is worth referring here to what Blair himself wrote about the days after the 2001 election in his memoir, A Journey (p340):
The decision I didn't take was to move Gordon. When people look back, they always think that was the crucial moment when moving him could have been achieved politically; and that therefore this was an opportunity missed. On balance, I still disagree. He was recognised as an outstanding chancellor. He was a big figure, a towering figure in many respects. He had a solid media and party following. Moving him would have seemed, and been written up as, a piece of petty spite on my part, as a jealousy move, a self-interested one rather than a disinterested one. And who would I have put in his place? At that point only Robin Cook and Jack Straw could have filled the position. In truth, neither would have been as good – more amenable maybe, but not as formidable.
Interestingly, only five pages earlier he had just listed the "out-and-out modernisers" who were "on their way up": "John Reid, David Blunkett, Tessa Jowell, Charles Clarke, Alan Milburn, Hilary Armstrong and John Hutton". For any of them, the Treasury would have been a huge promotion, but Blair did also say, a year later, that Labour was "at our best when at our boldest".
Morgan said the failure to move Brown had consequences: "From 2001 Gordon was using the differences to strengthen his base in the Labour Party. The symbol of that was schools reform. He supported the easy bits, smaller class sizes, the literacy and numeracy strategies. But he would never visit an academy – and then when he became Prime Minister the first school he visited was an academy."
Her view was that it was always "difficult to know whether his opposition was genuine or positioning". On tuition fees, for example, which Brown opposed, "Tony said, 'Bring me an alternative.' And Gordon never did."
Morgan took questions from the students, most of whom remember Blair only for the Iraq war. She was asked about a reference in Alastair Campbell's latest volume of diaries, which records Blair saying, just before he stepped down as Prime Minister in 2007, that Campbell and Morgan "were never the biggest fans of the war in Iraq".
Morgan accepted this: "The biggest concern for me, Alastair Campbell and Jack Straw was the politics of it. Would it bring Tony down, bring the government down, destroy all we were doing? Saddam was a terrible dictator, and I didn't feel distressed at the idea of taking him down. And George Bush was the sort of person you could do business with. Although the people around him were ghastly – Cheney and Rumsfeld.
"I suppose in the end I felt I had the opportunity to express my concerns, as had Alastair and Jack. Tony said he had decided. He knew it could all go wrong.
"The problem was of handing over the aftermath to the US. People thought it was going to go on a lot longer. The planning was all about refugee camps. We were so much the junior partner. We were heavily involved militarily for the first push, but not for what happened afterwards."
She felt that, in the end, it was Iraq, "rather than Gordon's exploiting of fissures", that undermined Blair's authority. "Gordon was a constant irritant.
"But Gordon could at various times have brought Tony down and didn't. I still don't understand the relationship."
I help to teach the "Blair Years" MA course at King's College London, with Jon Davis and Michelle Clement. Last week Phil Wilson was our guest speaker, and some of my reports of previous years' classes are collected here.
Register for free to continue reading
Registration is a free and easy way to support our truly independent journalism
By registering, you will also enjoy limited access to Premium articles, exclusive newsletters, commenting, and virtual events with our leading journalists
Already have an account? sign in
Join our new commenting forum
Join thought-provoking conversations, follow other Independent readers and see their replies