The Top 10: Most Infuriating Signs
From 'rail replacement service' to 'little princess on board', a collection of the most annoying notices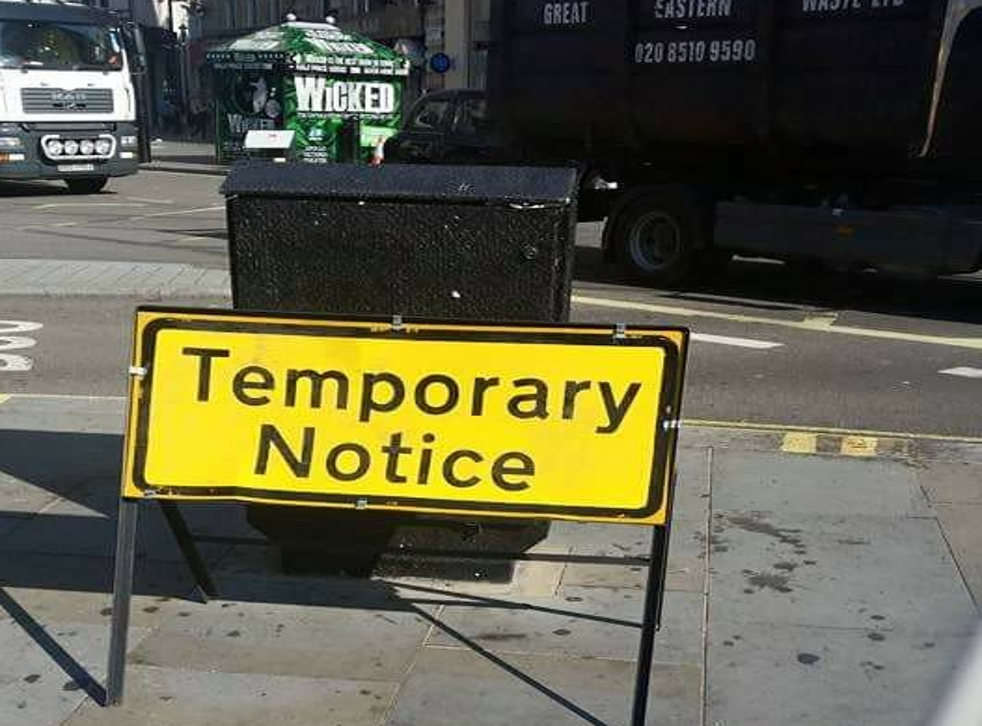 Citizen Sane proposed this one, starting with "Not dishwasher safe". Most of these are similarly first world problems.
1. Rail replacement service. Nominated by Frank Bath.
2. Cyclists dismount. From Ash G, Pip Moss added: "Ninety-nine per cent of the time this sign is somewhere bikes can perfectly safely cycle on anyway."
3. Caution: Hot. Usually on single-use plastic hot drink lids, or above hot taps. Nominated by Ash G and Jason Morris.
4. Access to authorised personnel only. "Why not just 'no access?'" asked Tim Brooks. "The authorised personnel would know they were good to go."
5. Restart your computer to finish installing important updates. "Take a hint," said Christ Rowland. "I've been been clicking 'Remind me later' for the past month. By later I mean when the PC finally crashes."
6. Baby on board. Nominated by Stephen Cheshire. Fine on a badge, in hope of being offered a seat on a train, but not in a car window. Tom Doran added that "the cutesy gendered variants, such as 'Little princess on board'", are even worse.
7. Keep away from fire on children's clothes. I once ran a brief series on the Independent blog called Irritations of Modern Life. Another was "Please hold handrail".
8. Not drinking water. Which means: "Of course it is but we want to you buy our expensive bottled water instead."
9. When banks sell beer, I will cash cheques. Most smug of the genre, offered by Chris Smith. Several nominations for "No cards – cash only", and for the opposite: "No cash – cards only."
10. Hand wash only. Or "Dry clean only", "Do not tumble dry", or "Why not wash at 30C and not bother to get it clean?"
Honourable mention for Sophie Cormack, who nominated "Serving suggestion", usually in very small letters on food packaging.
A lot of nominations for anything starting with "Polite notice: …" Imran said: "I will be the judge of that." But I think it is better than "Rude notice: ...", and I always assumed it was designed to fool people into thinking it said "Police notice".
Paul T Horgan and David Oakley tried to nominate "10 items or less", but I have been re-educated by Oliver Kamm and accept that the grammar is fine. Anyway, I always use self-service checkouts now.
Next week: Best UK railway stations, such as my favourite, Edinburgh Waverley
Coming soon: Politician-sportspeople, such as Sir Menzies Campbell (British 100 metres record holder 1967-74) and Kate Hoey (1966 Northern Ireland High Jump champion)
Your suggestions please, and ideas for future Top 10s, to me on Twitter, or by email to top10@independent.co.uk
Register for free to continue reading
Registration is a free and easy way to support our truly independent journalism
By registering, you will also enjoy limited access to Premium articles, exclusive newsletters, commenting, and virtual events with our leading journalists
Already have an account? sign in
Register for free to continue reading
Registration is a free and easy way to support our truly independent journalism
By registering, you will also enjoy limited access to Premium articles, exclusive newsletters, commenting, and virtual events with our leading journalists
Already have an account? sign in
Join our new commenting forum
Join thought-provoking conversations, follow other Independent readers and see their replies