When transphobic people try to pretend they're defending butch lesbians like me, I see the cynical tactic for what it is
Truly, I am touched and thrilled to have the support of so many sections of the media. If I'm honest, I thought they hated butch lesbians. I'm delighted that they are now passionately championing our right to exist and be proud of who we are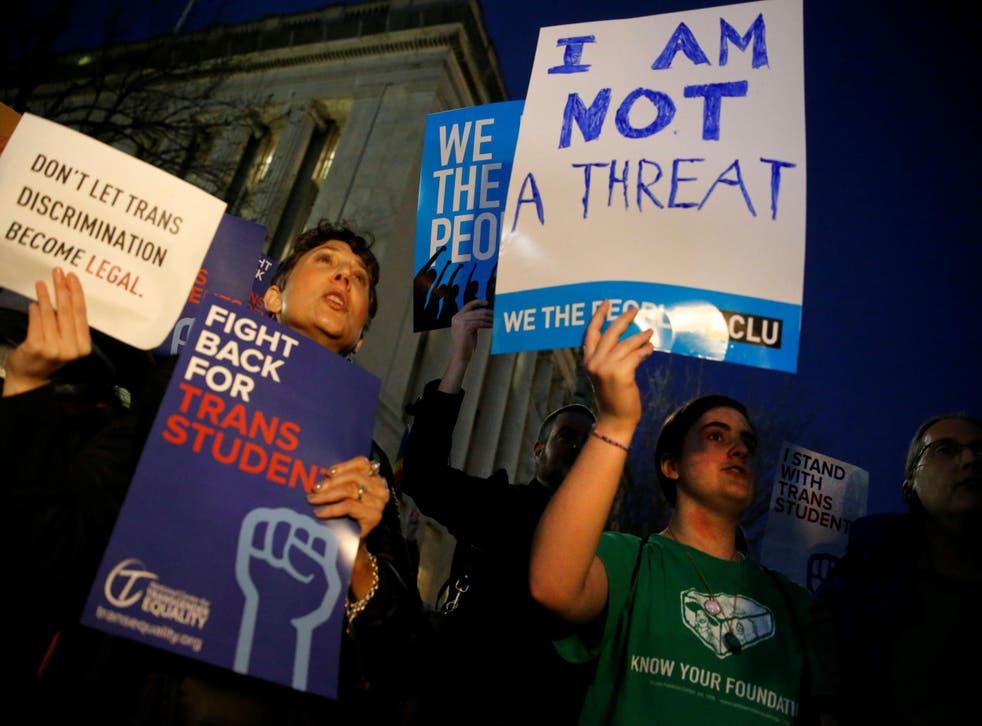 There is a familiar feeling I've been having over recent days and weeks, when reading the headlines. The sense of a rising moral panic on the front pages. That feeling of building rage at another frothing, fear-mongering headline. Another minority group presented as the biggest danger to morality that Britain has ever encountered.
Many sections of the UK media have been on the attack for weeks, with trans people their target. This week we saw a peak. One headline claimed that children are being "sacrificed" to appease a mysterious "trans lobby".
I'm experiencing a sense of familiarity because this echoes exactly the reaction from some powerful quarters to the work to establish lesbian, gay and bi rights in the Nineties and early Noughties. We've been here before. Just a few years ago, we were fighting to remove the infamous Section 28 – which banned "promotion" of homosexuality by local authorities – from our statute books. The headlines unleashed by that change to legislation were just as extreme.
At the time, there were regular, sinister inferences that a shady "homosexual lobby" existed. Influential voices screamed warnings that children were being indoctrinated into having same-sex relationships. It sounds like something that might have happened in the 1940s, but it wasn't. This was in the 2000s. It directly affected me and so many others. And it's happening again now: just replace "gay" with "trans" this time.
One particularly strange tactic that anti-trans campaigners use is presenting any move forward for trans rights as being inevitably at the cost of lesbian rights. Specifically the rights of young, butch lesbians. They claim that the identities of young, butch lesbians are being erased, and that instead of being allowed to feel confident in their sexual orientation and as themselves, they are being pushed into believing they are trans men.
Transgender troop at VMAs: 'It's a great opportunity to build awareness'
But the hard facts simply aren't there to back any of this up. Yes, more young people are talking about their identity and how they feel (which is, surely, a good thing). And yes, over the past 10 years there's been an increase in the number of young women who are accessing age-appropriate support to help talk through these issues.
But talking to a specialist is not the same as transitioning. Very few young people who access support go on to transition. This is what we would expect: that's what much successful gender treatment looks like.
Lesbian identities have often been hidden in our movement. That void is nothing new, and is something I am personally very serious about tackling.
So I am touched and thrilled to have the support of so many sections of the media. If I'm honest, I thought they hated butch lesbians. I'm delighted that they are now passionately championing our right to exist and be proud of who we are. I hadn't realised that these parts of the press cared so much about us.
I look forward to the step-change in reporting that will surely follow this. It will be great to see real experiences of butch lesbians and bi women given the sensitive and prominent reporting they deserve.
I can't wait to see mainstream features on the experiences of lesbians of colour and lesbians of faith, and of women who live in parts of Britain where the fight for acceptance of lesbian rights still has so far to go. To have more butch lesbian voices on the roster of columnists. Even to have women's fashion pages which include tips on where to get the best suits as well as the best skirts. This kind of inclusion is long overdue.
The best LGBT+ honeymoon destinations

Show all 16
But maybe I'm being overly optimistic. Maybe this change in reporting won't happen. Maybe the transphobic sections of the press are simply, cynically, using the oldest tactic in the playbook here – to try to divide and rule.
But I don't think it's going to work this time.
This public bout of transphobia is actually galvanising a whole host of new trans allies, pushed into vocal action. Sure, there has also been a fair amount of bile and vitriol, and abuse across social media directed at trans people and their allies. Sure, the feverish response to new Church of England guidance to stop bullying of LGBT pupils (bullying! Can we not even all agree that that's bad?) had more than an echo of the old headlines on the repeal of Section 28.
But it feels like something has shifted. You might expect me to be an open and vocal ally to trans people in the media – but who saw Phillip Schofield coming? The sense that those who oppose trans equality are rattled by this reaction is palpable.
It feels to me that the old, homophobic attitudes have simply morphed into new transphobic ones. The same hatred is behind all of it. When those who spread such prejudicial views present themselves as our friends, merely trying to defend us from the malignant danger of trans people, it is completely disingenuous.
Our very organisation is named after the Stonewall riots. These events, which kick-started the modern movement for LGBT rights, were started by two trans women – Marsha P Johnson and Sylvia Rivera – acting alongside a butch lesbian called Storme DeLarverie.
Now, as in 1969, we need the whole community, as well as everyone who cares about human rights and basic respect, to come out in support of trans people. It's exhausting being the focus of such concentrated attacks by such powerful voices. They need to know they are not alone.
Use your social media profile. Talk to your friends. Make sure lazy transphobia doesn't become mainstream. But most of all don't allow voices of fear to divide us.
If you believe in equality, please join the fight against the huge levels of abuse that trans people face every single day. Join me, take a stand and come out for trans equality.
Ruth Hunt is the CEO of Stonewall
Register for free to continue reading
Registration is a free and easy way to support our truly independent journalism
By registering, you will also enjoy limited access to Premium articles, exclusive newsletters, commenting, and virtual events with our leading journalists
Already have an account? sign in
Join our new commenting forum
Join thought-provoking conversations, follow other Independent readers and see their replies