Trump is considering 'herd immunity', the failed Covid strategy which killed thousands in Europe
In the UK, herd immunity was proven foolish and publicly abandoned. For herd immunity in the US under a Trump administration, over 2 million people would have to die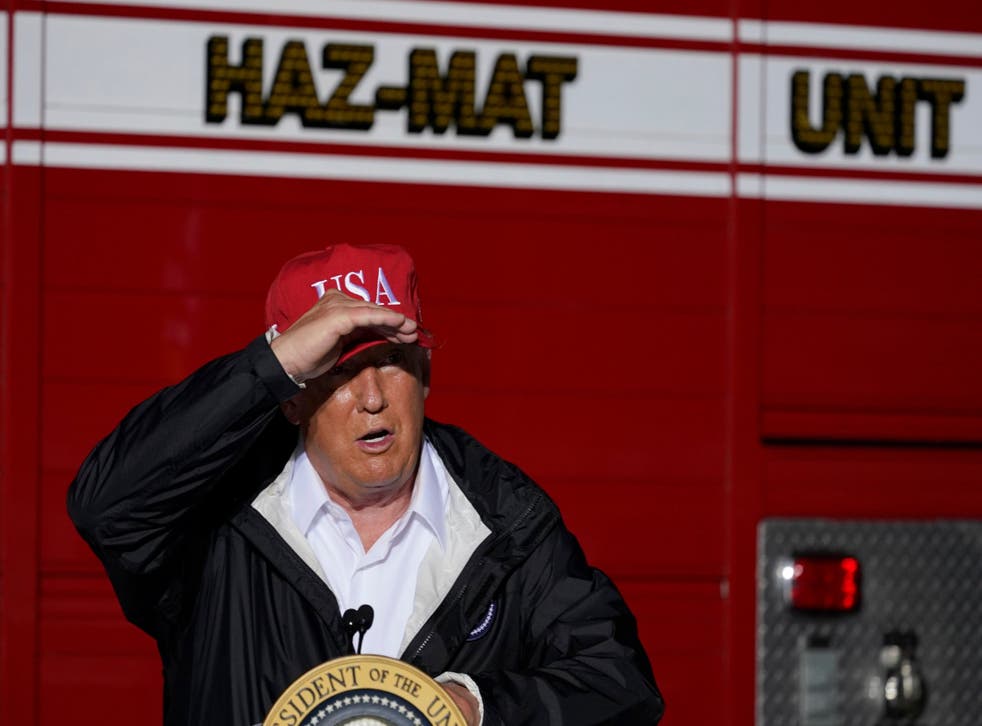 The main reason to vote for Joe Biden over Donald Trump is that we are in the middle of a terrifying, ongoing pandemic that has killed more than 180,000 people. Biden has serious, responsible proposals for getting the virus under control. Trump does not. If Trump wins, we're looking at tens and possibly hundreds of thousands of additional, unnecessary deaths.
New reporting underlined the unseriousness and callousness of the Trump administration again this week. The Washington Post revealed that Trump is considering embracing a strategy of "herd immunity" after it was touted by a controversial new adviser. Herd immunity is a plan to allow the virus to spread among younger, healthier people in the hope that so many will become infected (and therefore, ultimately, immune) that the virus will no longer infect new people.
Britain tried herd immunity in March, and it was a disaster. Cases soared and Prime Minister Boris Johnson himself became ill. Britain has ended up with the fifth-highest Covid cases per capita (62.53 per 100,000) and a fatality rate of 12.5 percent. The plan was publicly abandoned by the British government when it became clear that it was failing demonstrably and dangerously.
Sweden for its part has also tried for herd immunity, failed to achieve it, and now has a per capita rate of 57.16 per 100,000 people and a fatality rate of 6.9 percent. The United States, which has hardly had a successful Covid response, still has a somewhat better per capita rate of 55.57 per 100,000 and a fatality rate of only 3.1 percent.
The Post calculated that 2.13 million people in the United States would need to die for us to reach the 65 percent immunity rate in the population necessary for herd immunity. Worse, it looks like some people who contract Covid may be able to contract it again under the right circumstances.
These are frightening statistics. But even if Trump doesn't embrace herd immunity officially, his de facto policy remains to simply let people die, and hope that no one notices, or that they blame someone else.
The way to fight coronavirus is fairly straightforward. As Biden's plan says, the US needs to invest heavily in testing. It needs to invest heavily in personal protective equipment. It needs to establish clear national guidelines on social distancing. It also needs to start planning now for treatment or vaccine distribution.
Trump refuses to take these steps, presumably because they require sustained coordination and attention, and because they don't allow room for the kind of demagogic instant gratification he loves. Instead, he has bloviated and bumbled from miracle cure to miracle cure. He has touted hydroxychloroquine, an anti-malarial drug that has no record of success with Covid-19. He has rushed to approve use of convalescent blood plasma without taking steps to ensure that it is effective. He appeared to suggest that people could inject bleach to kill the virus — a tactic, which, needless to say, is ineffective and very dangerous.
In this context, "herd immunity" is best seen not as an actual strategy, and not even as a new approach. It's simply the latest in a series of quack cures and garbled talking points which are intended to make it look like the virus is under control when it is not. Trump wants to appear to be doing something; he wants the virus to go away. And so he trundles from one faith healer to the next, grasping at each new nostrum in turn, and waiting a few moments as more corpses pile up before grunting and moving on to the next.
The simple truth is that as long as Trump is in power, he will do nothing effective to stop the virus, and nothing to prevent people from dying. Even if there is a vaccine sometime during the next four years, it is unclear that Trump will have the will, the interest, or the ability to distribute it. He has not been able to effectively provide access to tests or masks, and his administration has been reticent about explaining its vaccine roll-out plan. A Trump presidency means around 700 deaths a day from Covid each day, every day into the foreseeable future. That's more than a million deaths over a four-year Trump second term.
Of course, we could get lucky. Maybe there will be a very effective, easy-to-distribute vaccine available early in 2021. Maybe the second Trump administration will wipe out the disease quickly and efficiently.
But when Trump and his cronies talk about "herd immunity", they're telling us that even they don't really believe that is what will happen. "Herd immunity" isn't a strategy. It's an excuse for not having a strategy. In November, we can vote for the guy who wants us to get used to people dying, or we can vote for someone who will try to save lives. Whatever other policies are on the table, this should be a pretty simple choice.
Register for free to continue reading
Registration is a free and easy way to support our truly independent journalism
By registering, you will also enjoy limited access to Premium articles, exclusive newsletters, commenting, and virtual events with our leading journalists
Already have an account? sign in
Join our new commenting forum
Join thought-provoking conversations, follow other Independent readers and see their replies