The Independent's journalism is supported by our readers. When you purchase through links on our site, we may earn commission.
We know what to do if Trump delays the election. John Lewis told us in his final words
As a 64-year-old man looking at maybe 20 more decent years, I've realized my moments of protest have not been enough — and if our democracy is threatened this year, I plan to take to the streets in a very different way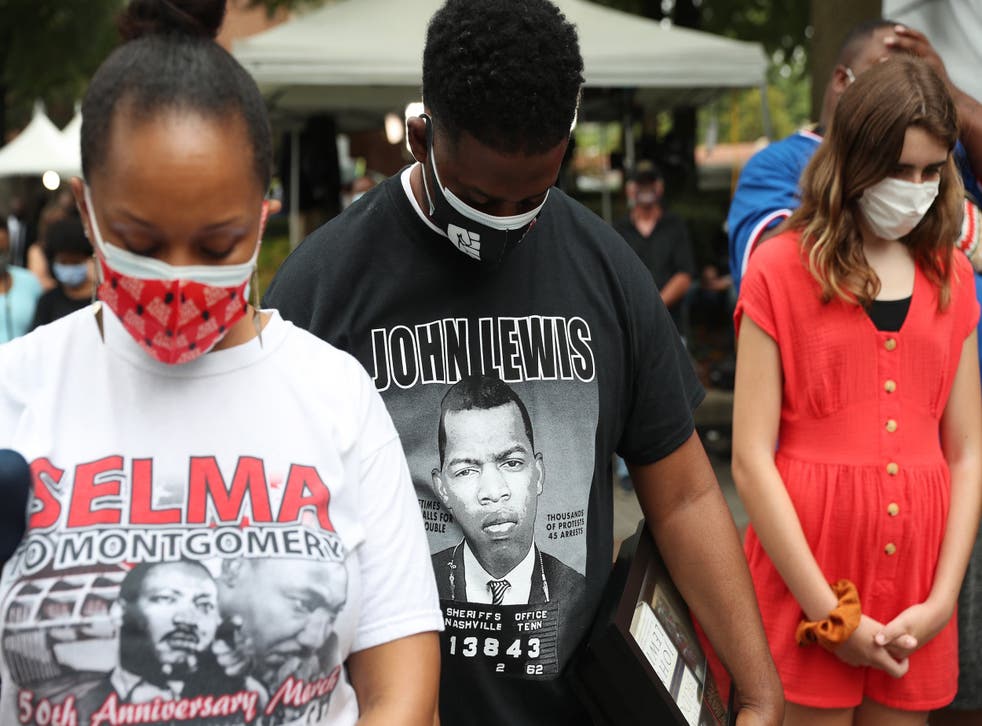 On the solemn day of John Lewis' funeral, the New York Times published his inspiring final words, which included the unforgettable paragraph: "Ordinary people with extraordinary vision can redeem the soul of America by getting in what I call good trouble, necessary trouble. Voting and participating in the democratic process are key. The vote is the most powerful nonviolent change agent you have in a democratic society. You must use it because it is not guaranteed. You can lose it."
That same morning of mourning, at 7:46 a.m. to be precise, President Trump, who apparently could not be bothered to attend the funeral, or even to pay his respects to Congressman Lewis when he lay in state at the Capitol, tweeted the following: "With Universal Mail-In Voting (not Absentee Voting, which is good), 2020 will be the most INACCURATE & FRAUDULENT Election in history. It will be a great embarrassment to the USA. Delay the Election until people can properly, securely and safely vote???"
This was no trial balloon. This was a mushroom cloud.
Aside from the insensitive timing of Trump's words, the suggestion that a presidential election should be delayed should send chills down the spines of all of us, no matter which side of the red and blue divide you reside.
Historically, Americans (and predominantly people of color) have been wrongly imprisoned, beaten and even killed for trying to exercise their right to vote, John Lewis among them. The Voting Rights Act of 1965 is being chipped away with each subsequent election because of state and locally imposed impediments.
As Congressman Lewis wrote on his website: "There is not just one law, but many types of laws that are disenfranchising millions of voters: voter photo identification laws, proof of citizenship laws, barriers to registration, elimination of early voting and absentee voting, and laws making it harder to restore voting rights for people who have paid their debt to society."
One does not have to be the proverbial rocket scientist to understand who these new barriers favor. People of color tend to vote Democrat. If Republicans can keep them from voting, it could make the difference in a close election locally and nationally.
Voting by mail tears down these impediments. Here in Illinois, I recently applied for my mail-in ballot. No excuse was required. I might choose not to vote by mail this November, but I want the option just in case if, for example, I contracted coronavirus. Exercising your right to vote should not be a death sentence.
Trump's threatening tweet juxtaposed with the eloquence of Congressman Lewis' essay brought to mind my own responsibility as a defender of the Constitution and of the cherished right to vote. My life of civil disobedience — what Lewis referred to as "good trouble, necessary trouble" — is spotty at best. The three protests and marches I have participated in during Trump's reign of chaos seemed more like celebratory selfie moments than real change agents. We chanted, we walked and we held signs, and then we got lattes. We did not get into any trouble, good, necessary or otherwise.
I now realize that if Trump delays the election using federal troops similar to the ones deployed in Portland and other cities, I need to take to the streets in an entirely new way. The violent examples of how demonstrators in Washington's Lafayette Park and on the streets of Portland were "dominated" by the Office of Homeland Security's goon squads might give pause to anyone wanting to peacefully protest.
Yet, that is the point of the heavy-handed federal response: to create fear, followed by despair and then apathy. But, for me, a 64-year-old man with any luck looking at maybe 20 more decent years, the Trump threats and the growing presence of militarized robo-cop thugs has had the opposite effect.
Congressman Lewis and so many others sacrificed their bodies during the civil rights movement. Death was a real possibility each time they left their homes, but they kept their eyes on the prize — and all of us are better for their heroism.
President Obama's eulogy for Congressman Lewis came several hours after Trump's chilling tweet and provided a reminder of how words can unite and inspire instead of divide and inflame. Obama said of his friend "that as long as he had a breath in his body, he would do everything he could to preserve this democracy, and as long as we have breath in our bodies, we had to continue his cause."
Now it's my turn. Inspired by Congressman Lewis' courage, and the thousands of protesters demanding racial justice, I am willing to risk injury and even death to defend the right to vote — the most important pillar of our democracy. Yes, until my very last breath.
Stephen J. Lyons is the author of four books of essays and journalism. His most recent book is "Going Driftless: Life Lessons from the Heartland for Unraveling Times."
Register for free to continue reading
Registration is a free and easy way to support our truly independent journalism
By registering, you will also enjoy limited access to Premium articles, exclusive newsletters, commenting, and virtual events with our leading journalists
Already have an account? sign in
Register for free to continue reading
Registration is a free and easy way to support our truly independent journalism
By registering, you will also enjoy limited access to Premium articles, exclusive newsletters, commenting, and virtual events with our leading journalists
Already have an account? sign in
Join our new commenting forum
Join thought-provoking conversations, follow other Independent readers and see their replies