This is what Trump's 'America First' foreign policy will look like – and it's very confusing
The attempt to spread liberal democracy, Trump has stated, will end under him. But, at the same time, he has declared that he will expand the defence budget. So, the only reason for ramping up this already massive force would be to project American power, through wars if necessary, for America's self-interest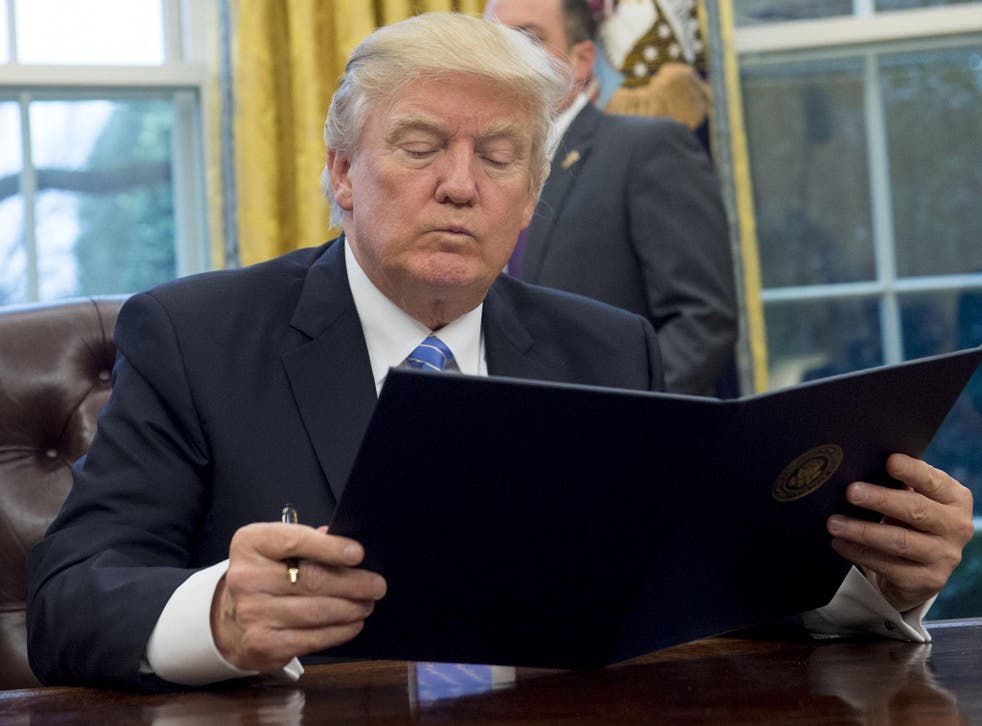 "From this day forward, it's going to be only America first", Donald Trump declared, setting down what is supposed to be the guiding principle of his administration in an inaugural speech bereft of statesmanship but full of threats and invectives.
But what does "America first" mean when it comes to foreign and defence policy? The words are not new: they were much used by the isolationist movement which tried to keep the US out of the Second World War, with a pro-German and anti-Semitic stance taken by some like its poster boy, the aviator Charles Lindbergh.
The former KKK leader, David Duke, whose support Trump had been slow in rejecting during the campaign, tweeted last Friday afternoon: "Trump Inauguration Speech Declares War on the Neocons & Promotes Our Slogan 'America First!'" In the lexicon of the American racist hard-right, many of the neocons are tainted by being Jews as well as being interventionists.
All the false claims Donald Trump made after his inauguration
Isolationism is not, of course, new in the US. In the 1930s, as Europe moved towards war, Congress passed a series of Neutrality Acts. This helped embolden the Nazis, and their sympathisers in the States made considerable effort to aid the isolationist movement. Even in 1939, as Germany invaded Poland, and Britain and France declared war, a very careful President Roosevelt was having to say that he would do all he could to keep America out of the war in order not to antagonise Congress.
But is Trump a nationalist rather than an isolationist? The attempt to spread liberal democracy, he has stated, will end under him. But, at the same time, he has repeatedly declared that he will expand the defence budget. There is no reason to do so for the sake of deterrence: America's military might vastly surpasses those of every other country on earth. Let's take just one example: the US has 19 aircraft carriers, while Russia and China have one each. So, the only reason for ramping up this already massive force would be to project American power, through wars if necessary, for America's self-interest.
To do so, the US will have to maintain alliances; support friendly states and have bases abroad. But Trump has also castigated spending, including that related to the military aid, abroad, claiming "We have spent trillions and trillions of dollars overseas…."
In pictures: Protests, pomp and Donald Trump

Show all 30
The US spends $18bn on foreign aid – which is less than one per cent of the national budget. Around $6bn (£4.8bn) a year goes to military aid and around $10bn (£8bn) on maintaining bases abroad, – hardly a particularly significant proportion of an annual defence budget of nearly $600bn (£480bn).
"The United States will no longer subsidise the armies of other countries while allowing the sad depletion of our military", said Trump. Most of the $6bn (£4.8bn) military aid goes to Israel and Egypt. Trump has spoke of his fervent support for Israel, saying he would move the US embassy from Tel Aviv to Jerusalem; backing settlements in occupied territories and saying he will dismantle the nuclear deal with Iran which Benjamin Netanyahu's government has lobbied against vociferously. General Abdel Fattah al-Sisi was one of the first leaders Trump spoke to on the phone after his elections victory and he has been fulsome in praise of Egypt's leader ever since, pledging to stand-by him and speaking their mutual "personal chemistry".
Is the new President really going to undermine Israel and Egypt by cutting aid – especially as that aid comes with a stipulation that money must be to spend on American military products, thus providing jobs in American factories?
The $10bn spent on bases are mainly in Germany, South Korea and Japan, seen as necessary to keep a check on two adversaries, Russia and China and the ''rogue state" of North Korea. Even if Trump's admiration for Vladimir Putin leads to him actually weaken the commitment to Nato, how will his desire to confront China, busy building military bases in disputed islands, and North Korea be squared with withdrawing troops from Japan and South Korea?
Trump declared in his inaugural speech that he will "eradicate radical Islamist terrorism from the face of the earth". Islam has been much in his sight during the election campaign, claiming that President Obama was "soft" on Muslim terrorists. Trump has been vocal in threatening to "bomb the shit out of Isis". But the Americans have been doing that already: drone strikes, in particular, have vastly increased under the Obama administration, eliminating a large number of Islamist extremist leadership and US Special Forces have been in operations in swathe of countries. It was after all, under a Democrat president, Obama, and not George W Bush's "war on terror" that Osama Bin Laden was tracked down and killed.
So what "America First" actually means remains unclear. The new Trump White House website has just 220 words on the foreign and defence policies of the world's most powerful nation. What we can say, however, is that many of the assertions made by Trump and his team are, to use another set of words just coined by his administration, "alternative facts", assertions which do not stand up to scrutiny.
Register for free to continue reading
Registration is a free and easy way to support our truly independent journalism
By registering, you will also enjoy limited access to Premium articles, exclusive newsletters, commenting, and virtual events with our leading journalists
Already have an account? sign in
Join our new commenting forum
Join thought-provoking conversations, follow other Independent readers and see their replies