The Independent's journalism is supported by our readers. When you purchase through links on our site, we may earn commission.
Trump's defense team for his impeachment trial says it all
Perhaps we shouldn't just be talking about the allegations against the president, but also the allegations against those chosen to represent him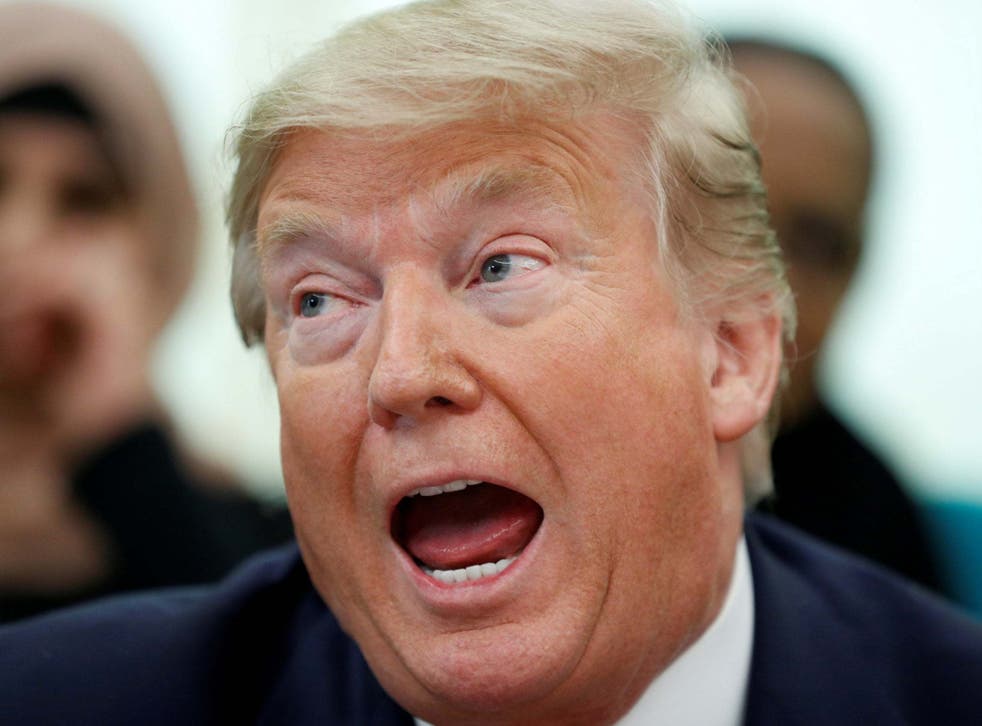 Ken Starr and Alan Dershowitz are part of the gang defending Donald Trump against impeachment – and that says a lot about how this trial is going to go.
You may remember these two from such hits as the Starr Report, which ultimately led to the impeachment of Bill Clinton, or from getting paedophile and sex trafficker Jeffrey Epstein off the hook. As Monica Lewinsky said after the news came out: "Are you f***ing kidding me?"
Dershowitz and Starr will, unsurprisingly, be led by White House counsel Pat Cipolllone and the president's personal attorney Jay Sekulowut, so we can already get a glimpse of what kind of justice there is to come.
It's not just Epstein, by the way — these men really do have a penchant for helping paedophiles avoid jail. Starr lent his support to Christopher Kloman, a teacher who pleaded guilty to molesting several of his students. And in 2016, Starr was ousted as president of Baylor University after he was accused of turning a blind eye to allegations of sexual assault by football players on his campus, with critics quick to point out the lawyer had of course pinned Clinton down for a sexual relationship.
But don't forget Alan! The former Harvard law professor isn't to be outdone when it comes to defending contentious characters. From OJ Simpson to Harvey Weinstein, Dershowitz's list of notable cases is like a game of Guess Who, but with only creepy men on it. He has sought out difficult cases – so it's no wonder Trump's impeachment trial is his next task.
All the president's lawyers: The team fighting Trump's impeachment

Show all 6
As Dershowitz put it himself, "I think of myself like a doctor or a priest. If they wheel Jeffrey Epstein into the emergency ward, the doctor is going to take care of him."
But what about the accusations against the lawyer himself? His name crops up again and again next to Epstein's, with two women claiming they were directed to have sex with Dershowitz while the lawyer was in the toxic sphere of Jeffrey.
A powerful New Yorker article from summer 2019 details the accusations against the American lawyer and academic, including an alleged lengthy relationship with Epstein where they flew to parties and drank champagne together, certainly beyond what one would consider a normal lawyer-client relationship. In 2014, Virginia Roberts Giuffre, one of Epstein's most vocal victims, stated in a court filing that Epstein lent her out to his friends for sex, and named Dershowitz as one of them. Dershowitz has repeatedly denied all of these allegations, and even challenged Giuffre to repeat these claims to his face.
Additionally, let us not forget the #CreepyDershowitz saga surrounding his infamous op-ed arguing in favor of lowering the age of consent.
Alan Dershowitz is not on trial here – Donald Trump is — but the fact that these are the men who comprise the president's impeachment team still speaks volumes. These are highly skilled lawyers who know how to keep politics out of it – and win.
As we enter into one of the most important political trials in American history, perhaps we should be reminded of the allegations against not only the president, but the men chosen to protect him.
Register for free to continue reading
Registration is a free and easy way to support our truly independent journalism
By registering, you will also enjoy limited access to Premium articles, exclusive newsletters, commenting, and virtual events with our leading journalists
Already have an account? sign in
Register for free to continue reading
Registration is a free and easy way to support our truly independent journalism
By registering, you will also enjoy limited access to Premium articles, exclusive newsletters, commenting, and virtual events with our leading journalists
Already have an account? sign in