The Independent's journalism is supported by our readers. When you purchase through links on our site, we may earn commission.
Why Trump-loving Republicans like Ted Cruz and Josh Hawley might surprise you at the impeachment trial
It's entirely in the interests of such politicians to give a wink and a nod to the rest of the caucus to find the 17 needed to convict. In doing so, they could get rid of one of their biggest problems for 2024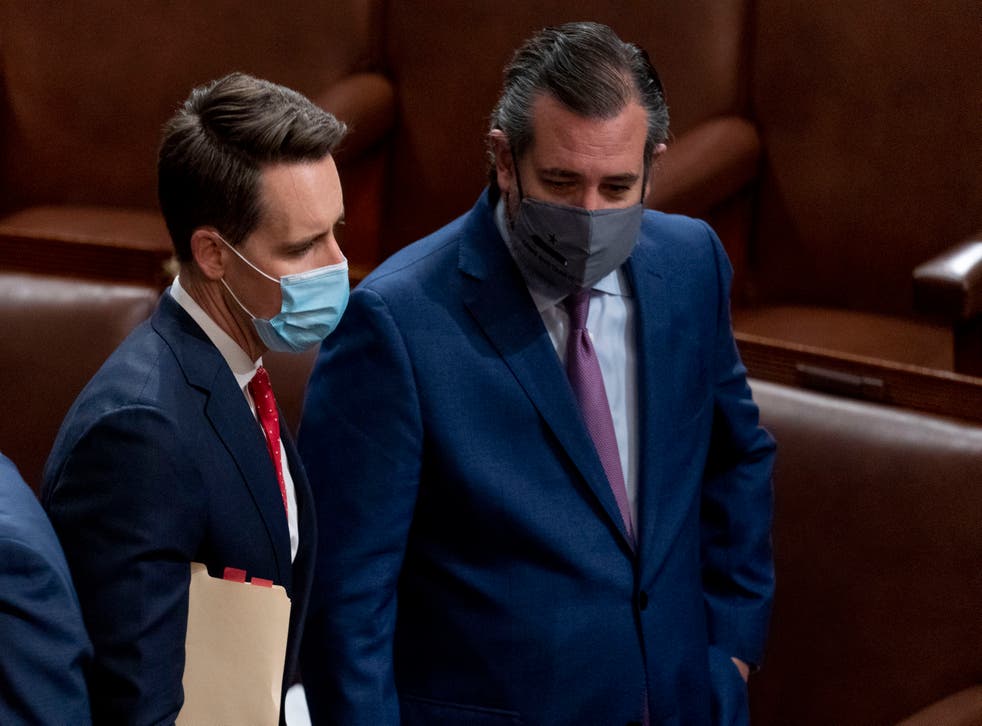 The burning question in American politics right now: Will the party founded by the colleagues of Abraham Lincoln nearly 170 years ago return to being a stable and reasonable right-leaning force of the body politic, or will it remain the bizarre Orange Combover Cult into which it somehow morphed over the past five years?
Put another way: Can elected Republicans demonstrate the political savvy to function effectively, even as a minority party that is currently completely shut out of power (thanks to electoral ineptitude of the aforementioned Cult)? Or do they possess the same level of political sophistication as the mob who stormed the Capitol a month ago?
The jury is still out.
But let's look at recent good news. First, sanity prevailed in the vote to remove Congresswoman Liz Cheney as House Republican Conference Chair, the third-highest rank in the GOP Caucus. Cheney had dared buck the Cult by voting in favor of impeachment, raising the ire of some House Republicans. In slavish devotion to the first president in an entire generation to fail at re-election, they wanted her removed as punishment for insufficient loyalty to the Loser-in-Chief.
But even in a cowardly secret ballot, they lost bigly: only 61 out of 208 had their panties in enough of a twist to vote in the affirmative; Cheney held on. (There is a bit of irony in her role in all of this, considering that 15 years ago she, as Principal Deputy Assistant Secretary of State For Near Eastern Affairs, was effectively daddy's girl running the then-vice president's shadow foreign policy undermining State Department consensus during the Bush years. Nepotism is as American as apple pie, and she's the original Jared Kushner.)
It's not all good news for Liz Cheney, however. Today, the Wyoming GOP voted to censure her for her impeachment vote, a resolution which was approved by 56 to 8. The state party has said it won't raise any money for her in future and has also asked her to return any funds used for her 2020 campaign. It's no small punishment.
House Democrats, for their part, unleashed on the looniest of the loons in Congress, Marjorie Taylor Greene, by forcing a vote to strip her of her committee assignments. Taylor Greene, considered Congress's biggest champion of the absurd QAnon conspiracy, has a rather unsavory track record of supporting controversial remarks ranging from 9/11 "truth" to calling school shootings "false flag" operations to disparaging the developmentally disabled. She has since said that she regrets some of her former remarks.
Still, in 2021, to use the words of comedian Bill Maher, all of that might still be classified as "within the normal parameters of Republican awful." But apparent sympathy for assassination of House Speaker Nancy Pelosi was a bridge too far. Granted, only 11 Republicans voted against Taylor Greene, just one more than voted in favor of the second impeachment of the 45th president. Minority Leader Kevin McCarthy was correct to blame the Democrats for a "partisan power grab," especially because it sets a nasty precedent for intra-chamber retribution by whoever has the majority. But by tempering his remarks with mild criticism of Taylor Greene, he delivered a clear message: the Republican Caucus will not dance on the political grave of one of its own, and it won't commit mass suicide trying to save her either. They know she's toast in her next Republican primary election anyway. The crazies are not running the show anymore.
But 45 Republicans indicating their preference last week to dismiss the impeachment charge would suggest that the Cult still holds sway. To convict, 17 Republicans need to join 50 Democrats, yet only five Republicans supported impeachment in the "test vote." Nevertheless, elected officials sometimes vote "nay" on procedural questions to look tough, but then switch to "yea" on the actual substance. So far, 12 Republicans seem to be on the record willing to consider conviction, still five short of the necessary 17.
Here's where we hope for an obvious strategy behind the bluster. Naturally, Senators aligned with the Cult — for example, Ted Cruz and Josh Hawley — will never vote in favor of convicting its leader. But with their eyes on 2024, do they really want the headache of competing against the 45th president in a Republican primary, or having to deal with him as a spoiler in a third party? Their greatest dream come true is a ban on him ever seeking office again. That way they can court the right-wing populist base for their own gain, using him as a martyr for the cause.
It's entirely in their interest to give a wink and nod to the rest of the caucus to find enough Republicans to reach 17. Subsequently attacking them as traitorous wouldn't impact the 20 who just won re-election to the Senate, since they don't have to worry about backlash from their own Cult member constituents until 2026 — by which time this whole sorry chapter will be forgotten.
Quite simply, the GOP Caucus ought to orchestrate 17 pro-conviction Republicans and then let a simple majority of the Senate get the former president out of politics forever. It's entirely in the party's interest. Once gone, those looking to carry the flag in 2024 can fight over the scraps Trump left behind. This requires some courage — and only time will tell if they have acquired any since he humiliated the lot of them in the last Republican primary.
George Ajjan is an international political consultant and former Republican candidate for the US Congress
Register for free to continue reading
Registration is a free and easy way to support our truly independent journalism
By registering, you will also enjoy limited access to Premium articles, exclusive newsletters, commenting, and virtual events with our leading journalists
Already have an account? sign in
Register for free to continue reading
Registration is a free and easy way to support our truly independent journalism
By registering, you will also enjoy limited access to Premium articles, exclusive newsletters, commenting, and virtual events with our leading journalists
Already have an account? sign in
Join our new commenting forum
Join thought-provoking conversations, follow other Independent readers and see their replies