The Donald Trump Jr controversy with Russia barely scratches the surface of what will be revealed in the near future
Trump Jr had three words when promised dirt gathered by Russia on Hillary Clinton – 'I love it'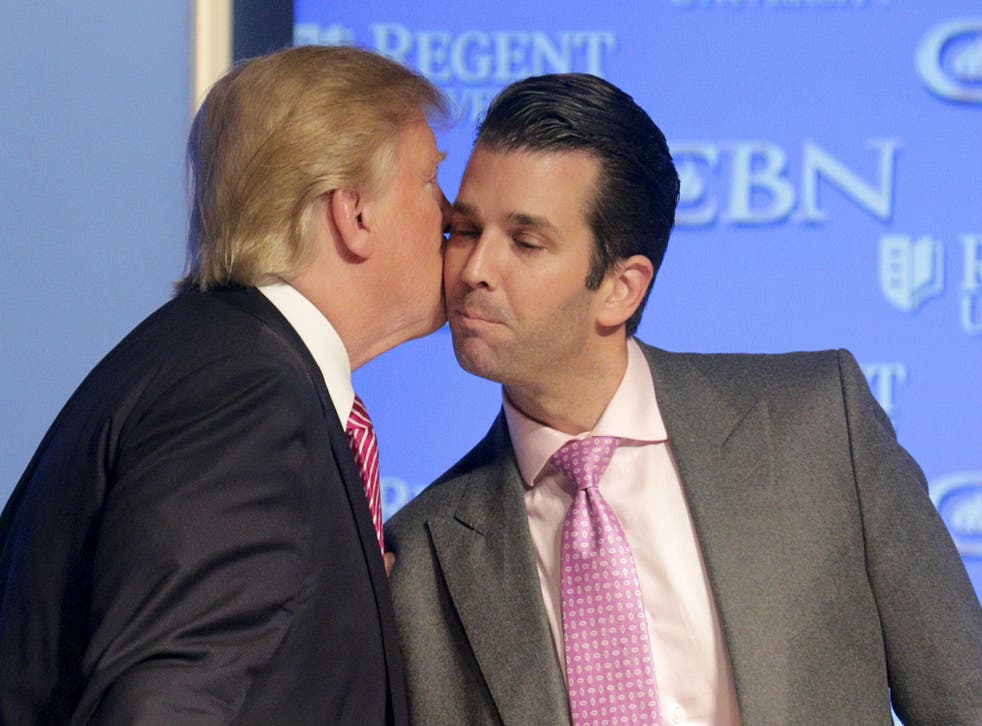 Oh, this teasing game. With each new shock revelation in the probe into alleged collusion last year between the Trump campaign and Russia to keep Hillary Clinton out of the White House we yell "smoking gun" only to discover the gun is still a water pistol and the smoke is steam.
Nothing about the latest bombshell regarding a meeting that Donald Trump Jr held at Trump Tower last year with a Russian lawyer with ties to the Kremlin is good. Indeed, this is the most damning tidbit to have come to light so far. It stinks for a variety of reasons and the stink seems to get worse by the hour as new details emerge. But is this the big one that will blow up the entire Trump administration? Doubtful. Is it the last one that will drop? Even more doubtful.
It is a tidbit because nothing actually came of that encounter – best we know – that changed the course of the election. The lawyer, Natalia Veselnitskaya, was billed as having information that might harm Clinton, but in the end, as Trump Jr himself recounts it, she offered nothing of the kind. She wanted to discuss a Kremlin ban on Americans adopting Russian orphans and related US sanctions on Russia.
Imagine if this meeting – also attended by the President Trump's son-in-law, Jared Kushner, and his campaign manager at the time, Paul Manafort – had in fact delivered the promised dirt and it had thereafter been weaponised against Clinton. How much simpler to understand all this would be and how much easier would be the job of Robert Mueller, the special counsel who is tasked with deciding eventually what laws, if any, were actually broken.
Dirt, at this meeting at least, seemingly was not forthcoming. But this is clearly an important moment in the investigation. Why? Above all because it reveals that senior members of the Trump campaign, including Trump Jr, knew very well that Russia was attempting to corrupt the electoral process and damage the Democratic candidate as long ago as June of last year and that every time they said otherwise when questioned by the media or others they were lying.
"It's disgusting, it's so phony. I can't think of bigger lies," Trump Jr said last July when asked about allegations that Russia had hacked into the Democratic National Committee's computer servers. That statement looks laughable now, though it's not funny to contemplate the baldness of his fib. Now we know that at least he, Kushner and Manafort knew of the Russian intention to meddle months before even the US intelligence agencies came to the same conclusion.
In an important sense, it doesn't matter that Veselnitskaya in the end didn't have dirt. Trump Jr agreed to see her expecting she would. He did not do what he surely should have done – contact the FBI or the Federal Election Commission and say he was being asked to consort with a foreign power in a way that threatened to violate US law. Instead, he cried, "I love it".
Those are the three words now ricocheting around the political echo-chamber of Washington. "I love it." This was the answer given by Trump Jr after receiving a first email from an intermediary revealing that a former business associate of his father in Moscow had been contacted by a Russian government official who had information that could hurt Clinton's election chances.
That we know all this is thanks to Trump Jr himself who saw fit to release the whole email chain between himself and the intermediary, identified as Rob Goldstone, a British music publicist. Two things popped out. What Trump Jr was allegedly being offered was explicitly coming from the Russian government. And second, the prospect of receiving it thrilled him.
Goldstone told Trump Jr that documents existed that "would incriminate Hillary and her dealings with Russia and would be very useful to your father." In his first email, he went on: "This is obviously very high level and sensitive information but is part of Russia and its government's support for Mr Trump." Repeat after me: part of its government's support of Mr Trump.
The reply from Trump Jr came minutes later and it was similarly unambiguous. "If it's what you say I love it especially later in the summer," he wrote. (Why later in the summer? Because by then his father would be in full battle dress against Clinton.) It was a few days after that that Goldstone wrote back and proposed the meeting between Trump Jr and Veselnitskaya.
What is the best spin the White House can put on this? That Trump Jr was inexperienced and didn't grasp the legal perils he was confronting? (But Manafort surely should have done.) They could paint him as being just too eager to help his father. That brings us to the White House assertion that President Trump had never heard of the meeting with Veselnitskaya until reading about it in the New York Times. The only explanation for that would seem to be that Trump Jr is terrified of his father – as the collusion investigation mushroomed so admitting to having met with Veselnitskaya became more difficult, because papa would hit the roof.
Which is what is happening in the Oval Office right now. How does the White House explain away all those times it said contacts with Russians didn't happen when clearly they did? As Mark Warner, the top Democrat on the Senate Intelligence Committee, put it, the "pattern of convenient forgetfulness" on all their parts – hello, Vice President Mike Pence, are you listening to this? – is wearing awfully thin. "We're up to 20-plus examples of senior-level officials – and even you could argue the president himself, continues to deny they've had any contacts with Russians until the proof comes out that there were contacts, multiple contacts," Warner said.
How does this White House expect to continue to insist that Trump himself knew nothing about Russia actively working to help him become president? Come along now.
Some argue that Trump Jr violated an election law that forbids any campaign from accepting anything "of value" from citizens of a foreign country. Note, it doesn't have to be even from foreign governments. But what value do you put on dirt on Clinton if the dirt never materialised?
This is a big shoe that has dropped, for sure, but my guess is that for now it will join the footwear repository that is the office of Mr Mueller. That he and his team of expert lawyers will scrutinise the circumstances of the Veselnitskaya meeting extremely closely goes without saying. Other questions lurking include: were the documents referred to by Goldstone real? Where are they now, what did they say? Did they ever get into Trump campaign hands?
You see how this scandal is. Like the best cable series, it teases with seeming crescendos before reminding us it has actually hardly begun. Robert Mueller is the arbiter who will tell us when the end has finally arrived and what it means. Are we getting close to that moment? No. The prediction that his investigation could take months if not years still stands. Sorry.
Register for free to continue reading
Registration is a free and easy way to support our truly independent journalism
By registering, you will also enjoy limited access to Premium articles, exclusive newsletters, commenting, and virtual events with our leading journalists
Already have an account? sign in
Register for free to continue reading
Registration is a free and easy way to support our truly independent journalism
By registering, you will also enjoy limited access to Premium articles, exclusive newsletters, commenting, and virtual events with our leading journalists
Already have an account? sign in
Join our new commenting forum
Join thought-provoking conversations, follow other Independent readers and see their replies