The Independent's journalism is supported by our readers. When you purchase through links on our site, we may earn commission.
Trump wonders why the Supreme Court Justices he appointed won't support him. He shouldn't
'They're not going to burn down their court to rescue Donald Trump… they're neither stupid nor crazy. And for them to do what Trump's asking them to do, they would have to be both stupid and crazy'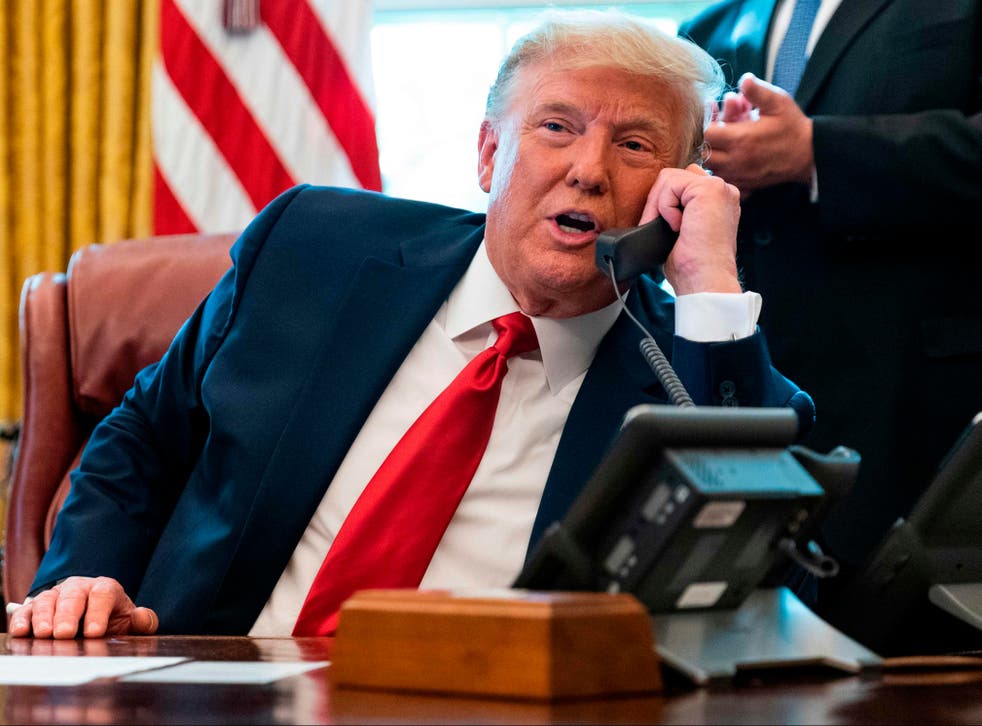 Despite his legal team racking up an unprecedented string of more than 50 losses before some of the most conservative jurists in America, Donald Trump still thinks the Supreme Court will find a way to keep him in office. But those who know the Court best — legal experts and some of his top White House lawyers — say his confidence stems from a fundamental misunderstanding, bordering on a delusion, about the 418 men and women who've been named to the bench by Republican presidents.
Speaking at a White House Hanukkah reception for supporters on Wednesday, Trump told his guests that a victory in his push to throw out election results was close at hand. Texas (now joined by a number of Republican-controlled states) had just filed a lawsuit against Pennsylvania, Georgia, Michigan, and Wisconsin at the Supreme Court (which has jurisdiction to hear disputes between individual states), and he was apparently confident this would overturn Joe Biden's win.
"All I ask for is people with wisdom and with courage, that's all," Trump said, according to a video of the event shared by a prominent Orthodox Jewish reporter. "Because if certain very important people, if they have wisdom and if they have courage, we're going to win this election in a landslide."
Trump's record of adding conservatives to the federal judiciary has long been viewed by him as not just a signature accomplishment or a measure of influence that will outlast his presidency, but as an insurance policy of sorts.
And in many instances, the courts have not disabused him of this notion. Emboldened by an early case in which a 5-4 conservative Supreme Court majority (including his own appointee Neil Gorsuch) upheld his so-called "Muslim ban," Trump has often expressed the view that all he needs to win a given case is for it to reach the high court. He explicitly described his understanding of the legal landscape he faces in Februrary 2019, when he announced that he was declaring a national emergency to justify reprogramming military construction funds to build the border wall that was the impetus for a 35-day partial government shutdown.
"And we will then be sued, and they will sue us in the Ninth Circuit even though it shouldn't be there, and we will possibly get a bad ruling, and then we will get another bad ruling, and then we will end up in the Supreme Court, and hopefully we will get a fair shake, and we'll win in the Supreme Court," he predicted, speaking in a bizarre, singsong voice.
The San Francisco-based Ninth Circuit Court of Appeals has long been a favored boogeyman for Trump and conservatives who've spent years railing against the evils of so-called "activist judges". But one former Trump administration official said the reason Trump's challenges are getting knocked down by Trump-appointed judges is because what the president's campaign and allies are asking is for judges to do exactly what they were selected to avoid.
"That's the opposite of what conservative justices are — that's activist as f**k… wading into the three branches of government," they said. "If the president is saying that… it's probably because someone is telling him that."
Indeed, the judges who've rejected Trumpworld's multiple attempts to overturn election results in swing states are known as some of the most conservative members of the federal bench.
One of the first judicial broadsides against a Trump election lawsuit came from the Pennsylvania-based Third Circuit Court of Appeals, in a unanimous opinion authored by Trump appointee Stephanos Bibas. On 27 November, Bibas wrote: "Charges require specific allegations and then proof. We have neither here." He later added that the Trump campaign's claims "have no merit."
And on 5 December, a three-judge panel of the notoriously conservative Eleventh Circuit Court of Appeals (which hears cases on appeal from Alabama, Florida, and Georgia district courts) upheld a Trump-appointed district judge's rejection of a challenge to the results from Georgia attorney L Lin Wood.
The unanimous opinion, authored by Chief Judge William Pryor — one of most conservative jurists in America — for a panel including Trump appointee Barbara Lagoa (both of whom were on Trump's Supreme Court short list), explained that federal courts "may not entertain post-election contests about garden-variety issues of vote-counting and misconduct that may properly be filed in state courts."
More recently, the nine justices of the Supreme Court — including the three appointed by Trump — flatly denied an appeal by Pennsylvania Representative Mike Kelly, who had sought to have his state's election results thrown out with a terse, one-sentence order: "The application for injunctive relief presented to Justice [Samuel] Alito and by him referred to the Court is denied."
A former White House official — a lawyer who spent time working in the White House Counsel's office — said it's very possible that the narrow circle of Trump's remaining advisers is simply giving him bad advice.
"It's very, very difficult to give this president or I think any president bad news, and there's a great deal of temptation, and I've seen it with my own two eyes, to give this president good news and best-case scenarios," he explained. He also noted that the top-notch lawyers who would normally be running a Republican candidate's election litigation are nowhere to be found. Trump's insistence that the court's conservatives, led by the three justices he put on the court, would overturn the election for him stems from his ignorance about the people he has often held up as his crowning achievement as president, the insider added.
"I don't think that he is a student of what conservative legal ideology is," they said. "Conservatives, generally, are not judicial activists, which means they're not about creating new rights that weren't there before, or going beyond the four corners of the Constitution… and it's that type of… outside-the-box judging that you might need to overturn election results."
Jed Shugerman, a law professor and legal historian who teaches at Fordham University Law School, said Trump is right "on some level" in his assumption that judging in modern America has partisan aspects on both the left and the right.
"But even if he's right, he has no clue about the limits to that naked partisanship," he said, noting that Trump is both "so fundamentally ignorant about the basics of law" that he thought he could end the special counsel probe into links between his 2016 campaign and Russia with a settlement. Trump is, Shugerman added, very used to viewing his relationships as transactions.
"His whole life has been transactions and expectations have some degree of loyalty, and that's a total misunderstanding of what to expect from the three justices he appointed, as well as a misunderstanding of [Justices] Alito, Thomas and Roberts," he said. "They're not going to burn down their court to rescue Donald Trump… they're neither stupid nor crazy. And for them to do what Trump's asking them to do, they would have to be both stupid and crazy."
An ex-White House lawyer — who was granted anonymity to allow them to speak candidly and without permission of their current employer — echoed Shugerman's assessment of why Trump continues to think "his justices" will save him.
"He continues, despite these, these setbacks, to believe that he's just waiting for the right panel of judges to hear a case, and because he was the one who nominated them and put them on the various levels of the federal court system, that they'll be more inclined to hear his side of the case," they said.
But no less an authority on the US Constitution than Harvard Emeritus Professor Laurence Tribe told The Independent that he was "not surprised that even the most conservative judges have tossed out the completely baseless Trump challenges to an election that even his own Homeland Security Department concluded was the most secure and well-conducted in our history."
"I wasn't surprised when judges — and, now, Justices — appointed by Trump failed to come to his rescue [and] I'm not surprised that Trump has no idea what real judges do or how they at least try, if they have any integrity at all, to apply the law as they understand it to the facts in actual cases," Tribe said, adding that what "surprises and distresses" him "is that so many people loyal to Trump do seem to have been surprised and are ready to badmouth, or even threaten, judges who don't conform to Trump's misconception of the judicial role."
That willingness to join Trump's push to throw out the election, he said, bodes poorly for the future of the Republican Party and the American republic.
"This seems like an integral part of the Trump-captured Republican Party's rejection of the rule of law itself as a meaningful part of democracy and, sadly, an integral part of their rejection of the democratic idea altogether," he said.
Register for free to continue reading
Registration is a free and easy way to support our truly independent journalism
By registering, you will also enjoy limited access to Premium articles, exclusive newsletters, commenting, and virtual events with our leading journalists
Already have an account? sign in
Register for free to continue reading
Registration is a free and easy way to support our truly independent journalism
By registering, you will also enjoy limited access to Premium articles, exclusive newsletters, commenting, and virtual events with our leading journalists
Already have an account? sign in
Join our new commenting forum
Join thought-provoking conversations, follow other Independent readers and see their replies