Lavrov's North Korea visit a reminder to Trump that Russia cannot be ignored
Kim Jong-un agrees to Russia summit later this year as Moscow steps into diplomatic fray over Pyongyang's nuclear ambitions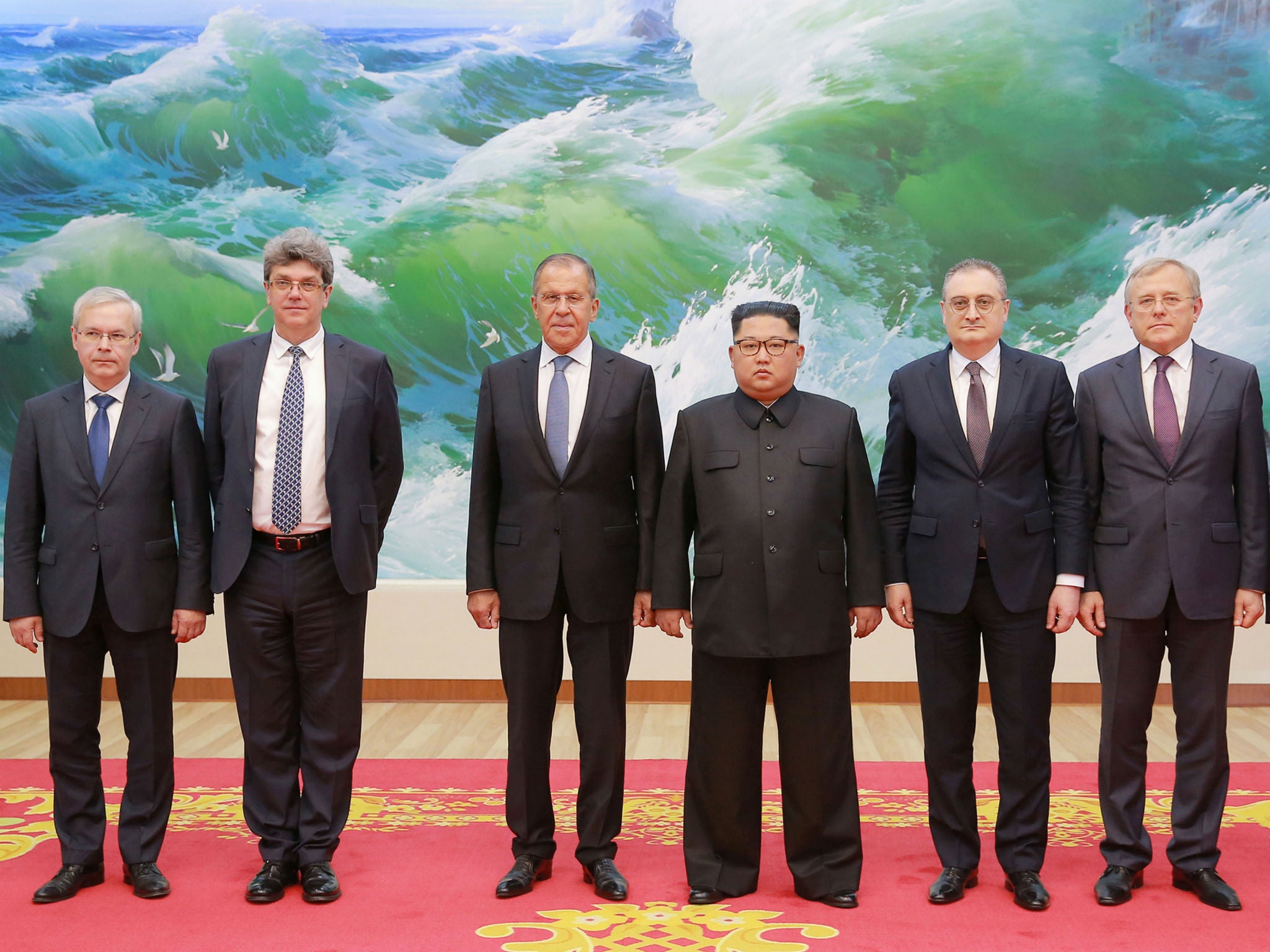 With Russian foreign minister Sergei Lavrov's visit to Pyongyang, Moscow is looking to make sure the world knows it cannot be ignored when it comes to North Korea.
Mr Lavrov's invite to Kim Jong-un to visit Russia plays into a constant theme of Russian foreign policy – that it wants to counter US influence. The prospects for the summit between President Donald Trump and Mr Kim have ebbed and flowed in recent weeks, as each leader tries to minimise the risk of looking foolish, and it is into this uncertainty that Russia has stepped.
Mr Kim has accepted the offer of a bilateral summit with Russia sometime this year, according to Pyongyang state media, while the North Korean leader's remarks at the meeting with Mr Lavrov, complaining about attempts at "US hegemony" in the region, will be music to ears within the Kremlin.

During the months of escalating rhetoric between Pyongyang and Washington, Russia restricted itself to pushing a China-led roadmap for peace. It repeatedly pushed for the US and South Korea not to undertake regular joint military drills – which North Korea believes are a provocation – and warned of the dangers of all sides escalating tensions.
While Russia has a closer relationship with North Korea than much of the rest of the world, Kim Jong-un does not rely on it like he does the money provided by the country's largest trading partner, China. Russia also does not have to deal with the same sense of threat that South Korea and Japan face.
Russia is always involved in the diplomacy surrounding North Korea – a statement from Russia was never far away when the US and Pyongyang were trading threats of military action – but the closest it had come to a direct intervention before Mr Lavrov's visit was slapping down attempts by Washington to censure North Korea at the UN for its repeated rocket launches.
World news in pictures
Show all 50
But, as we have seen in Syria and in a number of other international hotspots, Moscow is never afraid of inserting itself into issues if it plays to their advantage. President Vladimir Putin constantly portrays himself and his government as protecting Russia from the vicious West, projecting national strength as Europe and the US look to bully it into submission. It is an image that has worked well with many Russian voters.
It is against this backdrop that Mr Putin and his government will never miss a chance to show Russian strength, to demonstrate that the country can make an impact on the world stage even as it believes others are trying hobble it. If Russia can do so in the same arena as the US, all the better. Becoming a major player in Syria could be seen in such a light. As the US started to look like it wanted to reduce its influence, Russia-backed Syrian president Bashar al-Assad put his country right in the middle of possibly the most volatile crisis in the world. But it meant Russia could not be ignored, in the wake of a barrage of condemnation and sanctions over the annexation of Crimea and the situation in Ukraine.
Top North Korea official arrives in Beijing ahead of Trump-Kim summit in Singapore
In regards to North Korea, Japan has watched on with apparent increasing alarm as South Korea and the US have taken the lead over how to deal with Pyongyang's nuclear ambitions. Japanese prime minister Shinzo Abe – one of the first world leaders to acknowledge Donald Trump – has had to leverage that relationship to try to reclaim a prominent place dealing with an issue that affects his country so much.
Russia has also seen Mr Trump become integral to the issue of North Korea, but the recent wobbles in organising what would be a historic summit with Mr Kim have offered Russia the chance to impose itself. As North Korea and the US continue their discussions ahead of the summit, it looks increasingly likely Moscow will not be able to have a direct effect on whether the Singapore meeting happens or not. However, Mr Lavrov's Pyongyang visit has reminded the US and their allies that any long-term deal will likely need Russian support – and has placed Moscow back in the thick of another international crisis.
Join our commenting forum
Join thought-provoking conversations, follow other Independent readers and see their replies