Strangely enough, it's US relations with Turkey that could suffer most after the assassination of the Russian ambassador
It is neither in Russia nor Turkey's interest to elevate this assassination – Russia immediately confirmed that the planned talks on Syria, set for today, will go ahead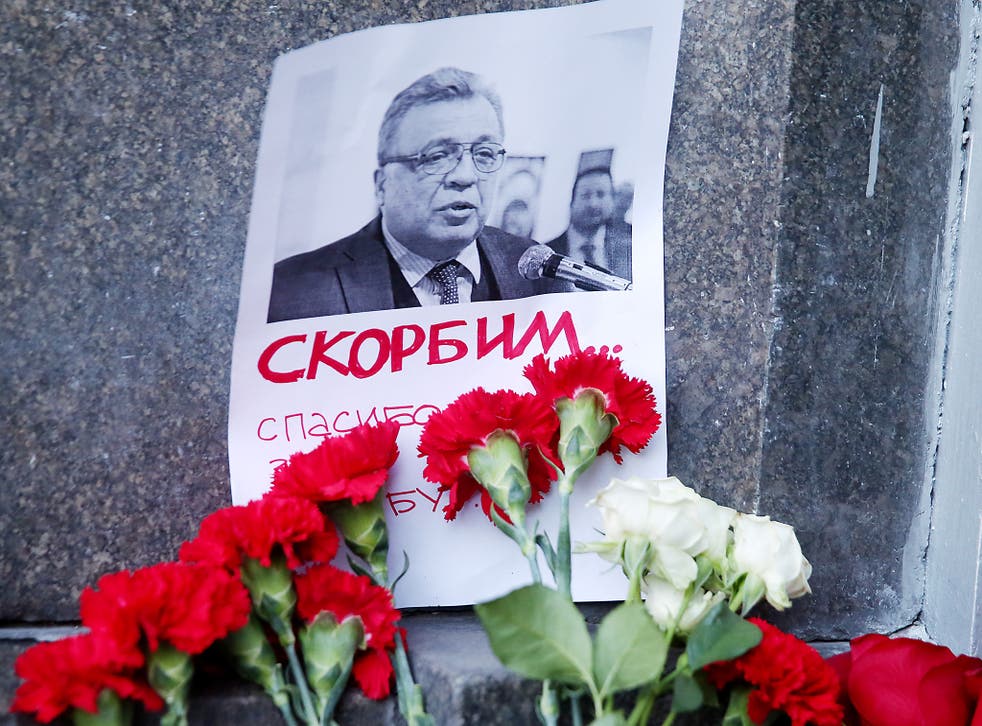 The assassination of Russia's Turkish ambassador won't be the grand diplomatic fallout you'd expect – this is no Franz Ferdinand moment.
Far from driving a wedge between Russia and Turkey, this assassination will bind them closer together and the embarrassment of such a security lapse in Ankara can only serve Putin's game plan in Syria.
"A crime has been committed and it was without doubt a provocation aimed at spoiling the normalisation of Russo-Turkish relations and spoiling the Syrian peace process which is being actively pushed by Russia, Turkey, Iran and others," President Putin said in a televised address.
"There can only be one response – stepping up the fight against terrorism. The bandits will feel this happening," he added.
The gunman, revealed as Mevlut Mert Altintas, a 22-year-old off-duty police officer who used his badge to gain entry to the Ankara art gallery where he fired eight shots into Russian Ambassador Andrei Karlov.
Russian ambassador to Turkey fatally shot at exhibition
"We die in Aleppo, you die here… Don't forget about Syria, don't forget about Aleppo," Altintas screamed after he murdered Mr Karlov – chillingly captured on camera.
His identity, his motivations and connections, if any, will predictably be the source of countless conspiracy theories.
But embarrassing questions as to how either a jihadi or a Gulenist gunman managed to evade intelligence forces and gain such close proximity to the Russian Ambassador will leave Turkey on the back foot.
Since June, President Erdogan has sought to make nice with Putin, finally issuing an apology for the shooting down of Russian aircraft over Syria – blaming it on internal "Gulenist terrorists" in an attempt to absolve the Turkish state.
The Turkish pro-government press were quick to decry the assassin part of the Fetullah Terrorist Organisation (Feto), the movement led by US-based cleric Fetullah Gulen, who Ankara also blames for the 15 July attempted coup.
Russian ambassador to Turkey shot dead in Ankara

Show all 13
"Great Sabotage" reads the front page of pro-government newspaper Yeni Safak, which proclaimed the assassination a CIA and Feto plot aimed at bringing down Russian-Turkish relations – the immediate narrative also pursued by President Putin.
Ironically, it could be US relations that suffer as it refuses to deport Gulen from his Pennsylvania home despite repeated requests from Turkey to do so.
Turkish politicians took to Twitter to blame the murder on "dark forces", also calling it a "provocation" meant to destabilise Turkish-Russian relations.
It is neither in Russia nor Turkey's interest to elevate this assassination – Russia immediately confirmed that the planned talks on Syria, set for today, will go ahead.
Turkish Foreign Minister Mevlüt Çavuşoğlu, Russian FM Sergei Lavrov and his Iranian counterpart Javad Zarif are due to discuss Aleppo and the wider Syrian crisis at the Kremlin's invitation.
Since the summer rapprochement between Turkey and Russia, the Kurdish issue is clearly marked at the top of Ankara's Syrian plan, and it appears to be happier to leave some of the anti-Assad rebels in the cold.
For while Turkish-backed rebel groups are bringing the fight to Isis as part of Operation Euphrates Shield and have made significant gains in the last few months, Turkey's first priority is claiming the ground before the Syrian Kurdish forces – inextricably linked to the Kurdish Workers' Party (PKK), against whom Turkey is fighting a bloody war in the southeast.
The Turkish buffer zone is extending further south, with rebels on the outskirts of Al-Bab, an Isis-controlled town north of now Syrian government-controlled Aleppo.
Already thousands of Syrian refugees have returned to Jarabulus, a border town Turkish-backed rebels took back from Isis in August, and one that now boasts fully Turkish-funded hospitals, bakeries and aid delivery.
With the border firmly closed to more refugees coming from Aleppo, Turkey could seek to formalise the buffer zone with Russian, Iranian and by proxy Syrian government blessing.
After last night's murder, however, President Putin has a stronger hand to play.
Register for free to continue reading
Registration is a free and easy way to support our truly independent journalism
By registering, you will also enjoy limited access to Premium articles, exclusive newsletters, commenting, and virtual events with our leading journalists
Already have an account? sign in
Join our new commenting forum
Join thought-provoking conversations, follow other Independent readers and see their replies