Turkey has reached new levels of journalist repression - yet the EU willingly lets itself be fooled for a deal
In January more than 1,000 academics signed a petition calling for a return to the peace process with the PKK. 30 have been dismissed, 27 suspended and three have just been detained prior to prosecution, for "making terrorist propaganda"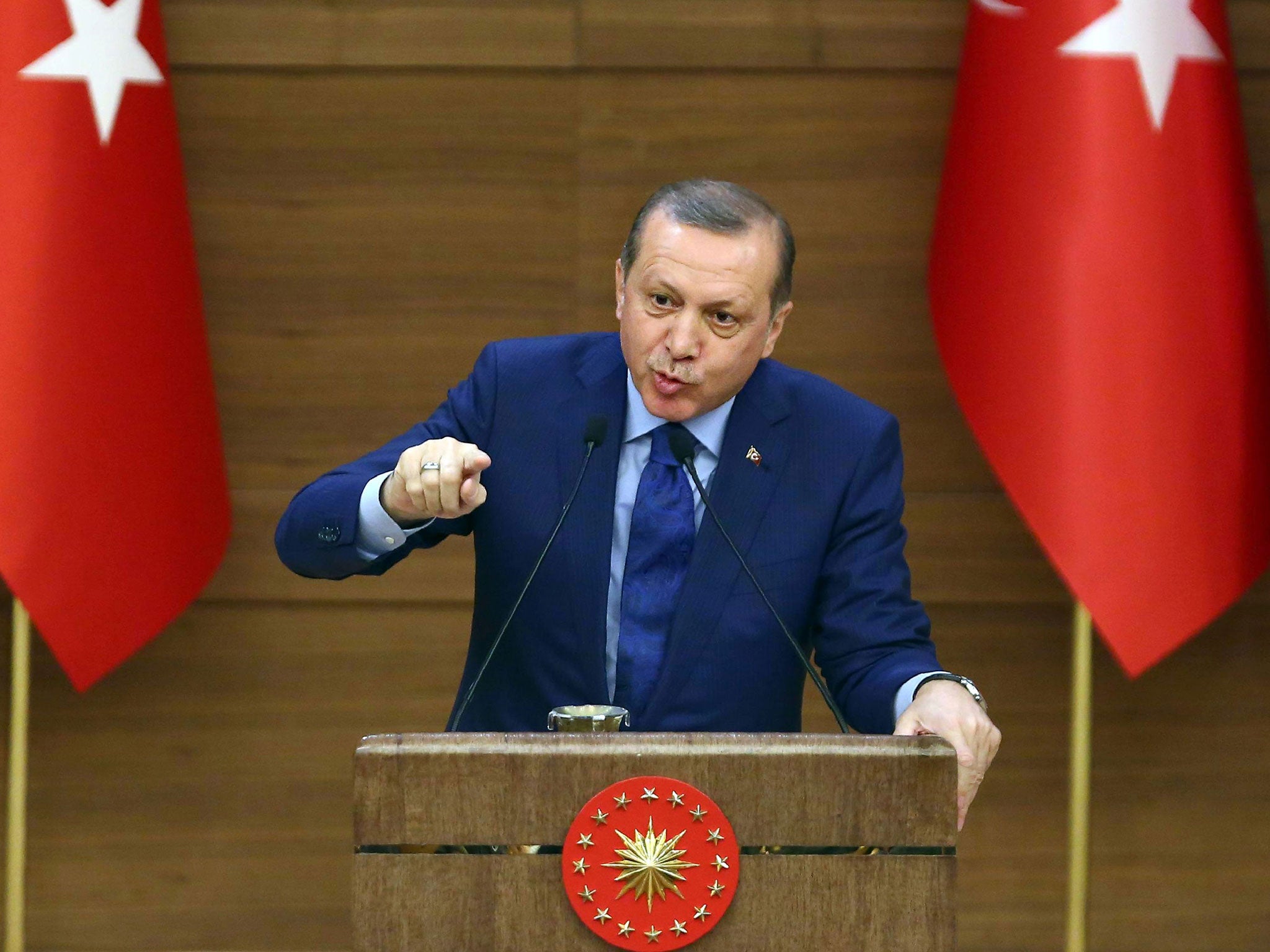 On the same day that court-appointed trustees took over the Feza Media Group - including Turkey's largest-selling daily newspaper, Zaman - the EU's president Donald Tusk met with Turkey's President Erdogan at his Istanbul palace (Erdogan's main palace is in Ankara) to pave the way for a deal to solve the migrant crisis.
Last Thursday, when the final round of talks began in Brussels, Hasnain Kazim, the German weekly Der Spiegel's Turkey correspondent, was forced to leave the country after Turkish authorities refused to renew his press credentials. Eight out of the 20 German journalists based in Turkey have also been refused press cards.
This clearly makes nonsense of the claim made by Turkey's ever-smiling prime minister, Ahmet Davutoglu, before his meeting with Germany's chancellor Angela Merkel in January: "If there is anything limiting freedom of expression in Turkey, I will be the first one to resist it." Either that, or it just illustrates Davutoglu's role in a good cop/bad cop routine with Erdogan.
It is not unusual for foreign journalists to be deported from Turkey. Some of the latest examples include a Danish journalist who was detained at Istanbul Airport and sent back to Denmark as "a threat to national security"; a Norwegian correspondent who has a German fiancé with Kurdish background; and a Dutch journalist who covered events in south-eastern Turkey.
Nor is it beneath Erdogan's dignity to launch attacks against individual journalists. For example, during the Gezi Park uprising in 2013, he accused the BBC and its resident reporter of being part of an international conspiracy to destabilise Turkey.
A pro-government daily also published a fake interview with CNN's Christiane Amanpour in an attempt to discredit her. A year later, Erdogan lashed out at The Economist's correspondent, calling her "a shameless woman" and "a militant disguised as a journalist".
The White House finds the stifling of press freedom in Turkey "troubling", but there is more to come. As a Turkish friend wrote the other day: "Something is cooking up at the extravagant palace."
Erdogan has now widened his definition of 'terrorist' to include critical parliamentarians, academics, writers and journalists, as he regards them as accomplices. In January more than 1,000 academics signed a petition calling for a return to the peace process with the PKK. 30 have been dismissed, 27 suspended and three have just been detained prior to prosecution, for "making terrorist propaganda".
At the same time as the EU and Turkey were thrashing out the details of their plan, two of Turkey's leading businessmen - Aydin Dogan, the founder and honorary chairman of Dogan Holding, which includes Turkey's largest media group, and Ersin Özince, the chairman of Turkey's largest bank, Is Bankasi - were together with their executives indicted for organised crime.
In 2009 the authorities levied a tax fine of $3 billion on Dogan Holding after allegations of corruption against the government in its media outlets.
Last January, President Erdogan's aide Yigit Bulut ("Brave Cloud") called for Is Bankasi to be nationalised. It was the same aide who during the Gezi Park uprising claimed that foreign powers were planning to kill Erdogan through telekinesis.
Two years ago the president of the Turkish Industrialists and Businessmen's Association (TÜSIAD), Muharrem Yılmaz, warned: "A country where the rule of law is ignored, where the independence of regulatory institutions is tainted, where companies are pressured through tax penalties and other punishments, where rules on tenders are changed regularly, is not a fit country for foreign capital."
He, too, was denounced as a traitor and forced to resign.
However, as President Erdogan himself made clear last week: "Democracy, freedom and the rule of law … For us, these words have absolutely no value any longer."
Robert Ellis is a commentator on Turkish affairs in the Danish and international press
Join our commenting forum
Join thought-provoking conversations, follow other Independent readers and see their replies