The predictions have come to pass: Turkey is now in Syria and this is what it means for the Middle East
The Turks don't want a Kurdish mini-state on their frontier any more than the Syrians want to lose territory to the Kurds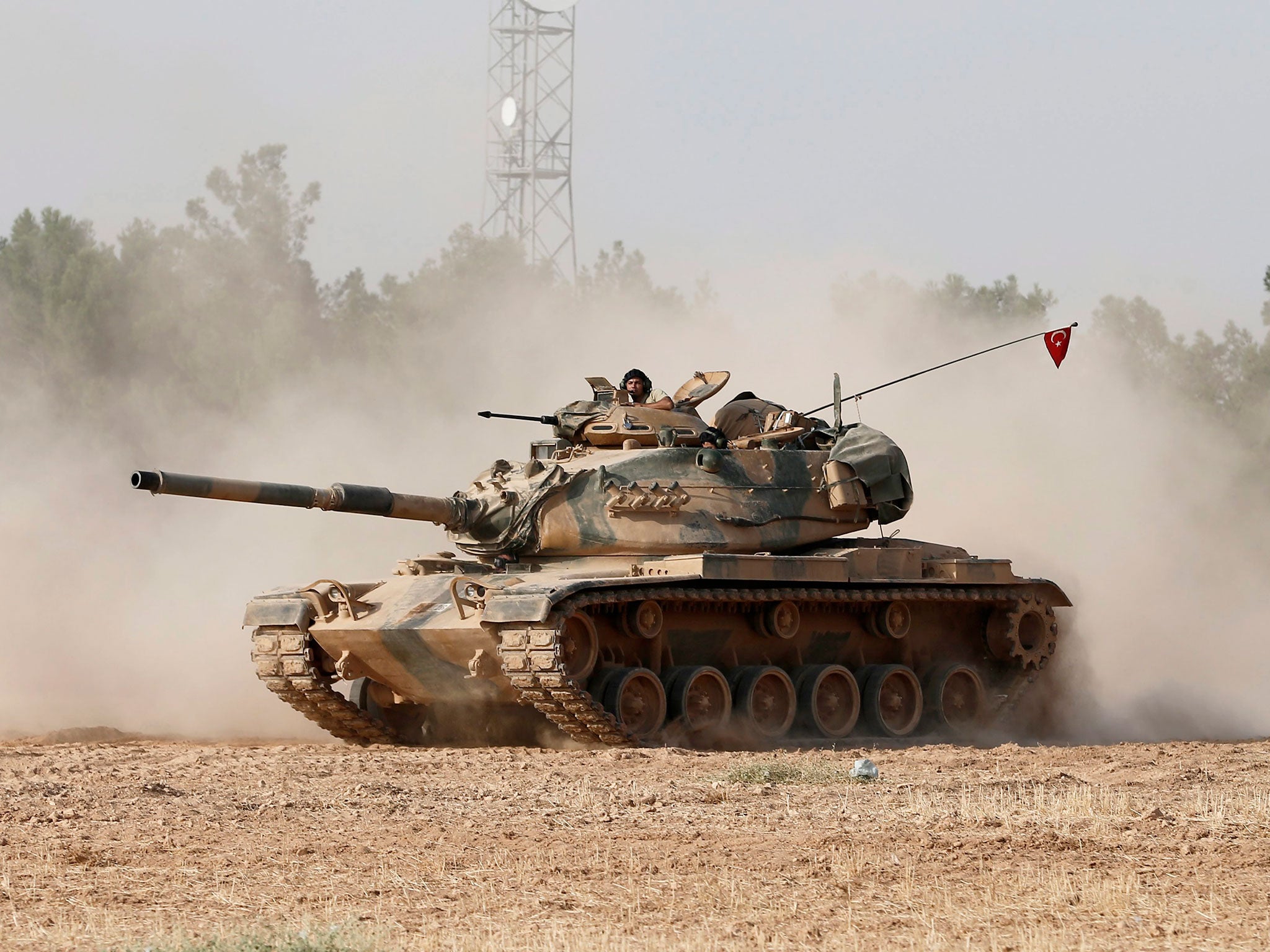 How the West would love to believe that Turkey's army in Syria – all 10 tanks of it – are striking at last at everyone's enemy, the blood-soaked cult of the "Islamic State". But few in Syria or Turkey will be fooled. Isis have been sitting in Jerablus for many months; it is the advance of the American-armed Kurdish YPG militia along the Turkish border towards Jerablus that worries Sultan Erdogan.
And yet again as Turkish troops advanced, he bundled up the YPG (People's Protection Units) – who the Turks believe have connections with the PKK or Kurdistan Workers Party, whom they view as much more dangerous – as "terrorists", along with Isis. In other words, he's calling both the anti-Assad Isis and the anti-Isis Kurds the enemies of Turkey (as he did after the suicide bombing of a wedding in Gazientep last weekend), lumping his pet hates together. Only his obsession with Fethullah Gulen, whom he blames for July's failed coup, has been omitted from his latest "battle" objectives in Syria.
Video shows tanks on the Turkey/Syria border
Erdogan's latest ally, Tsar Vladimir, will have no objections. At one blow, Turkey strikes – however feebly – at both Isis and the pro-American Kurdish militia with whose apparatchiks Moscow has remained studiously aloof. The Syrians will know – and surely will have been told – that Putin supports Turkey's little incursion. They will be in no mood to protest since their own government army was fighting the same Kurdish group in the city of Hassakeh until a ceasefire two days ago. Here, too, the YPG was trying to seize Syrian sovereign territory.
Put simply, the YPG is getting too big for its boots. It is using the anti-Isis war to carve out a little homeland inside Syria along the Turkish border and gobbling up as much of Syria as it can before the civil war ends. The Turks don't want a Kurdish mini-state on their frontier any more than the Syrians want to lose territory to the Kurds. The anti-Assad "Free Syrian Army" is supposed to be among Turkey's little squadron of armour heading for Jerablus but this is likely to be of little interest to Damascus: Syrian troops have long since ceased to regard the FSA as a serious military force and will not worry if its men wish to "martyr" themselves in this Turkish-run operation.
In pictures: Turkey coup attempt
Show all 17
It's all bad news for Isis, of course. And deeply ironic, for it was at the very same Jerablus – under Turkish shellfire today – where TE Lawrence "of Arabia" spent some of the happiest months of his life before the First World War, digging through the ancient ruins of Carcamish, and where he began to frame his affectionate but also deeply racist view of the Arabs. The sterility of the desert, Lawrence would later write of anyone who lived there "robbed him of compassion and perverted his human kindness to the image of the waste in which he hid."
He wrote of the Arab's "delight in pain" and of how the desert became "a spiritual iceberg, in which was preserved intact but unimproved for all ages a vision of the unity of God." Perhaps Lawrence got closer to the mind of Isis than we might imagine. Now the Turks can discover this for themselves in the new ruins of Jerablus.
Join our commenting forum
Join thought-provoking conversations, follow other Independent readers and see their replies