Black-cab drivers have started a propaganda war against Uber
In the UK, Dads Defending Daughters claims to be a campaign group that is simply protecting women. But isn't their true agenda the eradication of Uber?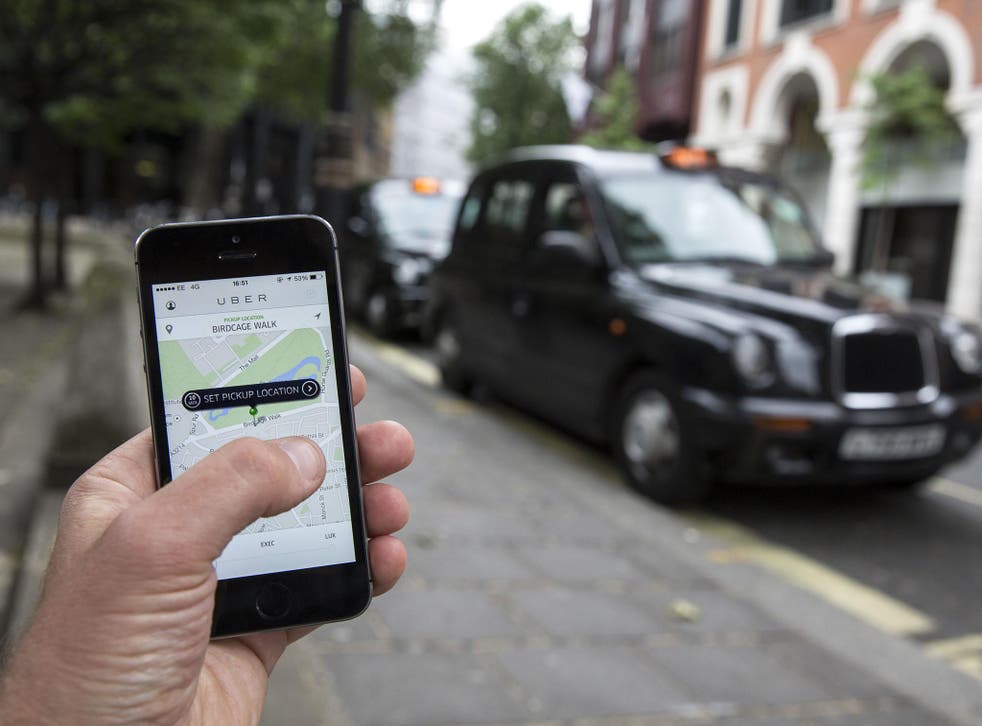 Hail a black cab during the festive season and it's highly likely you'll be drawn into the war erupting on our city streets. The same battle is being fought all over Europe, and the target is Uber.
I sympathise with black-cab drivers who say their livelihood is at risk as they are undercut by inexperienced competitors – but why should I pay to hear rants about Uber drivers being responsible for a host of crimes, from "clogging up the traffic" to "dangerous driving" and, worst of all, "presenting an extreme danger to women"?
One pressure group of black-cab drivers called Dads Defending Daughters (DDD) campaigns most vociferously, waving placards at demonstrations and posting angry blogs online. In America, the original DDD website sells Tasers, stun guns, surveillance cameras and pepper spray. UK DDD claims to be simply protecting women. But isn't their true agenda the eradication of Uber?
Uber driver rescued after caught by rising tide on Holy Island crossing
They write of "Uber rape", claiming there were 154 minicab-related serious sexual assaults in the year to February 2016, which (they say) involved 32 Uber drivers. Crime statistics show sexual assaults by cab drivers reached a five-year high in 2015, but it is impossible to find out how many were committed by Uber drivers; police do not offer a breakdown.
Are women at more risk in an Uber vehicle? Two black-cab drivers have been responsible for serious sexual assaults against women in recent years. David Perry received a 10-year sentence for four charges of rapes and sexual assault in 2015, and John Warboys was convicted on 19 charges involving 12 women in 2009. After his conviction, more than 100 victims came forward. The Independent Police Complaints Commission explained: "This case highlights real concerns about the overall police response … there was a culture that a black-cab driver could not possibly have committed those offences."
This week, Uber issued new guidelines. Passengers and drivers in the UK are banned from touching, flirting and consuming drink or drugs. Uber-pool is a cheap car-sharing service popular with party people and it is this group who are most likely to be behaving inappropriately. The new Uber guidelines remind passengers that chucking rubbish around and vomiting in the vehicle will result in a ban.
Yes, Uber provides a cheap service, but the real question around whether we should patronise it is over the working conditions of the person behind the wheel. Should we pick up an Uber if the driver isn't earning the minimum wage and can work unlimited hours? Uber is appealing against a court ruling which found that drivers should be classified as "employees", entitled to the minimum wage and holidays. That ruling will apply to other cab and courier companies who use self-employed workers. In the meantime, Uber isn't going away – and black cabs will continue their propaganda war.
Register for free to continue reading
Registration is a free and easy way to support our truly independent journalism
By registering, you will also enjoy limited access to Premium articles, exclusive newsletters, commenting, and virtual events with our leading journalists
Already have an account? sign in
Register for free to continue reading
Registration is a free and easy way to support our truly independent journalism
By registering, you will also enjoy limited access to Premium articles, exclusive newsletters, commenting, and virtual events with our leading journalists
Already have an account? sign in
Join our new commenting forum
Join thought-provoking conversations, follow other Independent readers and see their replies