Should white members of the LGBT+ community be allowed to attend UK Black Pride?
Events aimed specifically at people of colour will always centre around them, as they should. But year after year, the question re-emerges of whether those spaces should open up to represent those already championed in the mainstream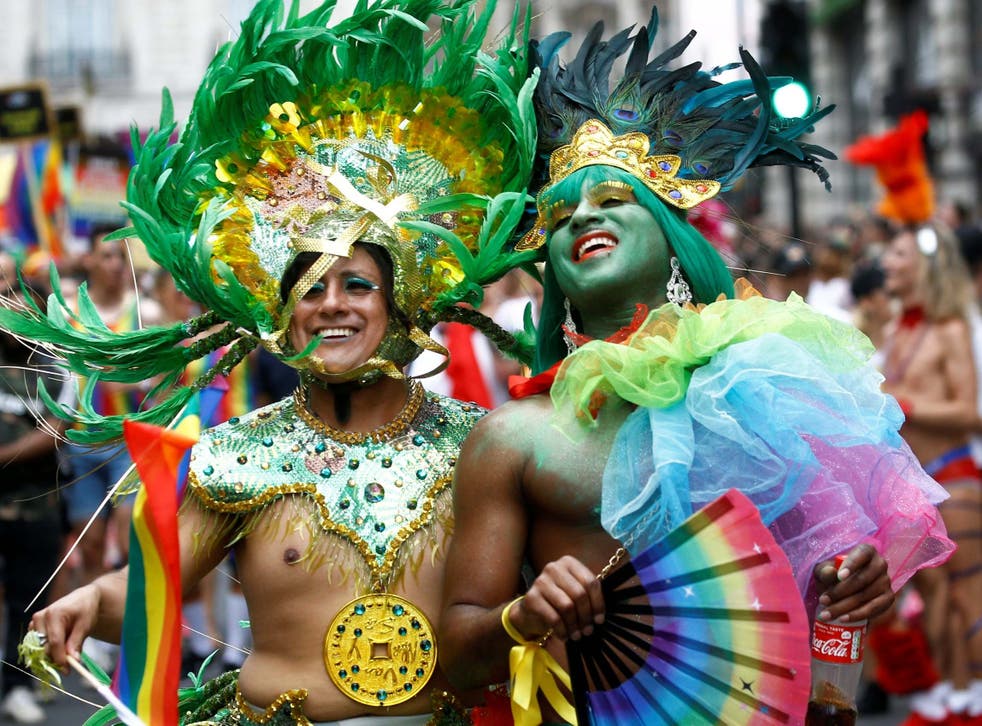 This weekend, as part of one of the most anticipated celebrations of the summer, thousands of people have made the trek to the capital for Pride. But the parade didn't end yesterday. Today, UK Black Pride, one of the most significant Pride events in the country, will be held in Hackney's Haggerston Park for the first time.
UK Black Pride is Europe's largest party for LGBT+ people of African, Asian, Caribbean, Middle Eastern and Latin American descent, and creates a safe space for people from these diverse backgrounds to celebrate their sexuality, culture and shared experiences. Their mission statement echoes that sentiment, saying: "UK Black Pride promotes unity and cooperation among LGBT+ people of diasporic communities in the UK, as well as their friends and families."
Cooperation between LGBT+ people from ethnic minorities and their white contemporaries has been an endless battle, however. Research conducted by Stonewall in 2018 revealed that 51 per cent of LGBT+ people of colour (POC) have experienced racism and discrimination from within the LGBT+ community. Trade Union Congress (TUC) published research in 2019 which revealed LGBT+ POC suffer disproportionate amounts of sexual harassment and sexual violence in the workplace.
London Pride 2019: The Best Rainbow Outfits

Show all 25
Over the years, the POC-inclusive pride flag (which adds black and brown to the rainbow flag designed by Gilbert Baker) has been used to draw attention to and address such racism in the community. At Manchester's Pride event this year, however, its presence drew both praise and criticism on social media. While some were open to the decision to highlight racial diversity within the LGBT+ community through the addition of the new colours, some Twitter users held onto their preference for the traditional six-stripe rainbow, with some saying "this is not the correct representation of our flag" and "it feels like the Pride flag is being hijacked".
The rejection of POC members of the LGBT+ community and their culture could also be seen in the US where a gay bar announced in May they would ban rap music, a decision which could lead to individuals from ethnic backgrounds to be unfairly separated from the "mainstream" because their culture is not seen as being worthy in spaces dominated by cis white male gays.
Racism is still rampant at pride events, leading many to feel left out and unrepresented. This is why events like UK Black Pride are needed in addition to "mainstream" Pride. Ironically, some white gay people claim they feel "left out" of the Black Pride celebrations, or may be confused regarding whether they are allowed to attend.
Josh Rivers, a representative from UK Black Pride said: "Allyship is hugely important and we appreciate that people outside of our lived experience are questioning whether or not they're allowed to attend.
"We ask that allies keep in mind that allyship respects boundaries. Allyship is as much about stepping back as it is speaking up.
"Allies should keep in mind that their presence can also be triggering despite their best intentions, and that they can wholly support UK Black Pride and the people our organisation represents without occupying a space designed for us."
Independent Minds Events: get involved in the news agenda
This sentiment is carried even more strongly across a number of platforms, like AZ magazine, for example, an online publication for LGBT+ POC which also hosts live events. AZ Hub is a space which hosts workshops, screenings and art as a response to the lack of daytime, alcohol free social events for queer, trans and intersex POC (QTIPOC). Safe, closed spaces like these are needed and therefore exist to ensure QTIPOC individuals feel comfortable to share their experiences as well as a chance to feel free of judgement from people who do not identify with them and therefore may not truly understand their struggles.
So, for the white members of the LGBT+ community who are wondering whether they can occupy a space established by LGBT+ POC – whose contributions to gay culture are often overlooked, whitewashed or stigmatised, you must remember why events like these are needed.
UK Black Pride and other events aimed specifically at POC will always keep POC at the centre of attention, as they should. It should come as no surprise that due to their cultural backgrounds, African, Caribbean, Middle Eastern, Asian and Latino members of the LGBT+ community often have an even tougher coming out experience and may struggle to live openly as LGBT+ identifying individuals.
We need spaces where the music, the dances and the clothes of our cultures are presented by the communities that shaped them, without fear or judgement. Everyone should be able to come along and celebrate, but you must also consider the space you occupy when doing so. This is an event for LGBT+ POC by LGBT+ POC.
Join our new commenting forum
Join thought-provoking conversations, follow other Independent readers and see their replies