As the founder of Ukip, I know it's all over for the party – this is how we save Brexit even as Ukip destroys itself
I saw Ukip as a mainstream party with no prejudices of any kind against foreigners or minorities – its membership even stated this. After I quit in 1997, however, extreme right-wingers took over and became obsessed with immigration. Now the Tories are our only hope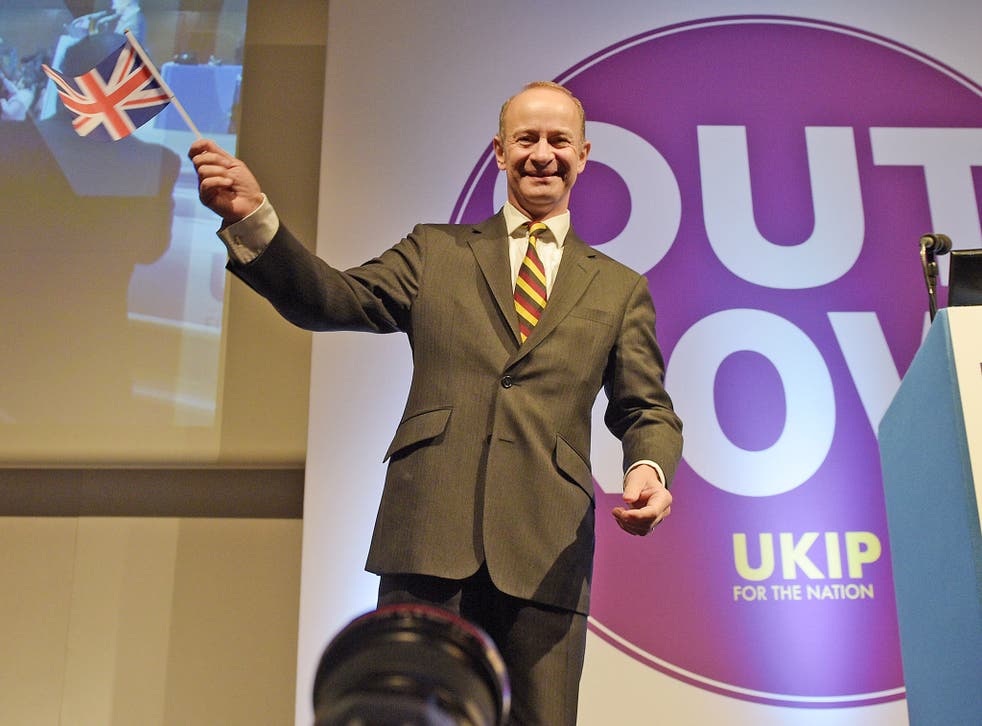 I am probably the only person in British history who conceived the idea of forming an entirely new political party dedicated to a specific cause and who then implemented the idea, founded the party, led it, built it up nationally, gave it a constitution and membership base and ultimately saw it succeed in obtaining its objective.
I did not – could not have – done this alone but, as a friend of mine put it: "No Alan Sked, no Ukip; no Ukip, no referendum; no referendum, no Brexit."
That all this happened is rather ironic because, as a teenager in Scotland under the spell of Jo Grimond, I joined the Scottish Liberal Party, became chairman of Glasgow University Liberal Club, president of the Association of Scottish Liberal Students and treasurer of the Scottish League of Young Liberals.
In 1970, as a DPhil student at Oxford under the supervision of AJP Taylor, the great historian, I stood as Liberal parliamentary candidate for Paisley. I was an enthusiastic European federalist as my manifesto made crystal clear and, in the 1975 referendum, I voted enthusiastically for Britain to remain in the EEC.
In 1972 I became lecturer in international history at LSE, where I would spend my entire academic career. I remained a good Liberal but gradually my European enthusiasm declined. I left the Liberals around 1980.
From 1980 to 1990, I was convenor of European Studies at LSE (head of the master's degree programme of that name) and co-chairman of the LSE European Research Seminar. I then had to meet hundreds of European bureaucrats, journalists, academics and others and mark endless master theses on European affairs.
By 1990, I had concluded that the EU was undemocratic, bureaucratic and profligate, and that British membership was against the national interest. This change coincided with Margaret Thatcher's growing opposition to Brussels so that in 1989 I became a founding member of the Bruges Group, set up to promote the ideas behind her Eurosceptic Bruges speech. I remained a liberal, but with a small "l".
Henry Bolton refuses to resign as UKIP party leader after vote of no confidence
I soon became the group's main polemicist and pamphleteer. I even wrote a European constitution for it based on the preservation of national sovereignty. However, another pamphlet that accused the Germans of lying about the reasons behind their refusal to participate in the first Gulf War (and which may have led to them paying for it instead), plus an attack on John Major's dithering about the Kurds (safe havens were then set up), made me an extremely controversial figure politically and in 1991, the Bruges Group chairman (actually an LSE colleague) told me I was becoming an "embarrassment" to the Prime Minister. My forced "retirement" from the group was announced at a meeting at the Reform Club.
My real crime was that in 1991 I had founded the Anti-Federalist League (AFL) to run candidates against the Tories over Europe, having concluded that a think tank or pressure group would never influence Major, who was negotiating the Maastricht Treaty. Only a new party might do that.
The AFL has two great successes. First, we arranged to get the Maastricht Treaty published. At first it was supposed to have been a secret treaty but when the Danes had to hold a referendum on it, Danish voters demanded to read it.
I and other AFL members went over to Denmark to campaign and while there we got a copy of the treaty and had it translated into English. The Sunday Times then distributed it in the UK and subsequently an official translation appeared.
By then, pathetically, MPs had debated and approved the treaty without most of them ever having read it. The document itself made us all citizens of Europe "with the obligations of citizenship", although Major could not actually say what these obligations were.
The second achievement of the AFL was the defeat of Tory Chairman Chris Patten at Bath in the 1992 general election. Patten was a fanatical European federalist who called himself a Christian Democrat and who had the West German defence minister campaign for him. He was generally held to be Major's successor as prime minister. However, when, as AFL candidate, I forced him at a huge public meeting at Bath to refuse to apologise for the poll tax, his fate was sealed. He lost the seat and blames me for not becoming prime minister. Thank God! He would have signed us up for any and every scheme that would have furthered European integration.
In 1993, I stood in two by-elections – Newbury and Christchurch – and came fourth in both, behind the major parties. Satisfied with these results, the AFL decided it had a future and changed its name to Ukip, the UK Independence Party.
There is no space here to cover its history. Suffice it to say that I saw it as a mainstream party with no prejudices of any kind against foreigners or minorities. (Its membership form even stated this.) It was supposed to be dedicated to defending our national sovereignty by taking us out of the EU.
After I quit as leader in 1997, however, it was soon taken over by extreme right-wingers, led by Nigel Farage, who was obsessed by immigration. Even in 2010 when Britain faced its greatest economic crisis since the 1930s, its election manifesto's flagship policy was "ban the burqa". It had no contribution to make on economics and even Farage himself described it as "drivel, sheer drivel", although he approved it. The party deservedly took only 3.1 per cent of the vote, this after a decade of Farage in control.
UK news in pictures

Show all 50
Ironically, however, it was the 2010 election that saved the party. Nick Clegg now took the Lib Dems into coalition with Cameron's Tories and agreed to triple university tuition fees and back austerity. This proved suicidal for the Lib Dems, who Ukip soon replaced as the default protest party. In 2013 Cameron was so afraid of its rise in the polls that, quite astonishingly, he promised an In/Out referendum on the EU. He lost, of course, and was replaced by Theresa May.
Farage, meanwhile, left politics and under a succession of poor leaders Ukip collapsed. It took 11 per cent of the vote in 2015 but less than 2 per cent in 2017. Today, its latest hapless leader has been deserted by the few remaining party members, although he has secured the baleful backing of Nigel Farage. The party has no funds, no MPs and no attraction for the public, it is in no position to hold May to account over Brexit and should simply dissolve itself. And in a way that is a pity.
As I explain in a pamphlet, Time for a Change: British Conservatism and the Politics of Brexit, published by Global Britain this week, May's Government is one of Remainers, led by a Remainer Prime Minister who in the Brexit negotiations with the EU is conceding all Brussels asks for.
At this rate, we will sign up to a deal that will make us a vassal state of the EU – paying it billions in perpetuity, subject to its jurisdiction and unable to take back control of anything. Both Houses of Parliament have a Remain majority. Yet all this can be stopped if Tory MPs ditch May and her feeble Cabinet and elect a new prime minister.
In the past, this country has always found its saviour in a crisis – Chatham, Pitt, Palmerston, Lloyd George, Churchill – and it is high time to find one again. Only the Tories can provide that leader, but they must now act soon. Ukip's day is over. But Britain still needs to be saved from the EU.
Alan Sked is the founder of Ukip and professor emeritus of international history at the London School of Economics
Register for free to continue reading
Registration is a free and easy way to support our truly independent journalism
By registering, you will also enjoy limited access to Premium articles, exclusive newsletters, commenting, and virtual events with our leading journalists
Already have an account? sign in
Register for free to continue reading
Registration is a free and easy way to support our truly independent journalism
By registering, you will also enjoy limited access to Premium articles, exclusive newsletters, commenting, and virtual events with our leading journalists
Already have an account? sign in
Join our new commenting forum
Join thought-provoking conversations, follow other Independent readers and see their replies