Ukip is trying to get black people to vote for a Brexit by scaremongering about immigration - how ironic
 Woolfe's arguments hinge upon an acceptance that Black people occupy and will continue to occupy low skilled jobs in British society. They thus should be content with staying one rung above new migrants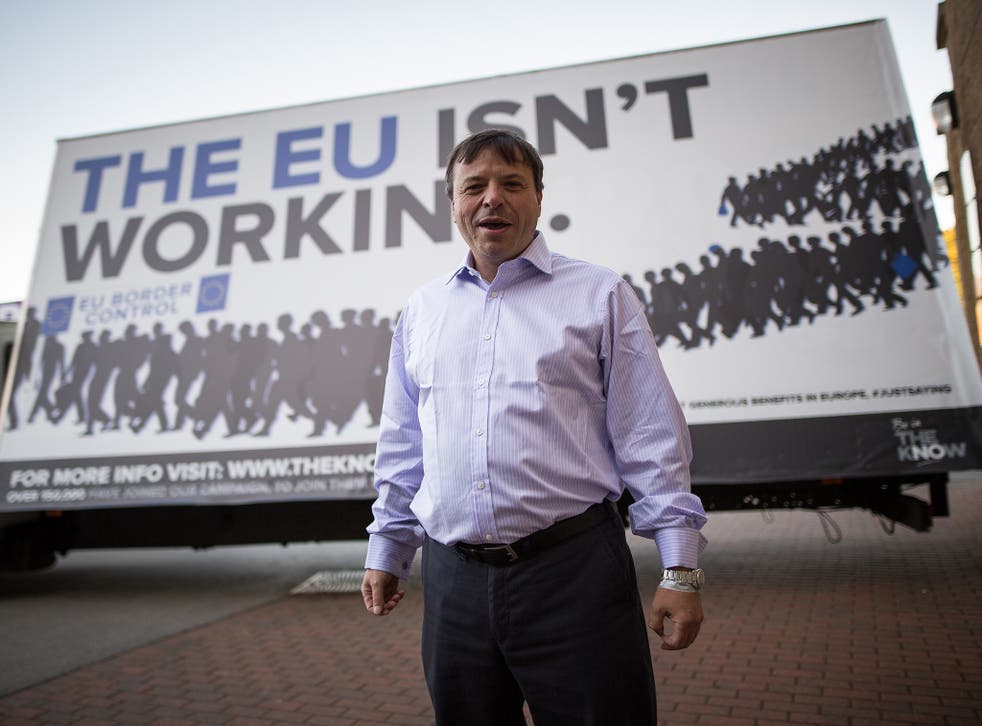 In an attempt to gain Black support for the 'Brexit' campaign, Ukip's migration spokesman Steven Woolfe has argued that it is the Black community that has the most to fear from remaining in the EU.
In an interview with the Voice, Woolfe was quoted as saying, "If you look at the black community, they are more likely to be struggling on low skilled wages". So far, so good. This is an accurate and important observation.
But then the problems start. "[T]he impact of large scale migration has pushed down wages for low skilled and semi-skilled people". In this remark, the fallacies and political biases in Woolfe's argument start to become apparent. There is in fact strong historical precedent to support the argument that migration is good for the economy. Rather than recognising an exploitative system that sees capital increasingly filtered from the bottom to the top, Woolfe chooses to blame migrants – the easy scapegoats.
Putting the Brexit debate aside, Woolfe's comments are problematic for a number of reasons. Ukip is not a party known for its concern for the wellbeing of Black people living in Britain, but rather its concern about Black people living in Britain. Indeed, to consider Ukip and racial progress in the same breath often feels like something of an oxymoron.
So to suddenly feign concern for the lives of Black Britons in an attempt to gain Black British support for the EU Out campaign seems both disingenuous and offensive.
Woolfe assumes the role of the acceptable 'BAME' face of the pursuit of Ukip's anti-immigrant agenda – one that has gained increasing political currency on the Right. And it is the same position that saw Winston McKenzie's ascent to Ukip commonwealth spokesperson. This was before he left, of course, claiming he had experienced in-party "racial discrimination".
Woolfe playing on the 'us vs them' idea is supremely ironic. Such rhetoric should have an air of familiarity to Black Britons like him who have historically (and contemporarily) been positioned as the 'them' outside of the British 'us'.
Absurdly, Ukip now expect Black Britain to be complicit in the stirring of such a climate of hate through simplistic scaremongering. However, while Woolfe continues to refer to 'evidence' that supposedly suggests Black Britons are opposed to EU membership, substantive research from the Runnymede trust finds that Black Britons are divided and largely ambivalent on the issue. They do, however, recognise that immigration debates were likely to negatively stigmatise them.
The most fundamental flaw in Woolfe's logic is the ready consignment of Black Britons to the lowest rung in society. His arguments hinge upon an acceptance that Black people occupy and will continue to occupy low skilled jobs in British society; they thus should be content with staying one rung above new migrants.
This is a contemptuous position that belies any kind of commitment to racial justice.
A real commitment to racial equality would look at the institutional racism that pervades education, employment, and the criminal justice system, and offer constructive arguments about how that situation can be resolved.
Shifting xenophobic arguments from one oppressed group to another, however, isn't exactly the inspiring narrative that Black communities are looking for when deciding which way to vote on a possible Brexit.
Register for free to continue reading
Registration is a free and easy way to support our truly independent journalism
By registering, you will also enjoy limited access to Premium articles, exclusive newsletters, commenting, and virtual events with our leading journalists
Already have an account? sign in
Register for free to continue reading
Registration is a free and easy way to support our truly independent journalism
By registering, you will also enjoy limited access to Premium articles, exclusive newsletters, commenting, and virtual events with our leading journalists
Already have an account? sign in
Join our new commenting forum
Join thought-provoking conversations, follow other Independent readers and see their replies