Whoever becomes Ukip leader won't have much of a party left to lead
Now that Britain is leaving the EU, however, there really is no point to Ukip, and it shows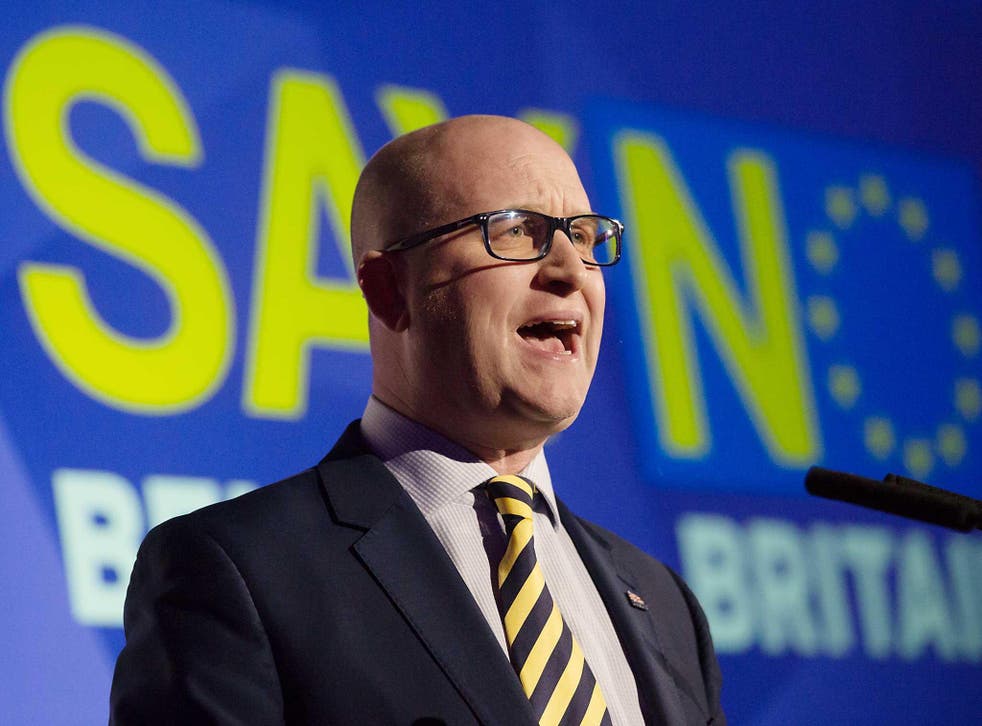 First, a warning. You must read what follows knowing that I predicted Ukip would be finished after the 2015 election. Indeed, I said in public a year before the election that in five years' time, we will have forgotten who Nigel Farage is.
So there is a danger of confirmation bias in my view that Ukip really is finished. Although it is hard to avoid that conclusion when the party is reduced to brawling in Strasbourg and its new leader resigns after 18 days in the post.
My basic argument, though, which I tentatively assert was not wrong, was that the election was bound to bring Ukip to an end. If David Cameron had lost, he would have been replaced by an anti-EU leader. Remember that two-thirds of Conservative Party members, who make the final choice of leader, voted to Leave. So they would probably have chosen Boris Johnson or Theresa May who, in this alternative history, would have been an Outer.
UKIP leadership candidate 'would bring back capital punishment'
Once the Conservatives were committed to leaving the EU, there would be no point to Ukip.
As it was, David Cameron won and held the referendum, which also meant there is no point to Ukip. If he had won the referendum, it would have settled the question. Ukip might have lingered as a vehicle for those who refused to accept the result. As a mirror image of the Tim Farron, Nick Clegg and Tony Blair refuseniks now, Farage's one-man-band could have campaigned for a second referendum on the ground that the first one had been won by a campaign of lies.
Now that Britain is leaving the EU, however, there really is no point to Ukip, and it shows. There were two things that sustained the party – the cause and Farage's character – and they have both gone. Farage has wisely declared victory and retired from the limelight. Even if he tried to come back for a fifth turn as party leader, it is hard to see how the party might be relevant again. He ought to come back as Lord Farage of Iwonthereferendum, but I suspect the establishment parties will conspire to keep him out of the Upper House.
Witney and Richmond Park confirm that the Liberal Democrats are back as the "by-election protest-vote party". There is one possible niche for Ukip in the ecology of post-Brexit politics, and that is as the protest party of the northern working class against the metropolitan elite Labour leadership.
It is no coincidence that this is precisely the pitch of Paul Nuttall, the bookies' favourite for the Ukip leadership contest currently under way. His main rival, Suzanne Evans, sounds much more like a traditional Tory. Yesterday she urged Ukip members to become teachers to mould the minds of future – dangerously Remainer – generations. If the party wanted to compete head-on with Theresa May on its back-to-the-Fifties programme (grammar schools, windmills and gay marriage), it would choose her, but the new Prime Minister seems to be doing quite an effective job of winning back that territory.
Ukip is mostly running on inertia now. It is still the third party in British opinion polls – still on 12 per cent in yesterday's two polls, just down on the 13 per cent it won in the 2015 election, and still ahead of the Lib Dems on 8 per cent.
But it has lost its purpose. Steven Woolfe, who was a candidate for the leadership before the stramash in Strasbourg, said the point of the party under him would be to hold the Government to account and to ensure a hard Brexit. That may be important to some of Ukip's more ideological theologians, but it lacks the clarity of getting Britain out of the EU.
Whoever emerges as leader in this contest will find that they do not have much of a party to lead.
Register for free to continue reading
Registration is a free and easy way to support our truly independent journalism
By registering, you will also enjoy limited access to Premium articles, exclusive newsletters, commenting, and virtual events with our leading journalists
Already have an account? sign in
Join our new commenting forum
Join thought-provoking conversations, follow other Independent readers and see their replies