The UN's treatment of interns is peak hypocrisy – poor young people are not a disposable workforce
The UN exists to protect human rights, fight inequality and empower the marginalised. But excluding young people who can't afford to work for free goes against those core values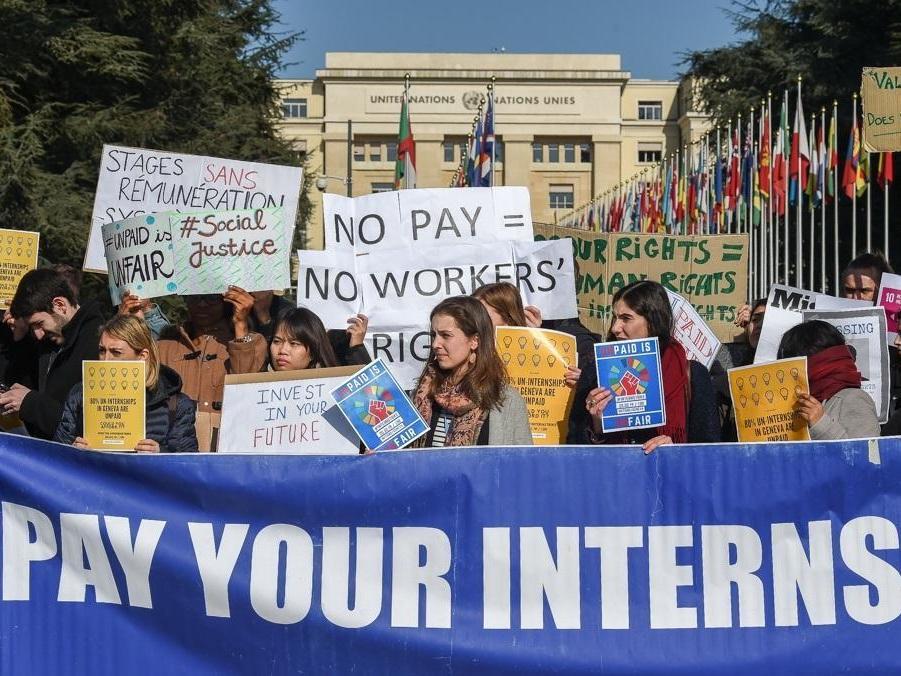 In recent weeks, interns in United Nations offices around the world have been staging walk-outs, sit-ins, demonstrations and debates to reject exploitative and exclusionary unpaid internships. These events in Geneva, Bangkok, Brussels and Copenhagen are just the most recent of protests in years of campaigning calling for the UN to put its money where its mouth is.
Every year, the UN plays host to thousands of interns around the world. Yet the majority receive no pay and have inadequate access to basic employment rights. Access to sufficient funds remains an unspoken requirement for internship eligibility at the UN, thus excluding many candidates based on their background. This shouldn't be happening in 2019. It should be a given that internships are awarded on merit, without contingency on financial status.
This is a problem that extends far beyond the UN; it's estimated that across Europe over 3 million young people a year work as unpaid interns (equivalent to the entire workforce of Denmark).
World news in pictures
Show all 50
As work experience is now a focal point of CVs, young people who can't afford to work for free are left behind, perpetuating a cycle of disadvantage.
It is for these reasons that around the globe, branches of the Fair Internship Initiative (which advocates for the rights of all interns within the UN body) have organised protests to send out a call to action on equality, fairness and quality of internships. Despite years of pressure to change, the UN is resisting these calls to practice what it preaches.
Of course the rights of interns who are already working for the UN matter – many face concerns about rent or food security, or are secretly working multiple jobs on the side to make ends meet. But ultimately, it's not about those of us who already work here. It's about the young people who would work here, if only they could afford to.
At the crux of the unpaid internship debate is the exclusion of those who would otherwise be deserving candidates for an internship, besides access to sufficient funds. It is the UN after all who should champion representation from around the world, yet there is a shocking lack of diversity in the pool of people who make it onto their internships. For instance, 87 per cent of respondents to the Fair Internship Initiative's 2017 Global UN Internships Report came from upper middle or high income countries.
Unpaid internships make working at the UN inaccessible for the majority of the planet, who could otherwise contribute to projects that often directly affect them. Diversity among interns would improve representation of many of the communities the UN serves (refugees, for example) and deliver more effective policies and programmes. It is fundamentally wrong and deeply unfair that youths from developing countries or poorer backgrounds would not get the chance to work at the UN simply on the basis that they can't afford it. As a result of inaction on unpaid internships, the UN is being shaped by those who have the privilege to work here.
The UN itself has recognised that unpaid internships are problematic. A report from the UN High Commission for Human Rights in December 2018 stated that unpaid internships "exclude de facto the most marginalised" and "limit young people's freedom to choose". Some agencies, such as the World Health Organisation (WHO), have vowed to take action. The WHO will pay its interns from 2020, in line with its own aims as of May 2018 of "balanced geographical participation" in its intern body.
Support free-thinking journalism and attend Independent events
Yet the majority of UN agencies still fail to provide their interns a monthly subsistence allowance and in cases where there is some remuneration, it is below the minimum wage. On top of this, most UN internships are offered in places where the cost of living is already extremely high: Geneva, New York and Copenhagen are some of the most expensive cities in the world.
The Universal Declaration of Human Rights states that "everyone, without any discrimination, has the right to equal pay for equal work". In many cases, interns are undertaking work that would otherwise be completed by staff or consultants. We must change the perception that interns are some kind of cheap or disposable workforce. They should be valued, and provided with stimulating projects.
The UN exists to protect human rights, fight inequality and empower the marginalised. Employers and leaders must fight for quality intern opportunities that are paid and accessible to all, regardless of socioeconomic background.
As different agencies stumble their way towards stipends, we await outcomes from the Joint Inspection Unit of the UN System, whose report last June recommended paying interns. It will be discussed at the UN General Assembly this year. All personnel are invited to stand in solidarity to demand paid internships around the world, for a fairer and more equal UN community.
Eleanor Salter is a member of the Fair Internship Initiative in Copenhagen
Join our commenting forum
Join thought-provoking conversations, follow other Independent readers and see their replies