Meet the oldest woman on the Unite for Europe march
'I'm all right here because I've been here so long and when I came there wasn't any anti-foreign feeling,' says Else Catchpole 'There is now'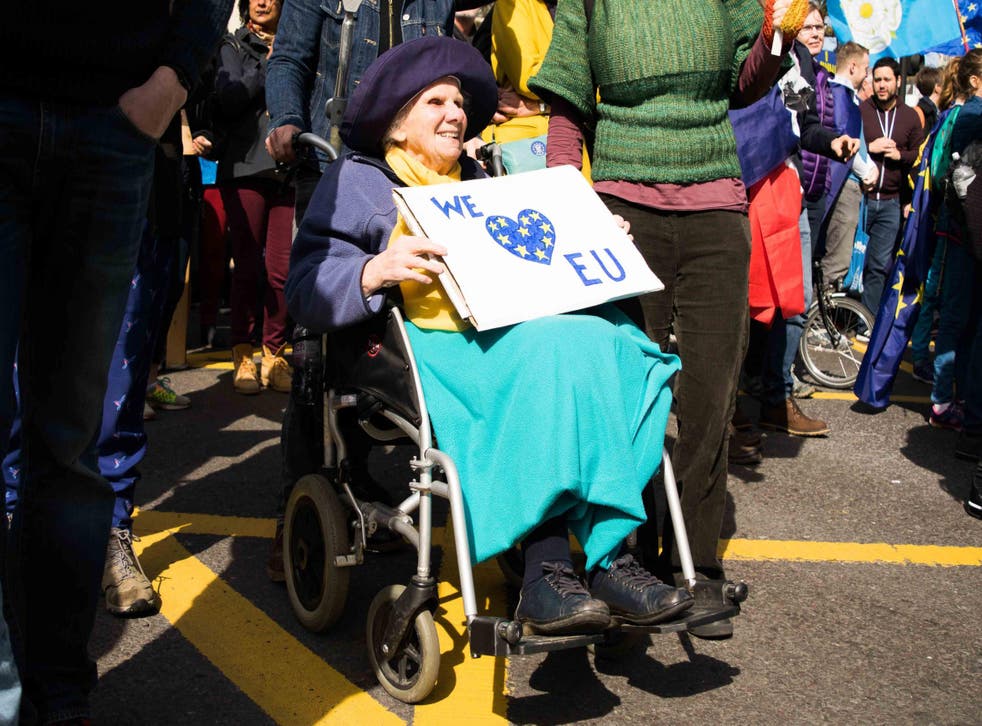 Else Catchpole, a spirited 92-year-old, blind and hearing-impaired woman travelled by train from Cambridge to join tens of thousands of other pro-EU marchers from across the country for the Unite for Europe rally, which culminated at the site of Wednesday's terrorist attack in Parliament Square for a minute-long silence.
"I don't believe in Brexit," she told us. "I'm anti-Brexit and I voted to remain. It's very stupid to get out of the EU. A terrible mistake. We'll have to suffer for it. We have to pay a bit to be in the EU, but we'll have to pay much more to be out. It's going to be hard for the whole country. Even though he was Conservative, Harold Macmillan had the right idea. He must be turning in his grave at what the Prime Minister is doing."
Catchpole, who lives on her own independently, was born in Denmark but moved to the UK, specifically Cambridge, in 1947 to look for work after the Second World War.
UK news in pictures

Show all 51
She detailed that she was an au pair for three years before moving to London to start work in a children's library, where she met her husband of 62 years until his death nearly three years ago.
Ms Catchpole told us that she felt welcome when she came to Britain but is concerned that the feeling towards migrants is becoming increasingly hostile. "I'm all right here because I've been here so long and when I came there wasn't any anti-foreign feeling. There is now and people wouldn't have voted for Brexit if there hadn't been that feeling. It would be different if I came over now, people would be more suspicious."
She is alarmed about the progress of right-wing populism and took part in an anti-Donald Trump march in Cambridge in January. But she does not believe it is right to draw comparisons between today's far right and the German Nazi Party of the Second World War.
Above all, she is particularly worried for the future for her own family – her seven grandchildren and two great-grandchildren, especially her youngest great-grandson, who is half British, half Filipino. Catchpole fears that Axel, who is 20 months old and named after her own father, will face difficulties.
"I don't want people to be chucked out of the country," she explained. "Axel and his mother won't be safe after Brexit because they are not English. I am a little worried. I hope they won't suffer."
Richard Branson believes there should be a second Brexit referendum based on 'facts'
Else said she was extremely vocal about her views on Brexit and has even been trying to sway her pro-Brexit neighbours. "Somebody across the road put up a pro-Brexit flyer in their window," she said. "So I put up an anti-Brexit one. If I meet somebody who is pro-Brexit I would argue. I would say 'we need to be in the EU'."
Catchpole does worry that Brexit will go ahead and "there is maybe no way out" but, not one to be easily defeated, insisted she will continue to protest. "The best thing we could do is stop Brexit but I've no idea what will happen," she said. "Can we make the Government change its mind? I wonder. I would like the demonstration to have that effect, perhaps it will. I wish it could."
Register for free to continue reading
Registration is a free and easy way to support our truly independent journalism
By registering, you will also enjoy limited access to Premium articles, exclusive newsletters, commenting, and virtual events with our leading journalists
Already have an account? sign in
Register for free to continue reading
Registration is a free and easy way to support our truly independent journalism
By registering, you will also enjoy limited access to Premium articles, exclusive newsletters, commenting, and virtual events with our leading journalists
Already have an account? sign in
Join our new commenting forum
Join thought-provoking conversations, follow other Independent readers and see their replies