As a university student, I feel torn about the lecturers' strike. I do support it – but I paid £9,000 a year for this
From posters demanding non-attendance to sneers at those who choose to attend running classes to looks of disdain if you admit you are not joining the protests, the expectation is clear: students must toe the (picket) line – and woe betide you if you make even the smallest step from it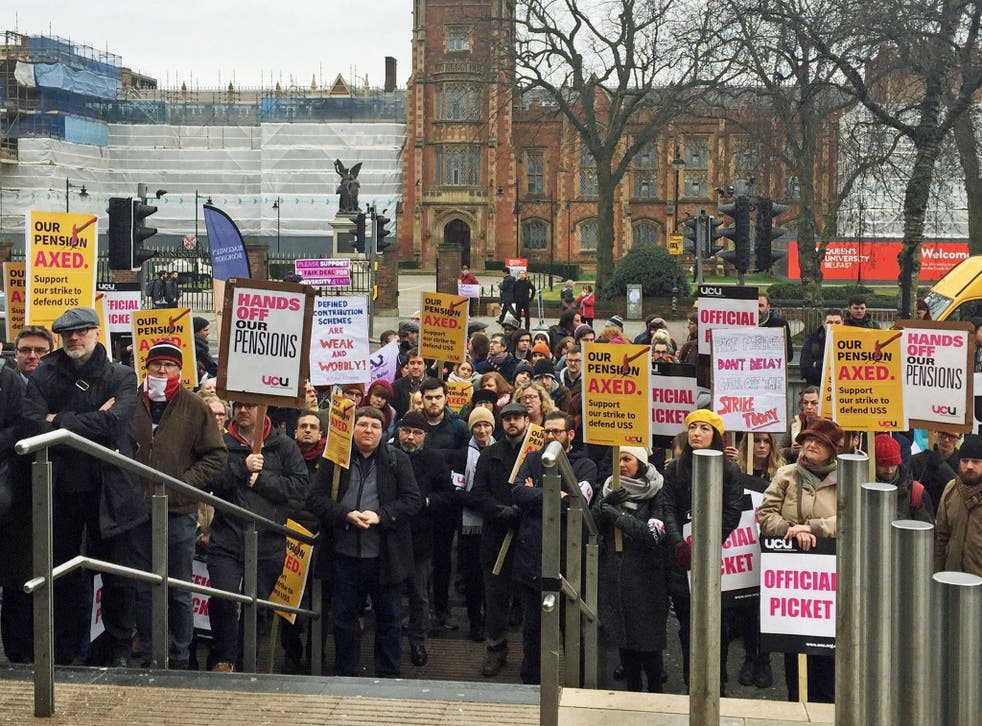 Over the last few days, UK universities have been hit by strike action taken by staff members of the University and College Union in a dispute over proposed pension changes. Lecturers have walked out of lessons and seminars, and refused to mark papers or lead preparation sessions for students about to embark on exams.
Such protests have been billed as simple to grasp: either one supports the strike action and takes the lecturers' side in the disputes, or one doesn't. End of story.
But as a student caught in the middle of these strikes, I have noticed that all areas impacted have been tainted by a refusal to acknowledge the complexities of the situation. When reading reports about the protests, you hear about widespread support between lecturers and students. You read that whole faculties are deserted while the students of these absent lecturers comprise a swelling mass of solidarity pouring onto infinite picket lines.
The truth is a little different.
This begins, of course, with the fact that striking lecturers themselves hold different opinions to one another: the four lecturers whose classes I attend most often are all pursuing different approaches to the strike. One is on full strike – though he claims this is not for himself, but due to the unjustified differences in pensions between younger and older lecturers. One is holding classes as normal, though she has cancelled some subsidiary events. One has chosen to hold classes away from the faculty, to remove the pressure of having to cross picket lines. And one explained to us, yesterday, that he is on strike, but considered his classes and lectures outside this action.
Students play steel drums as lecturers strike outside SOAS, University of London
And then there are the students. While the majority of students undoubtedly do support the strike – as I do – we are also conflicted. We paid over £9,000 a year for the courses which now have zero contact hours and aren't being taught, with papers left unmarked and exams in limbo.
This isn't about support versus opposition: it's about recognising that the massive fees we pay for university have put us in a difficult situation. Effectively students are not getting the service they shelled out thousands of pounds for. Yes, we stand by our lecturers, but we've also been denied our education and fulfilment in learning. This isn't a question of who is right and who is wrong. It's far more nuanced than that.
What worries me is the growing expectation for students to completely put aside their concerns in the name of staff-student solidarity. Solidarity to fight against those damaging education is what we all desire – but this goes both ways, and the hysteria with which some condemn those who raise concerns about the strike's impact is heartbreaking.
From posters demanding non-attendance to sneers at those who choose to attend running classes to looks of disdain if you admit you are not joining the protests, the expectation is clear: students must toe the line – the picket line – and woe betide you if you make even the smallest step from it.
We have been left stranded in a culture of guilt if we do anything else. But what about those who, for one reason or another, are torn between supporting their treasured lecturers and their treasured education? Where do they fit?
UK news in pictures

Show all 50
Coverage of the strikes stresses that the action is to defend our education. It is – but there are many ways to defend this, and many opinions to consider from those involved. We are not fighting individual levels of support for the strikers, but we are fighting those who refuse to place significance on those – all those – within education. Students need support here too: the universities quite literally owe us it.
To those who do ceaselessly support the strikes: I have seen your courage and strength and cohesion, and I am in total admiration of it. Students very rarely rise from their beds before 9am, yet many of them have been up at all hours backing their lecturers in the pursuit of a fairer system.
But because nuances are being ignored, there is only shame for those who can't bring themselves to back the strikes without any reservations. The shame we are made to feel when we have to cross picket lines to attend a running core class; the shame we feel when financial concerns come to the fore after we cannot return overdue library books; the shame we feel in wanting an education we have paid so much for – all of that needs addressing.
The truth is that being in favour of the strike action and being in favour of one's education are not mutually exclusive concepts. If we continue down the line of pretending that they are, we risk alienating everyone – and failing to achieve anything.
Join our new commenting forum
Join thought-provoking conversations, follow other Independent readers and see their replies