Minority ethnic communities are reluctant to take the vaccine after years of distrust and discrimination
Once trust in public bodies has been lost, it is difficult to regain it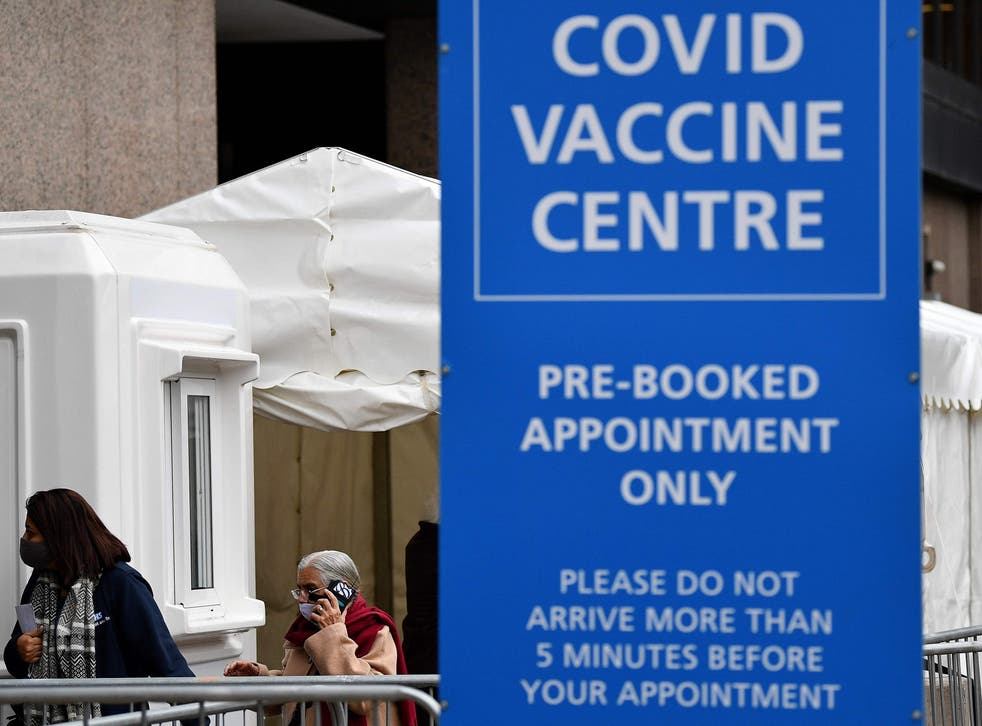 Recent polls in the wake of the pandemic have shown a worrying trend – that of reluctance among minority ethnic groups to take up the offer of being vaccinated against Covid-19.
Just 57 per cent of black and minority ethnic (BAME) respondents to the Royal Society for Public Health survey in December said they were likely to accept the vaccine, compared to 79 per cent of white respondents – and confidence was lowest amongst those who identified as Asian (55 per cent).
It followed the findings of another study last year that showed that BAME parents were almost three times more likely to reject the vaccine for themselves and their children.
So, why is this happening? And can anything be done to reverse the trend, given that BAME people are statistically more likely to die from Covid-19?
What we are seeing here is clearly an evidence of distrust in healthcare and medical professionals by members of minority ethnic communities in Britain.
I'm a data scientist and it's clear, looking at the data, that systemic gender and racial bias is playing a huge role in confidence in public health messaging. Prior experiences of facing discrimination from the NHS staff appears to be affecting people's perceptions of the reliability of any messages surrounding the vaccine.
Still, there is an urgent need to look carefully at all the data, rather than lumping everyone from a "non-white" background into the same, broad BAME category. The experiences of different groups within this category are not the same; neither is the particular bias and discrimination that they face, the cultural and social factors that affect their interpretation of media and political messaging, or their access to any such scientific evidence and information.
A document buried deep within the government's own website shows that Black ethnic groups are the most likely to be Covid-19 vaccine-hesitant, followed by the Pakistani/Bangladeshi group.
It is also interesting to note that while the messaging around vaccine-hesitancy has focussed on non-white or BAME groups, the survey also shows that other white ethnic groups (which includes Eastern European communities) also had higher levels of Covid-19 vaccine hesitancy, compared to white UK/Irish ethnicity.
Therefore, unless we pull apart the data and consider the intersectionality within it, the picture is too muddled to say for sure exactly who – and why – this is affecting. But it's clear that hesitancy towards a clinical cure handed out by our public bodies does exist, and could be down to the fact that there has long been a lack of information amongst community groups – which is symptomatic of the misinformation and confusion around the management of the pandemic from our current government.
Once trust has been lost, it is difficult to regain it quickly. There is no one single reliable source or website carrying all of the information about the vaccine. This lack of information from scientific bodies and the British media is then compounded by misinformation from social media, especially community-based WhatsApp groups.
Community groups do not have enough information in other languages besides English, which means that some of the information on the efficacy of the vaccine – or whether it is compliant with the dietary practices of different faiths – is not easily and widely available.
This is also indicative of the lack of understanding of different cultural and social contexts, and grounded in a normative view where everyone in the country is supposed to (and expected to) understand and speak English.
Whilst the pandemic has had the most impact on the groups that are marginalised and disadvantaged, and has exacerbated socio-economic inequalities; there is a lack of a clear message of addressing the additional costs in terms of travel or loss of earnings.
While on the one hand, Public Health England revealed the death rate from Covid-19 in England to be four times higher for Black people and three times higher for Asian people than for their white counterparts – due in part to the nature of their jobs, with many more minority ethnic people working as frontline workers, and due to these groups more likely to socio-economically deprived – these groups have not been given priority status in the vaccine roll-out programme.
A recent large survey in the UK of over 4,800 individuals on vaccine uptake, conducted by the University of Wolverhampton, noted 16 reasons why people may not want to take the vaccine – with the majority asking for more data on efficacy and safety.
The survey shows South Asian groups had a higher interest towards uptake of the approved vaccine, whilst Black and Chinese communities were reluctant to consider it (only 1·4 per cent of the study participants were Black, so the results are limited).
Still, as we look at these various surveys, it is very clear that the data-size is limited, and the number of people from the Black and Asian communities participating in these polls is very small – so it isn't completely representative of the broader population.
But it is clear that there is an urgent need for the messaging around the vaccine to be clearer, with a deeper understanding and acknowledgement of the existing biases that lead to mistrust in – and distrust of – minority ethnic communities.
The department of health has to make the results of the vaccine trials clearer to the general public, and start a campaign to build on that trust.
Dr Pragya Agarwal is a behavioural and data scientist, speaker and founder of a research think-tank The 50 Percent Project.
Register for free to continue reading
Registration is a free and easy way to support our truly independent journalism
By registering, you will also enjoy limited access to Premium articles, exclusive newsletters, commenting, and virtual events with our leading journalists
Already have an account? sign in
Join our new commenting forum
Join thought-provoking conversations, follow other Independent readers and see their replies