From Venezuela to Saudi Arabia, the UK is arming regimes on its own list of human rights abusers
The FCO list includes 30 countries where the UK has serious concerns about the state of human rights and democracy. Yet, in the last two years alone the Government has licenced a total of £4.1bn worth of arms to 22 of them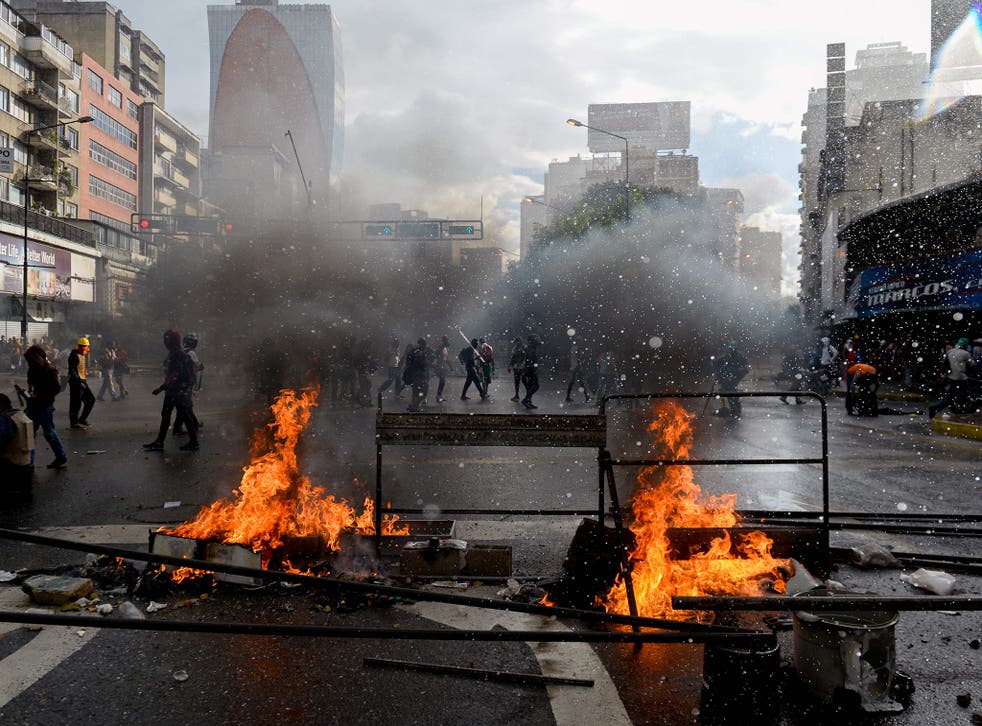 If there is one area that exemplifies and embodies the startling hypocrisy and doublespeak of UK foreign policy, then it's the Government's record on arms exports.
Recent weeks have seen a lot of tough and uncompromising talk from government ministers about the increasing scale of repression and human rights abuses taking place in Venezuela. Boris Johnson has said that the country is "turning on itself" and that "democracy and basic rights are in jeopardy".
This is something Whitehall and Downing Street have been concerned about for some time, which is one reason why Venezuela has been on the Foreign and Commonwealth Office's (FCO) list of "human rights priority" countries for the last two years.
Despite the condemnation and concerns, more than £1.4m worth of military equipment has been licenced to Venezuela since the Conservatives came to power in 2010. Unfortunately, Venezuela is not an isolated case – and far from the worst. The FCO list includes 30 countries where the UK has serious concerns about the state of human rights and democracy. Yet, in the last two years alone, the Government has licenced a total of £4.1bn worth of arms to 22 of them.
Video shows Venezuelan men in uniform claiming start of coup
The list of buyers even includes countries which are in a state of conflict (including Iraq and Afghanistan). Of course, the lifespan of a weapon is very often longer than the political situation it is sold in to, and there is little, if any, control over what happens to military equipment once it enters a war zone. That is why research from Amnesty International suggests that UK arms that were originally sold to the Iraqi government had been obtained by Isis.
The FCO list also includes a number of other countries that have seen widespread state repression and political violence at least on par with, if not even worse than, the abuses being committed in Venezuela (including Bahrain, China and Egypt).
Arms sales can never be apolitical, and these sales don't just provide military support – they also send a clear sign of approval and political support. They send a clear sign of trust and assign an extra layer of respectability and legitimacy on those that buy them.
The results can be catastrophic and deadly. As I write, Saudi-Arabian military personnel are flying UK-made fighter jets and dropping UK-made bombs on Yemen. The bombardment has lasted for almost two-and-a-half years, and has inflicted a brutal humanitarian crisis on the people of Yemen.
More than 10,000 people have been killed in the conflict, with many more dying as a result of the collapsing infrastructure and scarcity of lifesaving services and medical help. Recent months have seen a terrible cholera outbreak taking root, with almost 365,000 suspected cases, and 2,000 people being killed by the deadly disease.
Regardless of the brutality and the rapidly escalating death toll, Saudi Arabia is by far the largest buyer of UK arms, with more than £3.8bn worth of arms having been licenced since the intervention began.
In pictures: The crisis in Venezuela

Show all 22
In theory, UK arms export criteria should stop the sale of arms to countries where there is a "clear risk" that arms "might" be used in a serious violation of international humanitarian law or for internal repression. However, for decades now, governments of all political colours have continued to promote and prioritise arms sales to come of the most repressive regimes in the world.
This inconsistency and hypocrisy hasn't been an accident, it has been by design. The UK Government isn't merely an observer in the global arms trade, it is an active participant. There is even a 100-strong civil service department – the Defence and Security Organisation – that exists for the sole purpose of promoting arms exports.
Next month, the Excel Centre in east London will be hosting Defence and Security Equipment International (DSEI), which is one of the world's biggest arms fairs. DSEI will bring many of the most repressive regimes in the world together with the world's biggest arms companies. The arms dealers won't care about those being tortured and imprisoned by their buyers. All they care about it one thing: profit.
DSEI would not be possible without the full support of government. In fact, senior ministers, including the Secretary for International Trade, Liam Fox, and the Defence Secretary, Michael Fallon, will be there to welcome and address delegates. Meanwhile, civil servants and military personnel will be on hand to chaperone their guests and push for even more sales.
Thousands of campaigners will be there to stop them – with a full week of action having been called for the week before to stop the setup.
The message we will be sending is loud and clear, whether it's to Venezuela, Saudi Arabia or anywhere in-between. If May and her colleagues really believe in promoting human rights and democracy, then they must stop arming human rights abusers.
Andrew Smith is a spokesperson for Campaign Against Arms Trade (CAAT). You can follow CAAT at @CAATuk
Register for free to continue reading
Registration is a free and easy way to support our truly independent journalism
By registering, you will also enjoy limited access to Premium articles, exclusive newsletters, commenting, and virtual events with our leading journalists
Already have an account? sign in
Join our new commenting forum
Join thought-provoking conversations, follow other Independent readers and see their replies