The Independent's journalism is supported by our readers. When you purchase through links on our site, we may earn commission.
After Maduro's re-election, Trump has made some extremely unwise decisions about Venezuela
Venezuela's government doesn't act in a vacuum. Understanding the country's current impasse – and the possible paths out of it – requires examining the increasingly toxic relationships between the government, the hardline opposition, and the US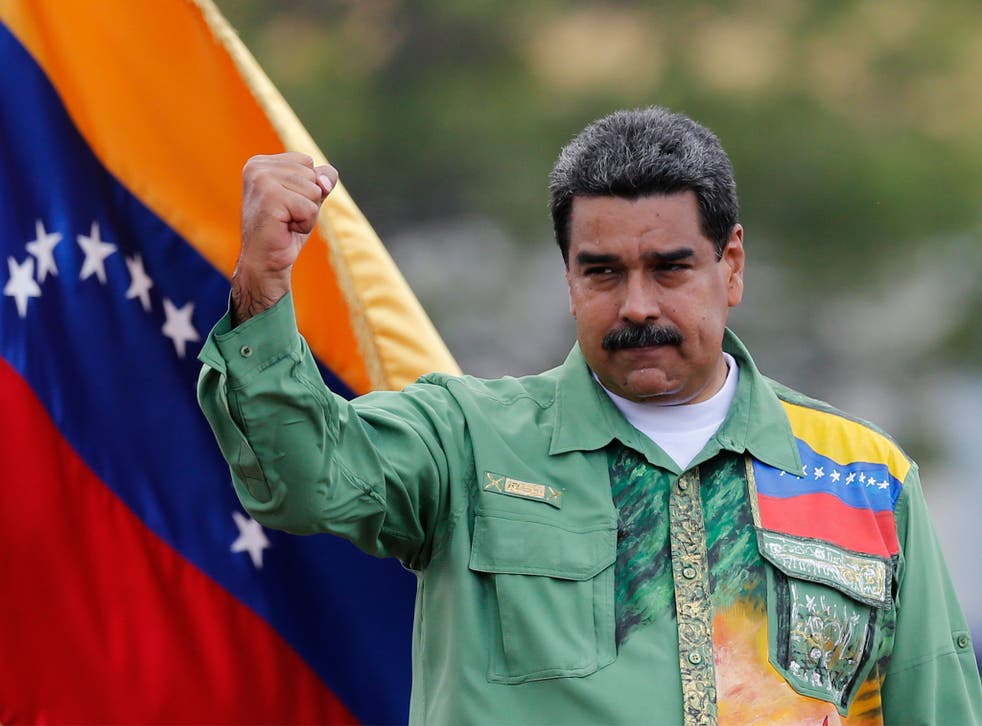 As was widely expected, Venezuelan president Nicolás Maduro was re-elected to a second six-year term on Sunday night. According to Venezuela's National Electoral Council, Maduro secured 6.2 million votes (68 per cent), with his main challenger, Henri Falcón, winning 1.9 million votes (21 per cent).
The most significant figure from Sunday's election, however, is the 46 per cent participation rate. This is a far cry from the 80 per cent turnout in the 2012 and 2013 presidential elections. If Sunday's results are viewed as credible – and thus far no evidence of fraud has been produced – it means Maduro lost roughly 1.5m votes compared to his last election, while the opposition received nearly 6m fewer votes compared to the 7.7m votes it won in the 2015 parliamentary elections (if the total opposition vote in Sunday's election is used, the opposition lost 4.7m votes). The real winner of Sunday's election was thus not Maduro but mass abstention.
Both the government and the US-backed hardline opposition share the blame for the lowest ever turnout in a Venezuelan presidential election. Despite recent polls suggesting that Falcón could have won by as many as 13 points, the main opposition forces urged a boycott of the election, as did the US government.
The Trump administration declared the election illegitimate before it occurred, and even threatened to sanction Falcón for participating. Falcón undoubtedly would have done better, and perhaps won, if the opposition (and US) had not urged a boycott.
This is not to say the election was "free and fair." It was not. The government prohibited leading opposition figures and parties from participating, moved the election forward to benefit itself, and essentially bribed voters by promising holders of a controversial new identification card, the Carnet de la Patria, a "prize" for voting. These actions have been justifiably criticised, including by Falcón, who blamed his loss on electoral irregularities and has called for new elections.
Venezuela prison riot: Utah Mormon missionary says he has spent two years behind bars and appeals for help
Yet the opposition boycott alone cannot explain why only 9.2m Venezuelans voted on Sunday. A second key reason for this low turnout is citizens' disillusionment with the government's inept economic management, above all in the area of currency policy. This is the key – but not the only – factor in the country's worst economic crisis in decades.
The crisis has resulted in chronic shortages of food, medicine, and basic goods, and the exodus of approximately 1 million Venezuelans in the last few years. The 1.5m "missing Chavista votes" in Sunday's election should send a strong signal to the government to get serious about implementing badly needed economic reforms.
Venezuela's government does not, of course, act in a vacuum. Understanding the country's current impasse – and the possible paths out of it – requires examining the increasingly toxic relationships between the government, the hardline opposition, and the US.
Since January, government-opposition relations have deteriorated considerably. The hardline opposition's boycott of this election is ominous since it suggests the possibility of a return to the violent protests that wracked Venezuela and took over 120 lives between April and July 2017. Contrary to most mainstream accounts that blame the loss of life solely on the government, careful accounting indicates that the deaths were due to the actions of both state security and violent opposition forces. In addition to causing havoc and death, a return of violent protest would make the prospects of economic reform and government-opposition dialogue – both badly needed – much more difficult.
Unfortunately, US policy towards Venezuela also makes these tasks more difficult. Since 2015, the US has levelled sanctions against a growing list of top Venezuelan officials. The White House has also pressured banks in the US and Europe to avoid loans to Venezuela.
On Monday, the Trump administration took another step, by issuing an executive order prohibiting US companies and citizens from purchasing Venezuelan debt. US officials have been considering sanctioning Venezuela's all-important oil sector; doing this would amount to a full-scale financial blockade.
By limiting the government's ability to import desperately needed goods, current US policies have already worsened the suffering of the Venezuelan people, and will continue to do so into the future. It's worth pointing out that these actions are also counterproductive, since Maduro can point to them as evidence that he faces a US-led economic war. This allows Maduro to rally support, and, equally importantly, to avoid taking responsibility for – or action to resolve – the economic crisis.
World news in pictures

Show all 50
The US has inhibited the prospects of government-opposition dialogue by supporting the hardline opposition and sidelining the moderate opposition. In the past year, top US officials have also made reckless statements indicating support for direct military action in Venezuela. In August 2017, President Trump spoke of using "the military option" in Venezuela, and in February then-Secretary of State Rex Tillerson spoke favorably about using military action to remove Maduro.
Roger Noriega openly advocated a US-led military coup against Maduro in a recent New York Times editorial. Needless to say, this sabre-rattling is unlikely to help further the prospects for government-opposition dialogue. Instead, it will embolden intransigent voices in both camps.
Ultimately, Venezuela's future may be determined not in Miraflores, the gated enclaves of Altamira, or the White House, but in Venezuela's barrios and villages. Popular support for Maduro has clearly waned, and there is evidence that it is far from unconditional. Popular protests across Venezuela in December, sparked by the government's failure to deliver promised Christmas pork, and grassroots opposition to party-denominated candidates in the December 2017 mayoral elections show this.
If the government and opposition continue to fail to offer solutions to their pressing problems, Venezuela's working classes may take centre-stage. Let us hope this day is not long coming.
Gabriel Hetland is an assistant professor of Latin American, Caribbean, and US Latino Studies at University at Albany University in New York
Register for free to continue reading
Registration is a free and easy way to support our truly independent journalism
By registering, you will also enjoy limited access to Premium articles, exclusive newsletters, commenting, and virtual events with our leading journalists
Already have an account? sign in
Register for free to continue reading
Registration is a free and easy way to support our truly independent journalism
By registering, you will also enjoy limited access to Premium articles, exclusive newsletters, commenting, and virtual events with our leading journalists
Already have an account? sign in
Join our new commenting forum
Join thought-provoking conversations, follow other Independent readers and see their replies