I knew Carol couldn't win at the Oscars - a 77 per cent male panel isn't ready for a lesbian love story that mocks men
Remember The Kids Are All Right? It similarly picked up Oscars nods - but only actually won awards in smaller, women-focused ceremonies when the judging panels were mainly female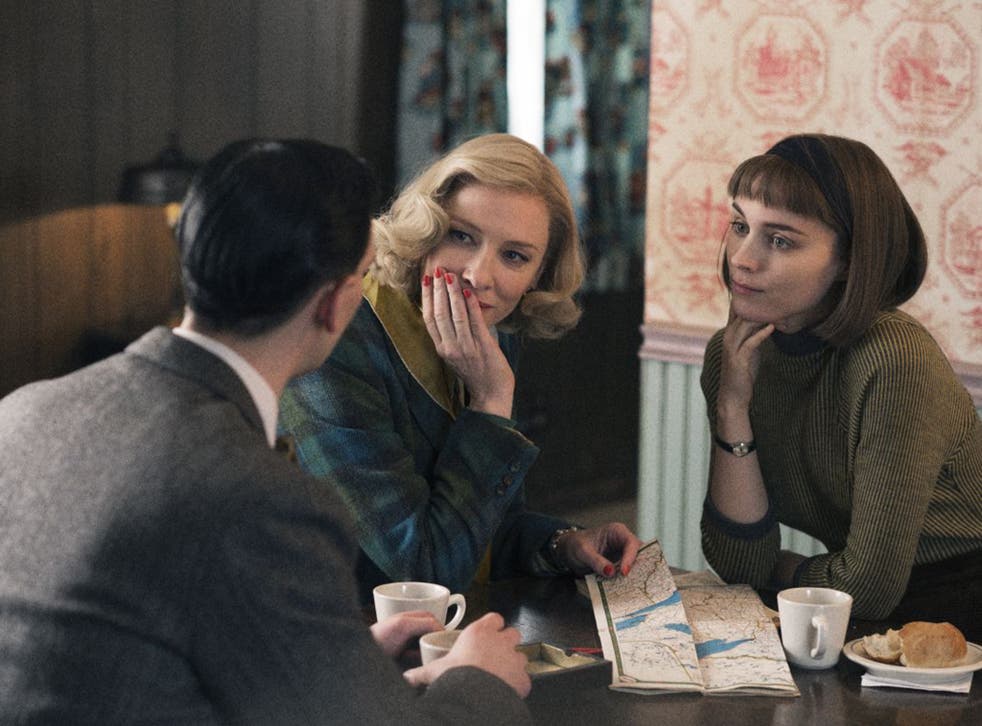 If the last few weeks have taught us anything, it's that Hollywood is racist. From the Oscars to the British Academy Film Awards, accusations of prejudice and whitewashing have hit the film industry after minority actors were excluded from the majority of award nominations. Gender controversy has also been addressed, including the way in which it's reported; the #askhermore hashtag in particular demanded that female actors were asked about something else than the dress they were wearing on the red carpet.
In other words, the 2016 awards season has been one of the most controversial in recent history.
As the treatment of Carol - a film that tells the story of a lesbian affair in the 1950s - this awards season shows, lesbian relationships remain taboo enough to get nominations, but no wins.
Directed by Todd Haynes and starring Cate Blanchett and Rooney Mara, Carol has been the toast of critics across the globe; picking up 20 nominations in nearly every major category this awards season.
Bizarre then that it was snubbed in the Best Picture and Best Director categories by the Academy; despite the fact that out of ten spaces up for grabs in this category, only eight films were selected. Stranger still that out of nine BAFTA nods it should win nothing at last month's awards. And again at last night's Oscars ceremony in Hollywood it won nothing, despite having picked up six nods.
There are no central male characters in Carol at all, and the ones who do appear are either mocked or ignored. This is a film that celebrates female sexuality in a way that is authentic, original and completely self-supporting. Not to mention removed from men altogether.
Cate Blanchett's character rejects her husband in for a more fulfilling relationship with a woman – and this unapologetic glorification of female sexual independence is clearly something the Oscars and the BAFTAs couldn't stomach.
It seems that in having the audacity to sideline men and focus solely on female experience, the film has provoked the wrath of awards voters. Considering that 77 per cent of those Academy voters are male, it was hard to have high hopes for this film at yesterday's Oscars ceremony.
It would be easy to assume that Carol was merely pipped to the post by high quality competition. But when you compare this film's fate to the eerily similar treatment of The Kids are All Right in 2010 - a film about a lesbian couple whose teenage children set out to find their sperm donor father - then the treatment of Carol speaks volumes.
Starring Annette Bening and Julianne Moore, The Kids are All Right picked up rave reviews and four Oscar nods, including one for Bening in the Lead Actress Category and Best Picture. Not to mention another four Golden Globes BAFTA nominations each. But despite the hype around the film, it failed to win any major awards.
Tellingly, the film did exceedingly well in lesser known ceremonies, sweeping the board at women-specific awards such as Alliance of Women Film Journalists and the Women Film Critics Circle Awards, where it earned recognition for its "witty portrait of postmodern family life." If anything, its success at these awards – where women, rather than men, sat in larger numbers on the deciding panels - proves that lesbian relationships are being rendered invisible in big awards ceremonies and skipped over in favour of narratives that privilege male experience.
Unfortunately, an unapologetic embrace of female sexuality that fails to factor in male sexuality with it continues to be a problem for some of the most powerful people in the industry. The Oscars may have always had a diversity problem - but it's becoming more obvious now than ever that a panel of judges who are 93 per cent white, 77 per cent male, and 85 per cent over 50-years-old is not fit for purpose in the modern media.
Register for free to continue reading
Registration is a free and easy way to support our truly independent journalism
By registering, you will also enjoy limited access to Premium articles, exclusive newsletters, commenting, and virtual events with our leading journalists
Already have an account? sign in
Join our new commenting forum
Join thought-provoking conversations, follow other Independent readers and see their replies