We have no idea if Julian Assange is a rapist - so why are we are so opposed to finding out?
For many, it seems that his work with WikiLeaks makes him above the law - and makes it impossible for him to have committed sexual assault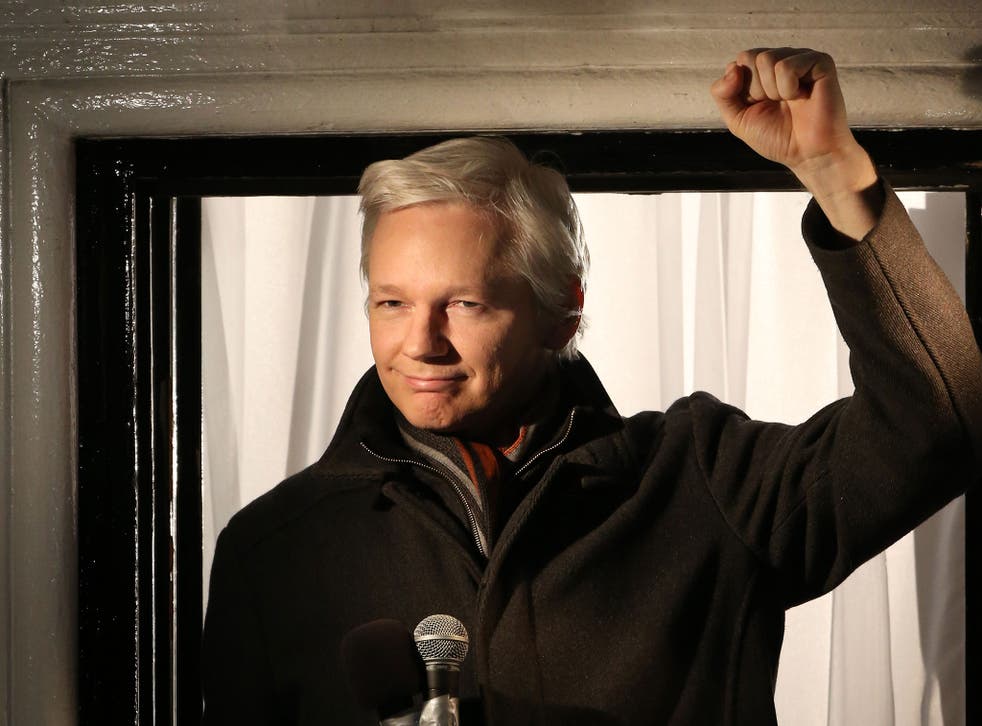 Today's UN pronouncement that Julian Assange should walk free after five years of evading extradition to Sweden puts an end to one of the most bizarre cases of our time. Sadly, it's also indicative of how society refuses to even contemplate the notion that a white, socially and financially privileged man might have to even answer allegations made by women - and how the rights of the accused in sexual violence always triumph over the rights of the alleged victims.
For those unfamiliar with the convoluted case, it begins in August 2010 when Assange was accused of raping one woman and sexually assaulting another while visiting Sweden to give a speech. The WikiLeaks founder denied, and continues to deny, the allegations. In November, Swedish authorities investigating the allegations said that they wished to question Assange in relation to the allegations, but by this time he had travelled to London. An international arrest warrant was subsequently issued and he handed himself in to British police who then sought to extradite him to Sweden to answer to the charges.
A British court ruled that he should be extradited, Assange appealed this and it went to the High Court where judges again ruled he should be extradited. He appealed this ruling as well, which then went to the Supreme Court where judges once again ruled that he should be extradited. Faced with having to finally go to Sweden to allow an investigation, it was then that Assange fled to the Ecuadorian embassy in London, where he was able to evade arrest because of diplomatic immunity customs which forbid arrests in foreign embassies.
Since then, British police officers have been standing guard outside the embassy, costing the British taxpayer some £12 million.
Assange's time at the Ecuadorian embassy has run on for so long that the time to answer the sexual molestation allegation by one of the women has run out, but the rape allegation made by the second woman remains live until 2020. Today, the UN has come out in Assange's favour arguing that British police should let him walk free, stating that he was "unlawfully detained" by the UK government.
We have no idea if Assange is a rapist - but why are so many people so opposed to the idea of finding out? It's because our society hero-worships some men and encourages and facilitates the belief that they are above the law, so long as it's women who are alleged to have been hurt.
It's because our caricatured and nonsensical notions that rapists look like grotesque ogres rather than 'real people' mean that some still refuse to even contemplate the possibility that a man can be a leading political activist and a sex offender. For many admirers of WikiLeaks work, it seems that they believe his work makes it impossible for him to have done anything he's accused of – or that even if he were found guilty of such acts, it wouldn't really matter.
Assange and his supporters have argued that he would not receive a fair trial in Sweden because of his notoriety and how many states harbour political grudges against him. They have never produced compelling evidence that this would be the case, but the concerns they cite are simply accepted as undermining his right to a just trial, without any consideration of the women's right to a fair trial means to them. Meanwhile, baseless accusations of the women having embroiled him in a conspiratorial "honey trap" situation to damage his political credentials have dogged the case.
It's because legal structures around the world continue to be so heavily biased against those who make allegations of sexual violence that their need for justice is always overridden by any notion that someone might be wrongly accused.
Speaking today of the UN's pronouncement, Assange said it is "a really significant victory that has brought a smile to my face." No doubt it has. His arrogant belief that he is above the law and can act with impunity simply because he is involved in political activism has been confirmed at the highest level.
The dramatic charade of the last five years perfectly illustrates how, when it comes to sexual violence allegations, our society and some of our most important international institutions are still skewed in favour of privileged men. If they don't look like the stereotype of a back alley rapist – and if they fit the socially powerful profile of someone like Assange – then there's a sense that they shouldn't have to answer for crimes which, in the grand scheme of things, apparently aren't important at all.
Register for free to continue reading
Registration is a free and easy way to support our truly independent journalism
By registering, you will also enjoy limited access to Premium articles, exclusive newsletters, commenting, and virtual events with our leading journalists
Already have an account? sign in
Join our new commenting forum
Join thought-provoking conversations, follow other Independent readers and see their replies