We need to stop killing and torturing animals for the sake of a good selfie
From baby gorillas in Bristol to abused tigers in Thailand, our narcissistic attitude towards animals has created a market for exploitation and cruelty all over the world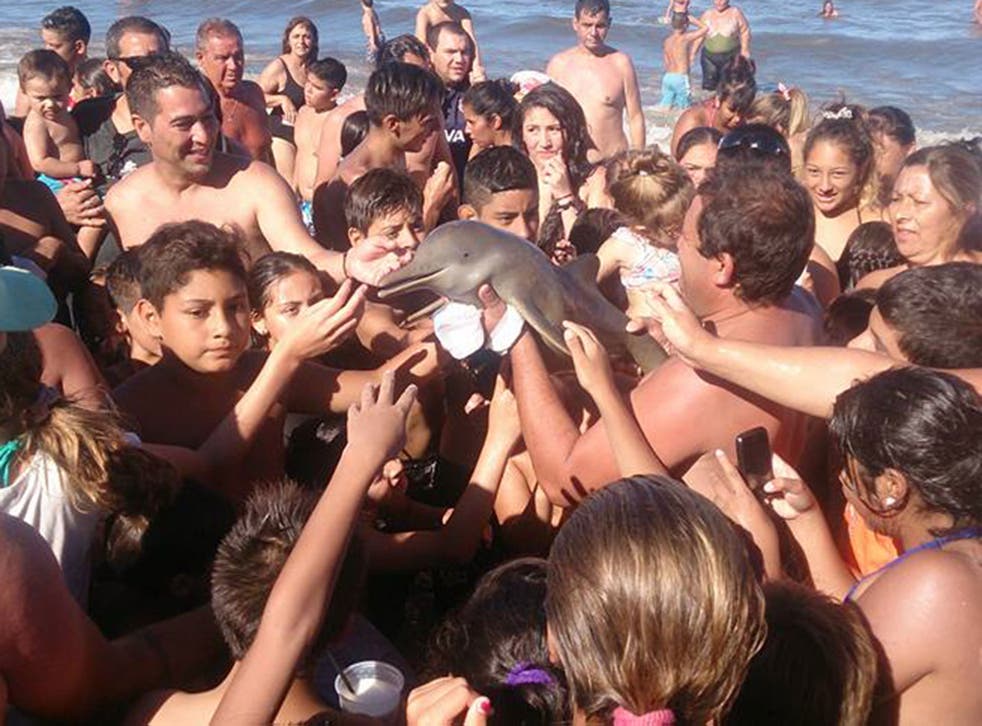 First a baby dolphin died after being hauled from the sea for selfies by a mob in Argentina. Then we watched as a man in Florida dragged a shark onto the beach so that he could take some holiday snaps before returning it to the water. And just a couple of days later, a peacock in a Chinese zoo was literally scared to death when it was handled by a group of tourists intent on getting a picture with it.
None of these people appear to have thought about the terror that the animals were experiencing and, sadly, that's typical of many people's interactions with wild animals – they're so focused on themselves that the hell experienced by the animal doesn't cross their minds. To them, they're just a prop.
This narcissistic attitude towards animals creates an awful market for exploitation and cruelty around the world. One that shames us all – yet goes almost entirely unchallenged – is the pervasive existence of zoos, and the treatment of the animals who are born into them. Take the adorable baby gorilla who was born at Bristol Zoo recently – how many stopped to consider that this little creature will probably never know what freedom feels like? Since she was bred to be a high-earning living exhibit, every aspect of her life will be controlled and manipulated until the day she dies, thousands of miles from where she belongs.
Where not to visit if you love animals

Show all 9
Then there are the more extreme examples, such as the polar bears held captive by Russian travelling circuses, who are forced to "sing". PETA's founder has personally witnessed Russian trainers use pipes to hit bears for "misbehaving", and PETA US has rescued polar bears from a South American travelling show, where they were forced to perform in temperatures of nearly 40 degrees Celsius.
PETA and their affiliates also have video footage and photographs of circuses all over the world. Most recently this includes China, where bear cubs are trained to stand by being chained to a wall , and taught that if they try to go down on all fours, they'll be strangled.
Many cubs die before the harsh training even begins because of the stress of capture, harsh transportation conditions, food deprivation, dehydration and extremely rough handling. The survivors are often forced to endure having their nasal septum pierced with a hot needle and a rope threaded through the hole – and they perform under the constant threat of punishment by trainers yanking on that rope.
No amount of beatings can ever tame a wild animal – which means humans can, and often do, become victims of our obsession with exotic animals as well. Tigers used for tourist photos in places like Thailand are often violently beaten into submission, drugged, mutilated and restrained in an effort to make them "safe" around the public. Yet numerous incidents of tiger maulings are nevertheless reported every year when people attempt to get "up close and personal" with these large animals.
In February a Scottish tourist was trampled to death by an elephant he had been riding while on holiday in Thailand. The elephants used on these so-called "joyrides" are sorely abused, and understandably, some are ready to snap. It has been documented time and again that they are torn away from their mothers as babies; confined to tiny wooden crates; deprived of food, water and rest; and tied down and beaten mercilessly with nail-studded rods. They even have flaming sticks waved in their faces – all to prepare them for a life of servitude in one of the country's many "elephant camps".
And yet people all over the world still continue to flock to pet and fawn over animals in captivity. If you're one of these people, you may say that, in your defence, you didn't know the animals were being treated so badly. But even if this is the case, it's time to stop pleading ignorance. How many more examples of cruelty to animals – and injuries to humans – do we need before we finally recognise that animals are not our playthings?
Mimi Bekhechi is Director of PETA UK
Register for free to continue reading
Registration is a free and easy way to support our truly independent journalism
By registering, you will also enjoy limited access to Premium articles, exclusive newsletters, commenting, and virtual events with our leading journalists
Already have an account? sign in
Join our new commenting forum
Join thought-provoking conversations, follow other Independent readers and see their replies