Liverpool fans, I salute your disobedience over ticket prices
Despite not getting their money's worth from the game, the team ended up drawing 2-2, so they may not have been so stupid after all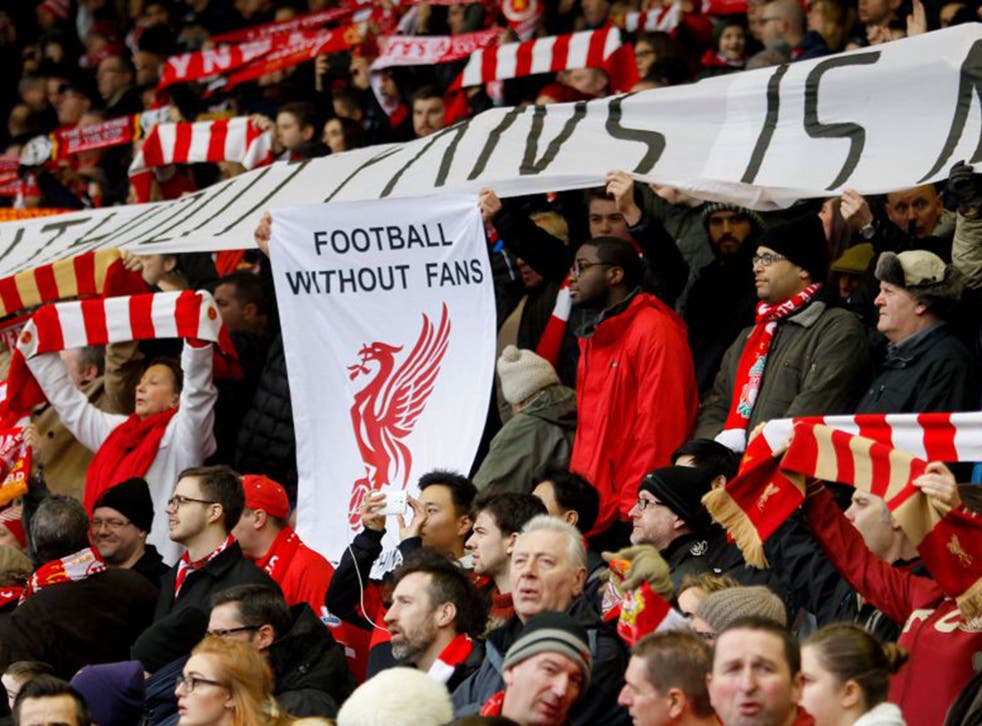 Has anyone noticed that when you type the word internet on your iPad, it auto-corrects it to start with a capital letter? It does it almost without your spotting it. No matter how many times you type it in lower case, it changes it to upper case. And in this way the Internet has become, like God, an intangible force of such mystical power that it requires its proper-name honorific.
Why is that so? It is beyond argument that Tim Berners-Lee's invention has changed the world, but I object to the fact that someone in Apple headquarters has unilaterally conferred on it a new, respectful status.
This may seem like a pedantic point, but that's the thing about the internet. It's empowered us all to protest, no matter how esoteric the issue. If I wanted, I could start a one-man crusade against the capitalisation of the internet. A few keystrokes later, I could gather support from all around the world, forcing the style-meisters at Apple to reconsider their position. We all have it in our hands to change the world, if only inch by inch.
This is the age of self-importance, too, and we have much less deference to those who govern us. And while the internet is, to some, merely the Devil's tool, it has also inspired a culture in which the individual feels free to challenge the powerful. This sometimes has its expression in barmy online petitions, and at other times in direct action.
Into the latter category go the thousands of Liverpool football fans who left the stadium in the 77th minute of a match last weekend to register their protest about the raising of ticket prices. This, on the face of it, was a rather odd demonstration: having already paid a high price to attend the game, the fans didn't stay to get their money's-worth to protest about the cost of watching football. (As it turns out, they left when their team were 2-0 up and they ended up drawing 2-2, so they may not have been so stupid after all.)
The fans are not protesting about ticket prices per se, though £77 for a seat does – even compared with West End theatres – seem rather steep. No, their contention is that Premier League clubs, benefiting from the ridiculous new £5.1bn television contract, should be reducing their admission charges so they don't price "real" fans (i.e. those from poorer backgrounds, who form football's core support) out of attending.
So theirs is a social, cultural and economic protest, and is all the more worthy for that. I fear, however, that it may be doomed to fail.
While stadiums are full every week, the Premier League will know the ceiling has not been reached, and in any case most clubs act only in self-interest (the other point to make here is that the crazy economics of football is partly driven by fans, who relentlessly demand success, and are only delighted when their club splurges an obscene amount of money on a star player).
Nevertheless, I have to take my bobble hat off to those Liverpool supporters who have captured the disobedient spirit of age and decided that they were – literally, in this case – not going to take things sitting down.
Register for free to continue reading
Registration is a free and easy way to support our truly independent journalism
By registering, you will also enjoy limited access to Premium articles, exclusive newsletters, commenting, and virtual events with our leading journalists
Already have an account? sign in
Register for free to continue reading
Registration is a free and easy way to support our truly independent journalism
By registering, you will also enjoy limited access to Premium articles, exclusive newsletters, commenting, and virtual events with our leading journalists
Already have an account? sign in
Join our new commenting forum
Join thought-provoking conversations, follow other Independent readers and see their replies