We're mugs: being gassed in the Calais Jungle is an easy life in Europe
I've often wished removal men would give me a hand by whacking me with truncheons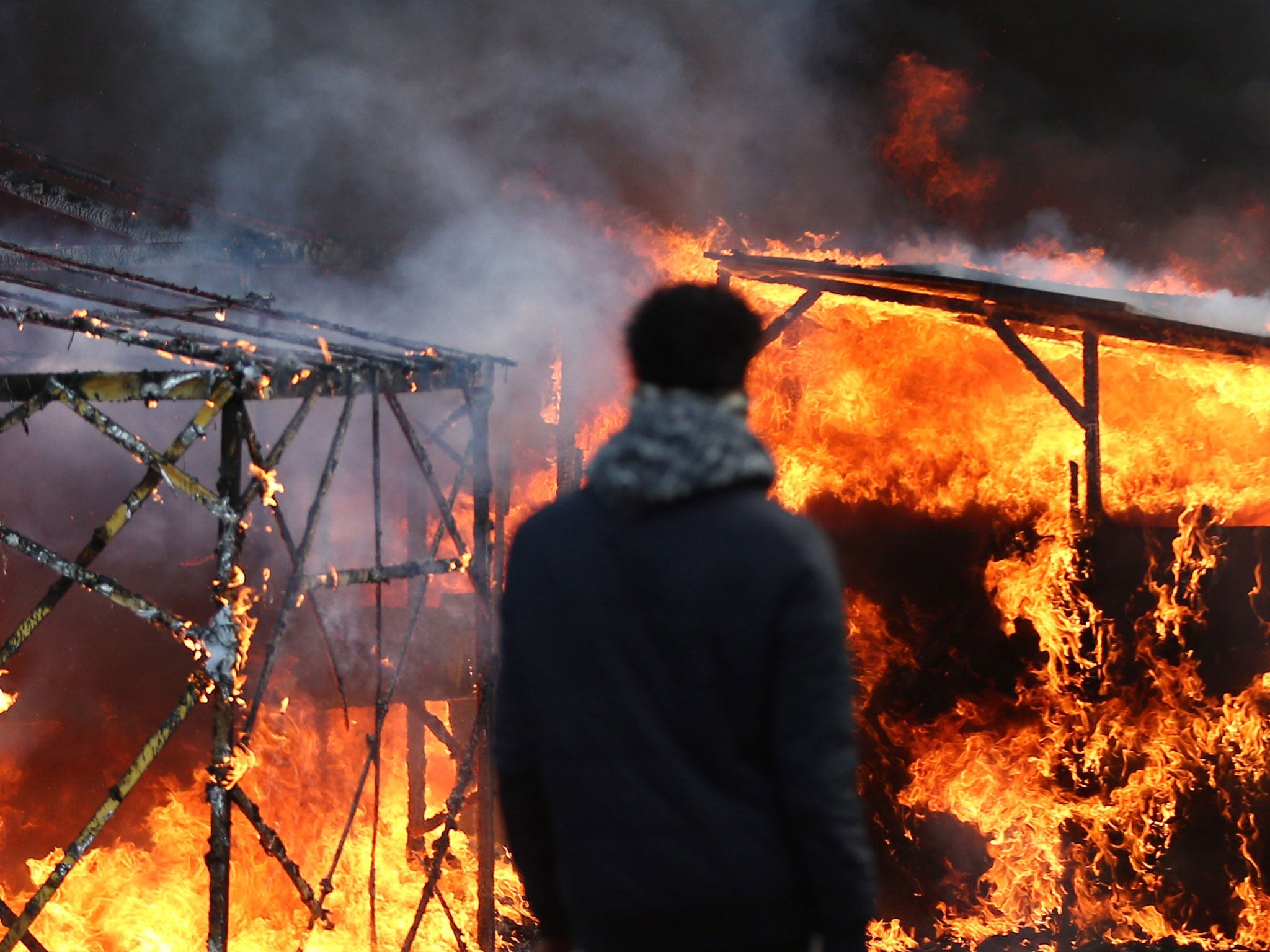 In this volatile world, it's heartwarming to see the effort the French authorities went to this week in demolishing the tents and living quarters of refugees in Calais. Because most of those living in the camp had fled from war zones, it's a lovely touch for the French to go to such lengths to make the migrants feel they were back home.
Some of the migrants have fled from Isis, so maybe next time the police can drag them into a basement and make a little film of someone standing over them with a sword, so they'll feel a little tear in their eye and weep, "It's so good to be reminded of my village."
The main instruments used to clear the camp in Calais were bulldozers and tear gas – which is fitting, because the lawyer at the hearing in which the demolition was ordered said the reasons for the evacuation were "the dignity and security of the refugees". Nothing makes you feel more dignified and secure than a cloud of tear gas in the face.
If you want to look smart and dignified for a special occasion, the first thing you do is rub tear gas in your eyes and cover yourself in truncheon bruises. For example, if you had to collect a Nobel Prize, on the way you'd drink a pint of tear gas to make sure you arrived gasping and choking and sicking up black phlegm over the King of Norway so that you beamed like a true beacon of dignity.
One evicted woman was a pregnant Iranian Kurd, who was filmed being batoned and wrestled to the floor, and as she was being handcuffed she must have thought, "After all I've been through, it's a comfort to enjoy a moment of dignity at last."
But as well as dignity there's the security, and the French government says they're moving the refugees to better accommodation, so they're just helping them along by gassing them, like an enthusiastic branch of Pickfords. Whenever I've moved house, I've infuriated myself by dawdling and going back indoors to check I've not forgotten anything, and often wished the removal men would give me a hand by whacking me with truncheons and snapping my arm in three places.
A spokesman for the French prefecture – the state body that ordered the evacuation – described the event as a "humanitarian intervention". That makes sense, because when you see CRS riot police gassing refugees as their kids scramble away through the mud, the first thought that comes to mind is: "I bet that's what Florence Nightingale would have done." The first area of the camp demolished was the part that contained the health centre and makeshift school – and there's nothing more humanitarian than knocking down annoying places like that.
The French authorities, however, went the extra mile and demolished a church. Only the truly righteous and holy can claim to be so humanitarian that they demolish a church, especially when it's a church built by people fleeing from groups that won't let them have churches. As it says in Matthew Chapter 4 verse 7: "And the people who did flee from the land of Assyria, and hath no homes, did build a church from all that lay around so that they may seek hope in the word of the Lord, and Jesus did come among them and knock the bastard down with a bulldozer."
It's no wonder the refugees wish they were in Britain, because here the government would be more subtle and sell the school and church tents to developers, who'd convert them into a block of three-bedroom tents in an estate called Migrant Waters at £600,000 each for Japanese businessmen.
The French government claims the refugees will be housed in containers on lorries provided down the road, but the charity Help Refugees calculates that, even with three in each lorry, they are 2,229 places short for the numbers evicted. They could do what we all have to do when times are hard and be prepared to cut down a little, but so far the migrants have refused to shrink to half their size so they can squeeze twice as many into a lorry, so that's hardly the fault of the French is it?
The frustrating side to this story is that, despite the efforts of the French to assist the refugees, thousands of people in Britain have tried to spoil things by sending clothes and sleeping bags, and forming groups like Play4Calais, which built a cinema in the camp to show films such as Shaun the Sheep to the children.
But as Welsh Conservative MP David Davies said: "What people are doing in terms of giving aid to people in Calais is really irresponsible."
I'm sure the refugees agree. They must be thinking: "I wish these idiots would stop clothing us and offering compassion and saving our lives. In times of desperation, your true friend is the canister of tear gas."
Of course, the last thing this country needs is people like this coming here. To start with, they're not really refugees. If they'd stayed in Iraq or Somalia or Syria they'd have been killed, which would have reduced their earnings – which proves they're economic migrants, just trying to get here for financial reasons.
When someone's drifted across the Mediterranean on a pedalo with their family, and walked through Macedonia and crawled to Calais and lived in a quagmire called the Jungle until they're gassed by riot police and bundled into a lorry, it's all too obvious the only reason they've come to Europe is for an easy life at our expense. If I want to be tear gassed I have to go and pay for it myself, but they get it for free. We're mugs, we are. Complete mugs.