Where on earth has Jeremy Hunt gone? At a critical moment for junior doctors, he's nowhere to be seen
It must be quite some ride, because no one has seen him since he cycled away from journalists on Wednesday morning. I hope he packed some Kendal Mint cake and a fresh pair of socks in his pannier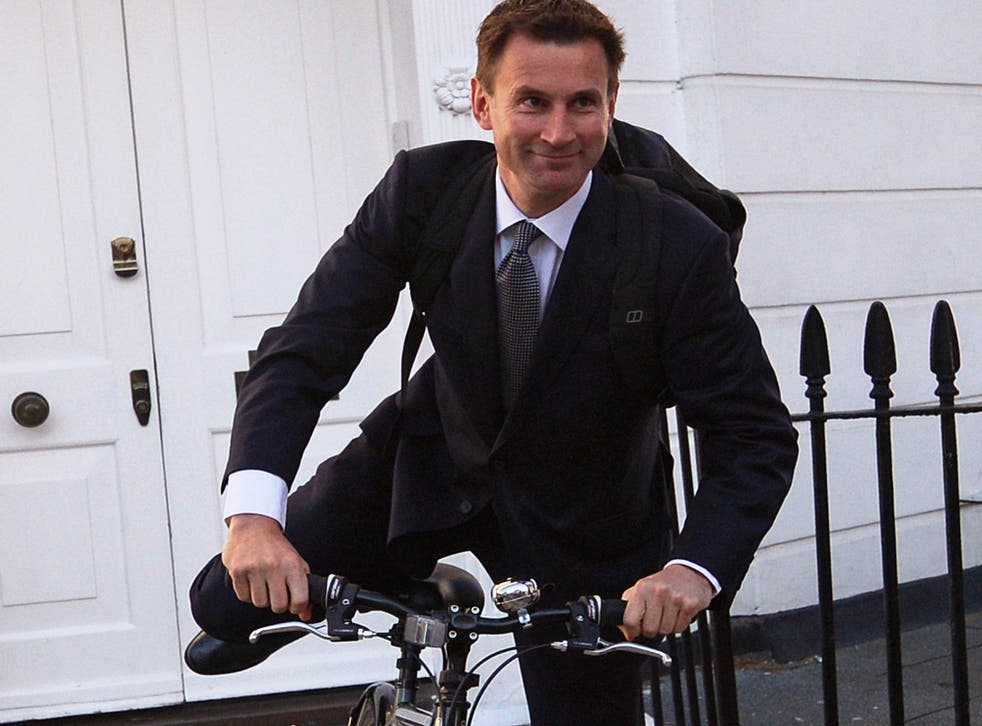 This week, as junior doctors began their latest strike, many of us wondered what fresh attacks we would face from the Secretary of State for Health.
Bizarrely, there was nothing. Just a short video of Jeremy Hunt cycling off into the distance, refusing to comment to the group of journalists waiting for him. It must be quite some ride, because no one has seen him since. I hope he packed some Kendal Mint cake and a fresh pair of socks in his panniers.
Hunt cycles away from reporter
It's not the first time the Health Secretary has bolted from the scene when asked a straightforward question. On the day he announced he would be imposing his toxic contract on junior doctors regardless of our opposition to it, I happened to be in the same TV studios as him. I told him the lack of evidence for his changes meant he was gambling with patients in the NHS. He refused to address the point. As he fled up the stairs in a manner reminiscent of Rogue Traders, I asked "what if you've got this wrong?"
Well by now he should know just how wrong he has got it. The situation is so bad that even members of his own party are turning on him. The Chair of the parliamentary Health Select Committee, Sarah Wollaston, has called for him to roll back on imposing the new contract, as has the Medical Royal Colleges and the Patients Association. Meanwhile, the Health Analyst and former Conservative councillor Roy Lilley has described the situation as 'madness', even going so far as to say, 'Hunt's got to go'.
Frankly, given his silence of late, many of us are wondering if he already has.
In this terrifyingly political version of Where's Wally, our Prime Minister also seems to be wearing the infamous bobble hat. This is the first time doctors have gone on strike in 40 years and yet David Cameron remains conspicuously absent from the debate, choosing wilfully to ignore the havoc his Health Secretary is reaping on the NHS.
In pictures: Junior doctors protests in UK

Show all 10
It's perfectly clear why it's head-in-the-sand time for the government. They have tied themselves in knots by pledging a manifesto commitment they never thought they'd be in office to deliver. Now, as Mr Hunt continues his solitary, two-wheeled odyssey, he must be feverishly trying to work out what promises he can get away with breaking.
Alas, for Mr Hunt and his Prime Minister, the focus group that came up with the seductive-sounding 'seven- day NHS' doesn't appear to have bothered with the triviality of defining it, let alone figuring out how to staff and pay for it. So the government now give us the silent treatment whenever they're pushed on the detail.
The government's handling of the NHS is so farcical it's almost unreal. Footage of a stuttering Charlie Massey, the Department of Health Strategy Director, being told by the Public Accounts Committee he's 'flying blind' on the seven-day issue was so magnificently satirical it's been spliced with footage of Peter Capaldi's antihero, Malcolm Tucker, to make a new episode of The Thick of It.
Despite a huge number of calls for the government to abandon plans to impose the new contract on doctors without their consent the Health Secretary is off on a bicycle ride and the Prime Minister remains mute. Which begs the question: who on earth is in charge? We've got to fix this and the only way to do that is to talk.
It's time to backpedal, Mr Hunt.
Register for free to continue reading
Registration is a free and easy way to support our truly independent journalism
By registering, you will also enjoy limited access to Premium articles, exclusive newsletters, commenting, and virtual events with our leading journalists
Already have an account? sign in
Join our new commenting forum
Join thought-provoking conversations, follow other Independent readers and see their replies