Why secretly taped meetings with Planned Parenthood executives have catapulted abortion into the Republican presidential campaign
Usborne in the USA: One by one, the candidates have stepped forward to demand all federal funding for the organisation to be stopped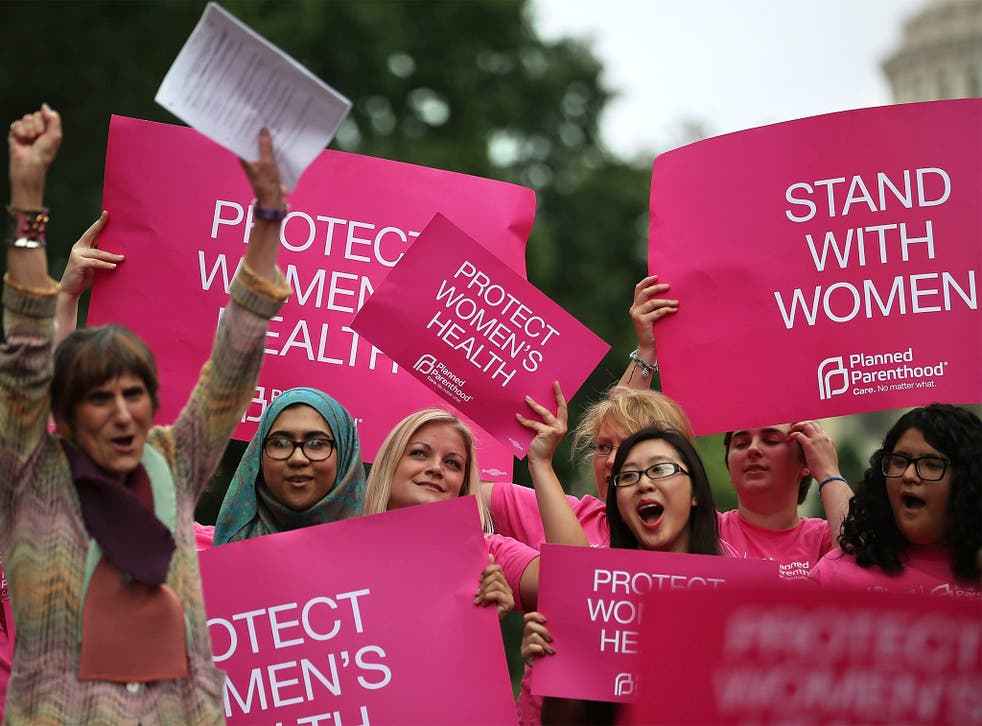 "Can you help us?" a young woman bearing a clipboard asked me one day this week as I walked through Bryant Park here in Manhattan. As I mustered my usual sorry-in-a-frightful-hurry expression and scooted past, I glimpsed the logo of Planned Parenthood. Maybe I should have stopped.
While it provides crucial support to thousands of often struggling American women every day, from contraception counselling to cancer screening, Planned Parenthood, which will turn 100 next year, also offers abortions in some of its clinics. Thus to many on the right, it is also the house of the Devil.
Crises at the organisation come and go. Abortion, with limitations, has been a legal option for women with unwanted pregnancies since the Supreme Court's Roe versus Wade ruling in 1973. Nearly half its annual budget of over $1bn (£640m) comes from the federal government. Today, though, it finds itself in deep trouble thanks to an anti-abortion crusader masquerading as a journalist and a hidden video camera.
Meet David Daleiden, founder of a bogus company that pretends to be in the business of buying foetal tissue from abortion clinics for medical research. This week he has released the first two of what he tells The New York Times will be a long series of clips of secretly taped meetings with Planned Parenthood executives where fees and other details of his company buying foetal tissue from them was discussed.
The tapes have had precisely the effect he was hoping for.
One by one, candidates for the Republican presidential nomination have stepped forward to demand all federal funding for Planned Parenthood to be stopped. (Federal dollars are not allowed fund its abortion services directly.) The Governor of Texas, where a restrictive new law has cut the number of abortion clinics by over a half, has already launched a formal inquiry.
Meanwhile, senior Republicans in both chambers of Congress have warned that just about any law that moves on Capitol Hill in the coming weeks – among them a crucial roads spending bill – will now almost certainly have amendments attached to them stripping Planned Parenthood of all government support.
If a patient indicates they would like to donate their foetus for medical research, any clinic or hospital is legally able to help them to do that. And they are allowed to charge modest fees for processing and delivering those materials to companies like Mr Daleiden's (if it were real). But the headline he wants to see attached to his videos read differently: Planned Parenthood profits from baby parts.
This is catnip to Republican presidential hopefuls keen to show their pro-life credentials to conservative voters in states such as Iowa. "I think Planned Parenthood is a cancer in this country and something the federal government should not have anything to do with," Rick Santorum said this week, saying it was "absolutely" time to defund the group. "This is about a baby, about selling baby parts," Senator Rand Paul said. "I think even pro-choice people are aghast at this."
Planned Parenthood is doing its best to expose Mr Daleiden's chicanery as nothing more than that. It doesn't help, though, that the second tape showed one of its executives joking she'd like a Lamborghini for making sure he got the foetal supplies he needed and that her doctors might be able to use a "less crunchy technique to get more whole specimens" for him.
Mostly silent so far have been Democrats on Capitol Hill and, indeed, the White House. They may be standing back and waiting for the Republicans finally to go too far in attacking the reproductive rights of women. In other words, let them hoist themselves on their own social extremism.
But they had better be ready to push back against the defunding effort when it begins. Because as the woman in the park said, Planned Parenthood really does need everyone's help right now.
Register for free to continue reading
Registration is a free and easy way to support our truly independent journalism
By registering, you will also enjoy limited access to Premium articles, exclusive newsletters, commenting, and virtual events with our leading journalists
Already have an account? sign in
Join our new commenting forum
Join thought-provoking conversations, follow other Independent readers and see their replies