Why the final junior doctors' deal is anything but 'generous'
Junior doctors like myself want a seven-day NHS, but not when the Government is only prepared to pay for five of them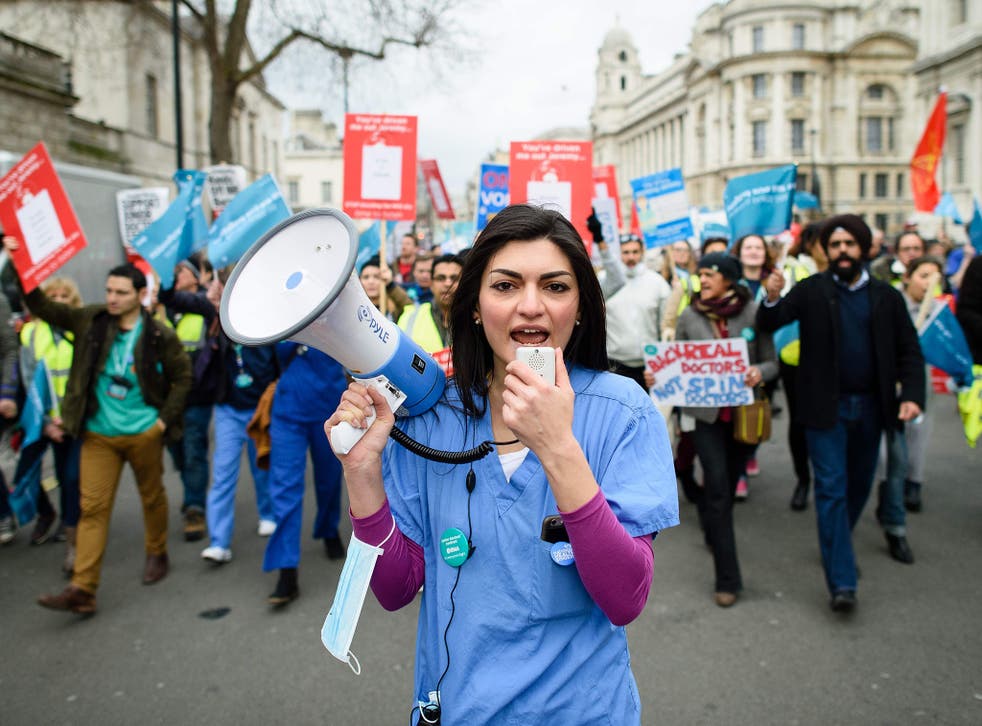 This is the first time in 40 years that junior doctors have decided to take industrial action and strike. Isn't that telling? It has been their last resort in their battle to maintain standards of care for both patients and staff within the NHS. Despite this, the Government has still gone ahead with its plan for a seven-day NHS by imposing its proposed contract against their will.
Over 60 per cent of the public support the junior doctors' strikes, so long as emergency care is still given (and it is). The Independent columnist Mary Dejevsky clearly doesn't fall into this group. On Thursday she argued that the Government should not compromise on its plans for a seven-day NHS. On one hand I can see where she's coming from – it's the Government's perogative to introduce reforms where they see a potential issue.
But at the same time, she totally misses the point – the seven-day promise is as yet undefined, uncosted and unmodelled. Even this week, a Department of Health representative couldn't explain what the cost of a seven-day NHS will be, let alone define what they want from the extra weekend services.
I sympathise with Dejevsky when she says that hospitals noticeably have less staff on weekends – they do. But it's not junior doctors or even consutants that are lacking. All junior doctors are contracted to work weekends and less than 1 per cent of consultants opt out of weekend cover.
In pictures: Junior doctors protests in UK

Show all 10
On my most recent 13-hour weekend shift, my consultant arrived before me and was still there after I left. Not much of what Dejevsky calls a "Monday to Friday, 9 to 5" culture for doctors there then. On weekends we provide emergency care (not routine operations or outpatient clinics), so yes, there are "less skilled" staff as she describes them.
In support of what Dejevsky says, I too have struggled to obtain a diagnostic test for a patient or failed to discharge them home due to poor social care or support in the community at the weekend. But for a truly seven-day NHS we don't just need financial investment in this area. Recent leaked documents from Department of Health suggest that the NHS needs at least 4000 more doctors and 3000 more nurses.
Dejevsky argues that that junior doctors oppose wanting better services at the weekend due to a "resilient" overtime culture in the NHS. Far from it – what junior doctors like myself object to is the Government's dishonesty in saying that they want a seven-day service, while at the same time refusing to commit any extra money towards delivering it.
What's more, there aren't any more doctors to deliver the Government's undefined extra weekend service. So you either make the same number of doctors work longer for less or you stretch the workforce even more thinly. Neither of these are safe for us or patients. As any doctor working on the frontline will tell you, trying to force seven-day service out of existing staffing levels will only lead to a more exhausted and demoralised workforce, which poses a huge threat to patient safety.
Dejevsky says the imposed contract is "too generous", yet anyone will tell you that you cannot pay to get seven days for price of five – so it's anything but generous. As for this "resilient" overtime culture - in medicine there is no such concept of overtime. Doctors are paid a small premium for working antisocial hours alongside the social hours we work. By the end of this week, my contracted hours will have been 80 hours. I will likely stay longer if I am in the middle of a clinical encounter as medicine is not a clock on/clock off profession.
Dejevsky also criticises the instigation of a judicial review by the BMA of the junior contract. But this is necessary to ensure the imposed contract has been through the necessary checks and balances to meet an Equality Impact Assessment. Dr Sally Davies of the Medical Women's Federation (MWF) has concerns this imposed junior contract will widen the gender pay gap and potentially prevent women from progressing into senior academic, managerial or leadership roles.
Dejevsky ends her piece asking whether the Government should divest itself from managerial responsibility of the NHS. I don't have an answer to this but I do know I have no desire to be a political football at PMQs. Junior doctors are not the barriers to change – we work daily on the coalface, and our desire is to improve patient care. Rather than demonising us and saying it is about the money, we should be made part of the solution so we can work together to create a truly seven-day NHS. A 7/7 promise without 7/7 funds is meaningless – mandate or no mandate.
Register for free to continue reading
Registration is a free and easy way to support our truly independent journalism
By registering, you will also enjoy limited access to Premium articles, exclusive newsletters, commenting, and virtual events with our leading journalists
Already have an account? sign in
Join our new commenting forum
Join thought-provoking conversations, follow other Independent readers and see their replies