Is David Cameron a shy Green?
Having hugged those huskies, he barely spoke about climate change as PM, but things may change yet again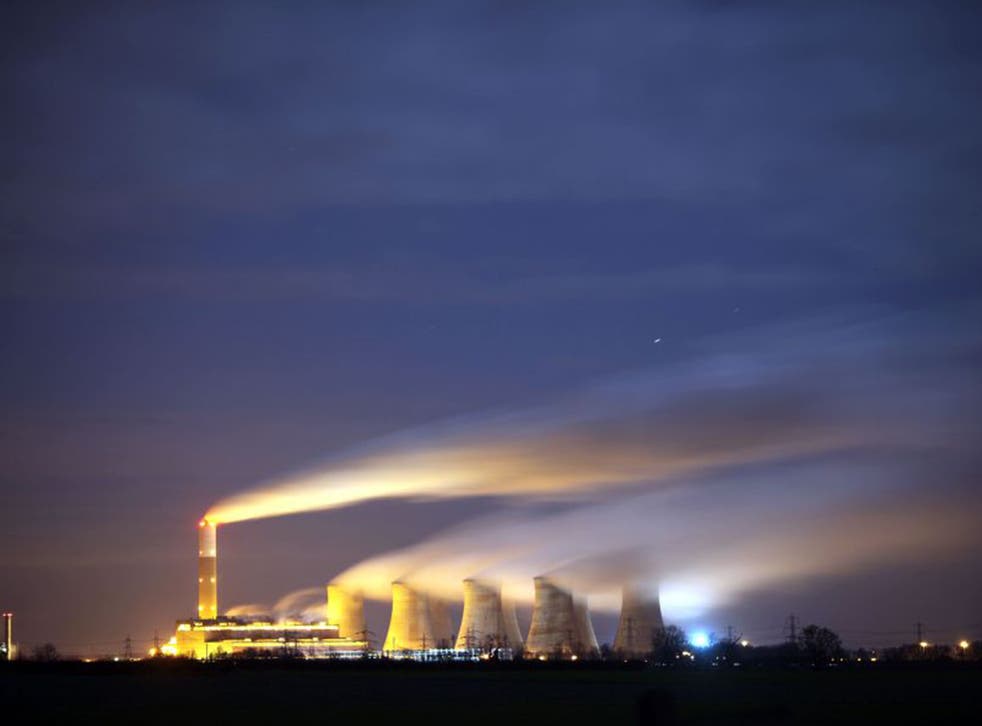 When the coalition was formed, the Prime Minister ceded responsibility for climate change and energy to the Liberal Democrats, and it became a battlefield in the power struggle between the two coalition partners. The Chief Secretary to the Treasury, Danny Alexander, described what ensued as a "constant war of attrition" on green issues. It became a badge of honour for certain Conservative ministers to stall clean energy developments as it enabled them to claim to their sceptical backbenchers that they had outfoxed their junior partners. But, equally, it suited Lib Dems such as the Climate Secretary, Ed Davey, to identify any progress as a win for his party against what he described as a "Tory Tea Party tendency". This cynical game enabled both sides to claim brownie points from their supporters.
The days of David Cameron the husky-hugger who changed his party logo into a tree appeared to be over. Even after he told Londoners, "no ifs, no buts, no third runway", he went ahead and put Heathrow expansion back on to the agenda. Having once put a wind turbine on the roof of his home, he now told MPs that he would stop new onshore wind farms – a pledge he later cemented in his party's manifesto. When the furore over energy bills blew up, he reportedly told his team to "cut the green crap". He even made a climate change sceptic, Owen Paterson, Environment Secretary.
Yet, in spite of all this, to the fury of many in his party's grey blob, the Prime Minister avoided the hard-line position on climate change taken by his Conservative counterparts in the United States, Australia and Canada. He even pursued some important green policies by stealth. It was David Cameron who introduced tough legal targets to halve the output of UK carbon pollution by 2025, in spite of strong private opposition from the Liberal Democrat Business Secretary, Vince Cable, of all people. At a recent G20 summit, Cameron joined with President Obama in isolating the climate sceptic Australian Prime Minister Tony Abbott and donated hundreds of millions of pounds to a UN climate change fund. Similarly, in the fortnight before the Clacton by-election, and in spite of warnings from advisers that it could play into Ukip hands, Cameron went to New York for a UN climate summit where he told delegates, "We cannot put this off any longer. To achieve the deal, we need all countries to make commitments to reduce emissions." So could it be that our Prime Minister remains a shy green?
What does five more years of the Tories mean for Britain?

Show all 8
His appointment of Amber Rudd as Secretary of State for Energy and Climate Change last week can be seen as a sign that he wants a consensual approach to climate and energy strategies. While nobody should expect the Conservative Party to suddenly drop its opposition to new onshore wind farms or its support for fracking, Rudd made it clear on the day before the election that she is committed to tackling climate change by writing for a green website. Following her appointment, she told her local constituency newspaper that she wants to launch a "solar revolution". She takes the scientists' warnings seriously, intends to plough ahead with efforts to meet carbon targets, and wants more European and international co-operation on cutting greenhouse gas pollution. I understand she told her department officials in her first week that reaching a global climate deal at December's summit of world leaders in Paris will be her top priority. She has also agreed to lead the "Green Growth Group" of EU ministers who support raising ambition on decarbonisation.
Given wider international progress, this is extremely reassuring. Chinese coal use is falling so fast that its emissions dropped during the first four months of this year by roughly the same amount as the total carbon pollution of the UK over the same period. The footprint of the US is lower than it has been for 20 years, and Obama has made achieving a global deal a diplomatic priority. Alongside the plummeting costs of clean technologies, these changes from the two biggest polluters have created a huge opportunity for the Paris summit to make progress towards climate safety. This could become a key part of Cameron's legacy. But, to date, Europe has been marginalised in the talks.
Rudd is taking on a big job and is out on a limb in a cabinet not brimming with environmentalists. But she has a close working relationship with George Osborne and Cameron, so she has an opportunity to put the UK back at the centre of the diplomatic action. At next month's G7 summit, for example, Cameron could use his global leadership on international development to set out how Europe will financially assist the most vulnerable countries in responding to extreme weather. Addressing this issue well ahead of the Paris summit will be crucial to avoiding an unnecessary setback in the negotiations. Similarly, through British involvement with the new Chinese-led multilateral bank, there is the chance to help direct major investment into cleaner development pathways in emerging economies.
At home, Rudd could refocus on the work of cutting pollution from coal that David Cameron began when he legislated to make it to illegal to build dirty coal power stations in Britain. In February, Cameron pledged that his government would phase out coal use altogether. The Institute for Public Policy Research (IPPR) recently published a roadmap to achieving this by 2025 with policies that would not raise energy bills. The Prime Minister has said that he wants to reclaim the One Nation mantle. Leadership on clean energy and climate change is an area where he and Rudd could win support across opposition benches, and speak for the whole country.
At the start of what could seem a long five-year term, this may be wishful thinking but, unshackled from the power play of coalition politics, David Cameron could yet lead the "greenest government ever".
Joss Garman is senior research fellow on climate change at IPPR and former political director of Greenpeace UK
Register for free to continue reading
Registration is a free and easy way to support our truly independent journalism
By registering, you will also enjoy limited access to Premium articles, exclusive newsletters, commenting, and virtual events with our leading journalists
Already have an account? sign in
Register for free to continue reading
Registration is a free and easy way to support our truly independent journalism
By registering, you will also enjoy limited access to Premium articles, exclusive newsletters, commenting, and virtual events with our leading journalists
Already have an account? sign in
Join our new commenting forum
Join thought-provoking conversations, follow other Independent readers and see their replies