What does it take to be a successful woman in leadership? Seeing other women make it before you
I was so riddled with nerves in my first board meeting that I had to script my every word, including 'hello'. Now I want to encourage those put off by historical pigeonholing to follow in my footsteps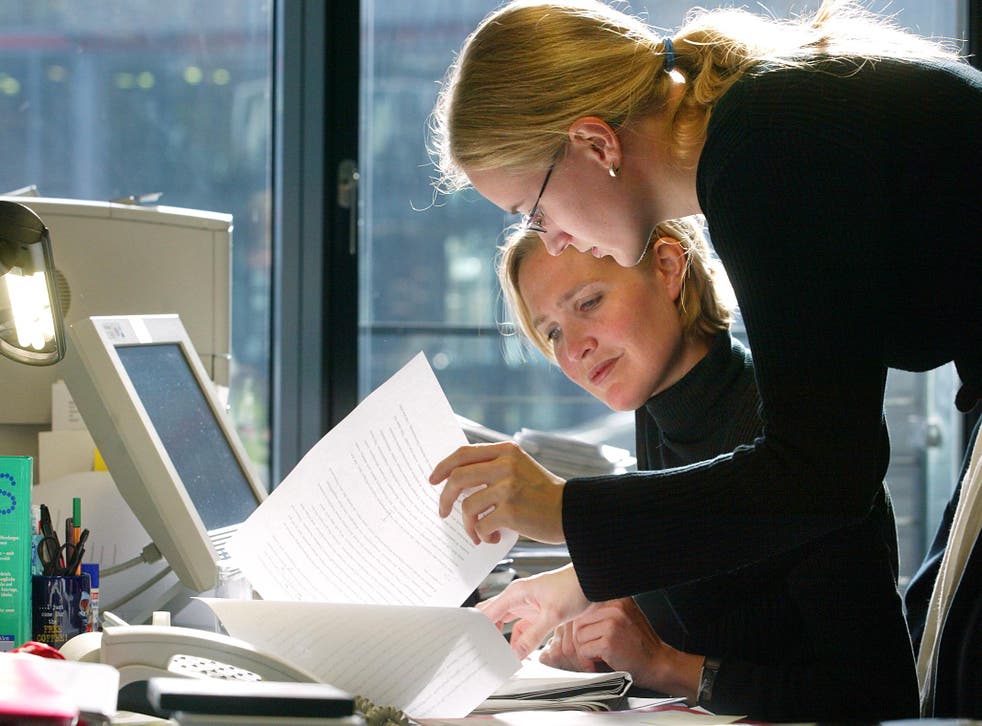 Slow handclaps all round. Having been "ordered" by the government two years ago to appoint women in at least a third of their boardroom positions, a recent review of the UK's 350 biggest firms by Hampton-Alexander found that five of them had failed to appoint a single woman.
A further 75 firms have only one woman on their board, which the review quite rightly called out as a "tokenistic gesture". Well, yes. The reasons for this, as cited by chairs and CEOs, are hilarious. They include "All the 'good' women have already been snapped up", and "Most women don't want the hassle or pressure of sitting on a board". Really? You know?
All of which makes next week's events at my alma mater, the University of Hull, all the more important, as this is where the issue of women in leadership is to be discussed. It's a good place to discuss it, because Hull is the place where dissent has always been just below the surface.
The gender pay gap explained
In 1642 it even sparked the English Civil War by refusing entry to Charles I at the Beverley Gate. Furthermore, women leaders like the bracing air in Hull, a modestly sized city on the banks of the colossal Humber estuary. The city's famous Headscarf Revolutionaries, headed by the redoubtable Lillian Bilocca, led Britain's largest ever direct action campaign in 1968 when they demanded proper safety measures for trawlermen.
The city has a female bishop and two women MPs (out of three). Baroness Virginia Bottomley is the chancellor of the university and Susan Lea its vice chancellor. The city council has a female deputy CEO. So you don't have to look too far to see women in charge. When the Queen visited the city last year, the top table was packed with women leaders, including myself as chair of the board of the 2017 UK City of Culture.
I had never chaired a board before. But, contrary to those quoted in the Hampton-Alexander Review, I rather did want the "hassle and pressure" of sitting on a board, because I yearned to guide Hull towards its glory and its goal, namely the £34m City of Culture juggernaut, which spawned hundreds of jobs, millions of visitors and investment veering on the £3bn mark. I knew what was needed. What is necessary to any successful leader, be it male or female, is an understanding of the mission ahead, and a belief in the venture that borders on the messianic.
Of course, there are other essential elements in the journey to successful leadership. Are they more easy to access if you are male? You certainly need confidence and the ability to get your way. Sometimes a loud voice is helpful, but not always. Are these necessarily male character traits? Not necessarily, but men have been in charge for so long that they have naturally crafted the terrain to suit their skillset.
A willingness to bluff and coast through perhaps comes easier to some men in order to propel themselves into the boardroom. For my first board meeting I was so poleaxed by nerves and the anxiety that I might not know the appropriate jargon for a board meeting that I had to script my every word, including "hello".
Yet I think that the typically "female" traits of collegiate working, emotional intelligence and keen antennae for sensitive issues are key to today's boardrooms. As is diversity. The "old boy's network" is called just that because it is propelled mostly by white, privileged men (witness the number of Etonians in key roles across government and business). The desire to change this is now colossal, and quite rightly so.
As part of its celebration of female leadership, the University is going to name five of its lecture theatres after distinguished women graduates, of which I am very honoured to be considered one. I think this is about more than just flattery. These rooms will provide five role models. If women can see others stepping out and heading up the board, or the company, they are much more likely to follow suit. Actively using role models is very effective. I can remember when I was a student, standing in a corridor and reading an article on the pinboard about Dame Jenni Murray (another graduate, another lecture theatre name) and thinking: "Well, if she can do it, so can I."
Support free-thinking journalism and attend Independent events
Each lecture theatre will have a bit of blurb about the person whose name it carries; so I have made it clear that as well as working full time, I have also had four children, run a few marathons and written a few books. This is not about boasting, virtue signalling, or personal vanity. (I have plenty of that last quality, but that's not the point.)
The reason I want this sort of CV out there is to encourage others who might have been put off by the historical pigeonholing of women into "career type" or "housewife". Just in case a student, waiting to get into the lecture theatre, has a look at my words and thinks: "Well, if she can do it, so can I." Women helping other women get to the top.
Since the government's strictures on board diversity have been so routinely ignored, I suspect women helping other women is the only way things are ever going to change, and in a society where there are still more people named David than women in the boardrooms of FTSE 100 companies, change is of the essence.
Rosie Millard OBE is chair of BBC Children in Need, trustee of Opera North and CEO of Children and the Arts
Register for free to continue reading
Registration is a free and easy way to support our truly independent journalism
By registering, you will also enjoy limited access to Premium articles, exclusive newsletters, commenting, and virtual events with our leading journalists
Already have an account? sign in
Join our new commenting forum
Join thought-provoking conversations, follow other Independent readers and see their replies