Jeremy Hunt's sudden enthusiasm for media freedom is welcome – but the UK should look at its own track record first
Ahead of the international media freedom conference in London this July, the foreign secretary should take note: If the government shines a spotlight on others, they may shine it right back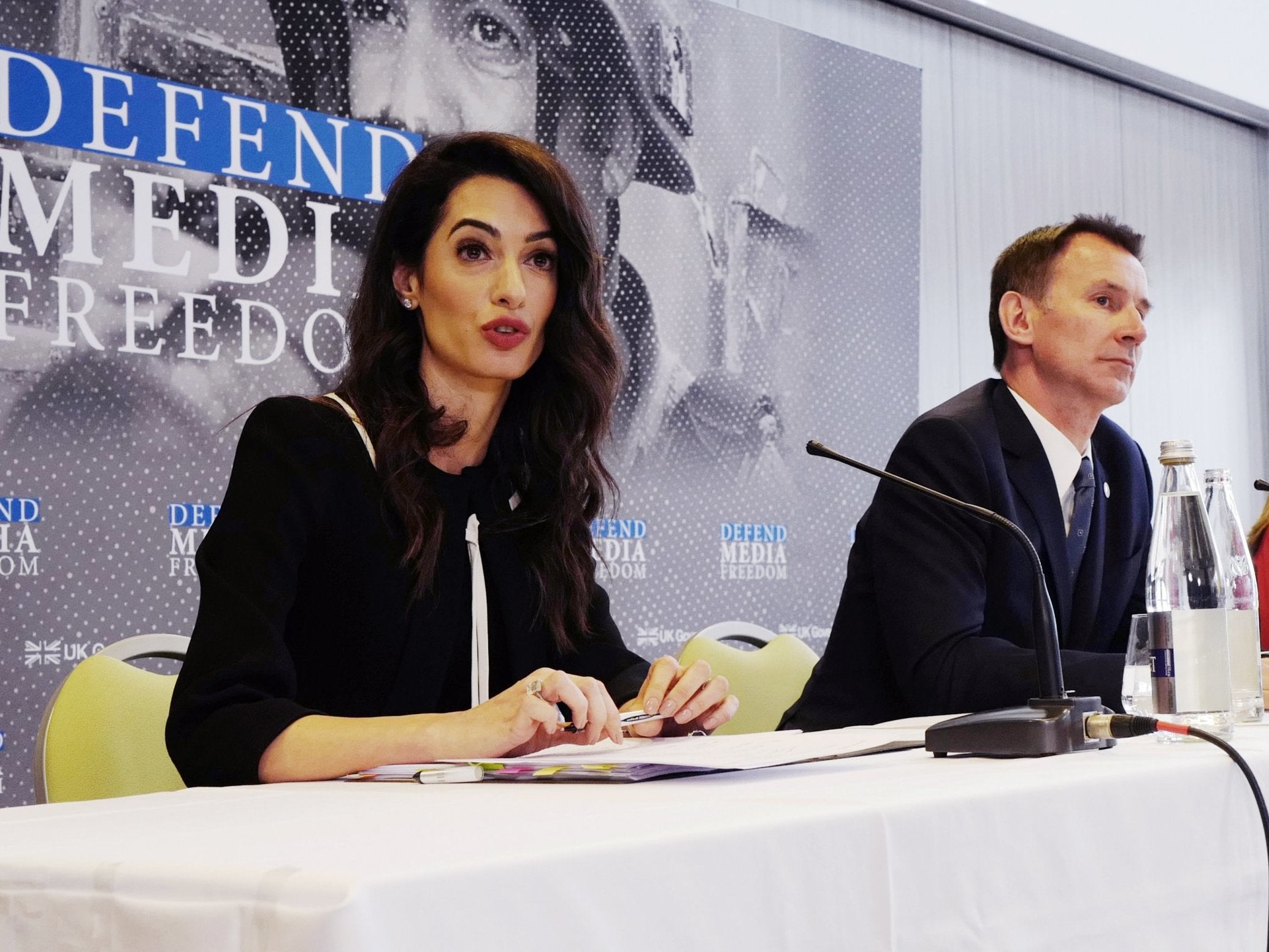 With press freedom and journalists under attack all over the world, foreign secretary Jeremy Hunt's decision to make global media freedom his priority in 2019 is welcome and much-needed.
In a PR-friendly move as part of the UK and Canada's international media freedom conference in London this July, Hunt recently appointed international human rights lawyer Amal Clooney as his special envoy on media freedom.
She will chair a panel of legal experts that will help countries to improve their media freedom laws and strengthen legal mechanisms to protect journalists worldwide. The move could help to prevent tragedies such as the killing of Lyra McKee, which sadly, is only the latest in a long line of attacks on reporters.
Deaths in 2018 included the contract killing of 27-year old journalist Ján Kuciak and his fiancée in Slovakia, who had been investigating links between influential individuals and Italian organised crime.
Violence erupts in Northern Ireland as journalist killed during riots
Show all 21
Arrests have followed, but crimes against journalists often go unpunished. The assassination in Malta in 2017 of investigative journalist, Daphne Caruana Galizia, for example, remains unsolved and the authorities have resisted calls for a public inquiry. And there are many more examples of how journalists all over Europe are jailed, threatened, assaulted and deliberately discredited in Index on Censorship's report Demonising the media.
These are issues that should be high on the international political agenda. Hunt's campaign, which aims to shine a spotlight on media abuses and reverse the trend of violence against journalists, can help to achieve that.
However, Hunt could find that if you shine a spotlight on others they may shine it right back at you – and media freedom is an area where the UK has its own problems.
There is the deeply troubling case of Trevor Birney and Barry McCaffrey, who were arrested in August last year in connection with alleged theft of documents from the office of the Police Ombudsman for Northern Ireland (PONI).
Both men were involved in making the documentary No Stone Unturned, which investigated the murders of six men in Loughinisland village in 1994 and raised questions about alleged collusion between police and loyalists. The arrests have been widely condemned, but Birney and McCaffrey remain on bail.
Earlier this year, the draconian new counter-terrorism and border security act made it an offence to publish a picture of clothing or, for example, a flag, in a way that raises "reasonable suspicion" that the person doing so is a member or supporter of a terrorist organisation.
This is very likely to restrict journalists and encourage self-censorship. The act also brought in far-reaching new border security powers that lack safeguards for journalists and their confidential sources.
Support free-thinking journalism and attend Independent events
A few weeks ago the government released a white paper setting out how it plans to tackle "online harms". The harms include a bewilderingly wide range of issues, for example terrorist content, child sexual exploitation, organised immigration crime, modern slavery, content illegally uploaded from prisons, cyberbullying, disinformation, coercive behaviour, intimidation, under 18s using dating apps and excessive screen time.
Culture secretary Jeremy Wright has responded publicly to concerns about the press freedom impacts of the white paper proposals, but many remain unconvinced that the press will be protected.
It is difficult to see how "harmful" news stories would escape being removed from online platforms, especially as the white paper includes substantial fines and possibly even personal criminal liability for senior managers, all strong incentives to remove content.
Index on Censorship has filed notifications about these UK developments with the Council of Europe's platform to protect journalism, which tracks media freedom threats and violations.
Several international experts have raised concerns about the media freedom impacts of the UK's new counter-terror legislation. Similar reactions can be expected in response to the proposals in the online harms white paper.
While the aforementioned efforts are commendable on the surface of things, international attention to media freedom may turn out not be an entirely comfortable experience for the UK.
Join our commenting forum
Join thought-provoking conversations, follow other Independent readers and see their replies