Theresa May's ultimate U-turn in calling a snap election paved the way for a turbulent year of political surprises
The Tories' election win felt more like a defeat – and the losses only continued to pile up from there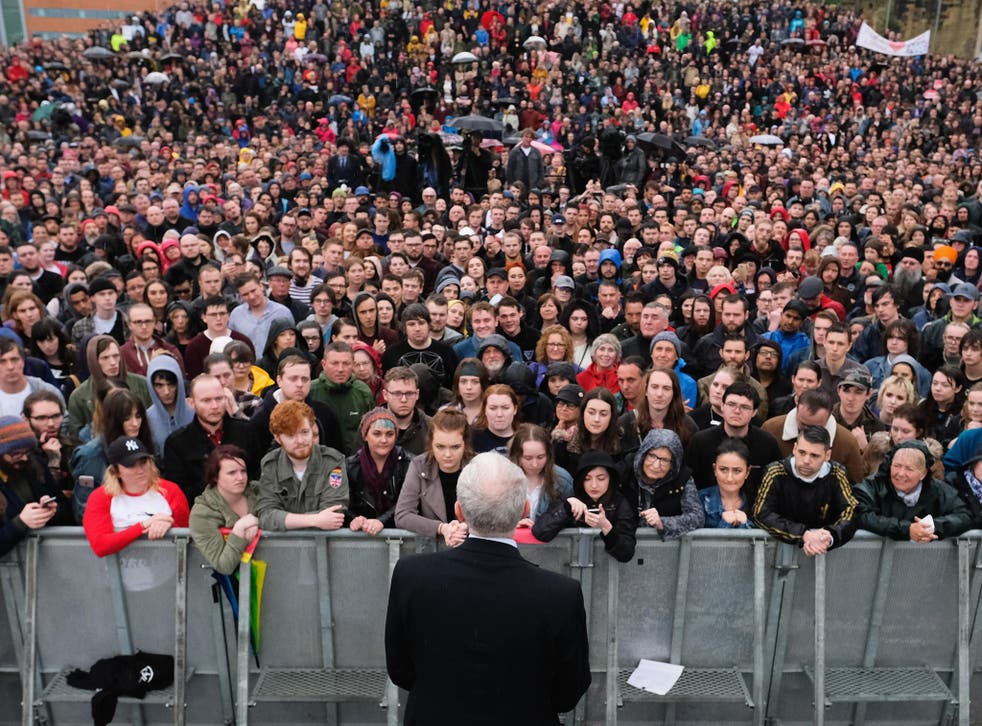 "Nothing has changed, nothing has changed," Theresa May declared, even though she had just executed a spectacular U-turn on her flagship policy for the better off to pay more towards their social care. The "dementia tax" was dumped just four days after it was launched in the Conservative Party manifesto.
The May brand was tarnished and did not recover. The policy alienated natural Tory supporters, while her volte face destroyed the "strong and stable" platform on which her snap election was built. Her refusal to admit it revealed an unattractive, stubborn streak.
The climbdown was probably May's nadir in 2017, but she had such an annus horribilis that there were other contenders. With the benefit of hindsight, her decision to call an election on 8 June was the biggest of her several mistakes. But a 20-point lead in the opinion polls, and a chance to crush Labour, win a personal mandate and strengthen her hand in difficult Brexit negotiations, left even the straight-dealing vicar's daughter unable to resist temptation.
Election
The Tory campaign was dysfunctional; there was no one in charge. The Prime Minister, untested in the pressure of an election, was uncomfortable in the spotlight. Unusually, her party did not campaign on the economy – in keeping with her foolish mantra of ignoring the Cameron-Osborne playbook. She wanted a "Brexit election", but without saying much about Brexit, so other issues such as austerity were bound to come to the fore.
There were two Tory campaigns – a "strong and stable" one devised by Lynton Crosby, the Australian strategist, and another built on the manifesto written by Nick Timothy, one of May's two joint chiefs of staff, which distanced the party from Thatcherism and attacked the unacceptable face of business. Crosby's version won out. But it emphasised continuity rather than the change offered by Timothy's. May had unlearnt the lesson of the EU referendum a year earlier: many voters were hungry for change.
That opened the door to Jeremy Corbyn, whose hastily drafted left-wing manifesto offered real change, notably an end to austerity. The Labour leader had a brilliant campaign. Although the British Election Study found that people viewed Brexit as the most important issue, the unspun Corbyn's personal appeal won over many undecided voters. So did Labour's values, epitomised by its slogan "for the many, not the few."
The single most dramatic moment of the political year was the exit poll broadcast at 10pm on election night. Against all the odds, it predicted that the Tories would lose their overall majority. It was right. The Tories won 42 per cent of the vote but lost 13 seats, while Labour won 40 per cent and gained 30 seats. The two parties' combined share of the vote was the highest since 1970. Labour, rather than the anti-Brexit Liberal Democrats, hoovered up the Remain vote. May was saved from the humiliation of a Corbyn-led minority government, by Scottish Tories' revival under Ruth Davidson; they gained 12 seats while the Scottish National Party lost 21.
May, who had hoped for a majority of 60, considered resigning but decided to carry on, probably out of what she saw as her duty – to steady the ship and keep Corbyn out-- rather than to cling on to power.
DUP deal
May's weakened position forced her to cobble together a "confidence and supply" agreement with the 10 Democratic Unionist Party (DUP) MPs from Northern Ireland, giving her a working majority of 13. The "magic money tree" so derided by the Tories bore fruit -- and £1bn for Northern Ireland. May's dependence on the DUP would later return to haunt her during the Brexit negotiations.
The Prime Minister was forced to scrap a wide-ranging Cabinet reshuffle. Her ministers demanded the sacking of Timothy and Fiona Hill, the other "chief". Their abrasive approach had made too many enemies. May looked lost without her two long-standing advisers. She plumbed new depths when she declined to meet local residents at the scene of the horrific Grenfell Tower fire. It underlined May's lack of emotional intelligence.
Tory manifesto proposals were dropped – more grammar schools, social care reform, means-testing pensioners' winter fuel allowances and ending the "triple lock" under which the state pension rises by at least 2.5 per cent a year. As one minister put it: "We've got no money, no majority and no alternative leader."
May renewed her pledges to tackle "burning injustices" and help those "just about managing." But she was slow to turn her rhetoric into action. Plans to reform executive pay and put workers on boards were diluted; she blew hot and cold about a cap on energy prices. When Alan Milburn and his fellow members of the Social Mobility Commission resigned in protest at the lack of focus on the issue, he rightly said that the all-consuming Brexit process left the Government with no capacity for much else.
Brexit
Timothy's influence lived on after his departure. Crucially, he had persuaded May to implement the 2016 referendum with a hard Brexit outside the single currency and customs union and the remit of the European Court of Justice. Ministers admit the implications were not thought through – and became apparent only once the talks were underway. May, a Remainer anxious to reassure Tory Leavers, triggered Article 50 of the Treaty of Lisbon in March to kickstart exit talks. This was another mistake, coming before a Cabinet divided over Brexit had discussed what the UK's long-term relationship with the EU should be. May also handed the EU a precious advantage – the two-year time limit for a withdrawal agreement under Article 50. Her trump card was the UK's divorce payment, but she conceded on that in an attempt to move the negotiations on to a trade deal.
Incredibly, the Cabinet did not start to debate its long-term Brexit goals until December, 18 months after the referendum. May had repeatedly put off any attempt to bridge the gulf between the Chancellor Philip Hammond, who wanted to stick close to the EU economy, and Boris Johnson, who argued for a clean break. When Hammond won a two-year transitional deal and the tide appeared to shift his way, Johnson erupted and issued a series of counter-demands. His public opposition undermined May, and her decision to make him Foreign Secretary came back to bite her.
In December, after a false start in which the Democratic Unionist Party scuppered a deal, May again defied predictions she would be forced out by clinching a phase one Brexit agreement four days later. It was a remarkable bounce back. But just when it seemed she could end the year on a high, reality returned. She suffered her first Commons defeat as Prime Minister, when 11 pro-European Tories joined opposition parties to demand a meaningful vote for MPs on her Brexit deal next autumn.
Tory conference
Plans to move Johnson in a reshuffle were shelved after yet another contender for May's worst moment of the year. Her closing speech to the Tory conference in Manchester in October was ringed in the Downing Street diary as an important fightback moment. It was a disaster, and a metaphor for a year of "Mayhem": she was knocked off her stride by a prankster who handed her a mock P45 and suffered a prolonged coughing fit.
Then some letters making up the slogan on the set behind her fell off. The nightmare was enough to spark a short-lived coup by Tory MPs, but they failed to muster the 48 names needed to force a vote of confidence in May as party leader. There was still no alternative in the eyes of her MPs.
Sexminster
When May might have thought things could only get better, they got even worse. For once, the crisis was not of her own making as the sexual harassment allegations engulfing the Hollywood producer Harvey Weinstein spread to Westminster. She insisted on the resignation of Michael Fallon, her loyalist Defence Secretary, and a cloud hung over her as the Cabinet Office investigated into Damian Green, her closest political ally and de facto Deputy Prime Minister. A week after Fallon's departure, Priti Patel, the International Development Secretary, quit after she pursued a freelance policy on Israel. Two Black Wednesdays in a row led to renewed speculation that May was running out of road.
Just when it appeared May's rollercoaster year would end on a high, there was yet another big dip. On her third Black Wednesday, the inquiry into Green found that he made misleading statements last month about the police's discovery of pornography on his office computers in 2008. May had no option but to sack her friend since their days at Oxford University. It meant the political year ended on a sad rather than happy note for May, now a more isolated figure even in her own Government.
Labour
Although the Tories won the 2017 election, to them it felt like defeat. Conversely, Labour's third successive defeat tasted like victory. Labour was outspent by the Tories, but outgunned them by building a movement of 570,000 members and a huge presence on social media which helped persuade many young adults to register and to vote. Under-47s were more likely to vote Labour than Tory.
Corbyn's close allies were surprised, and his internal critics even more so. They scrapped plans for another leadership challenged and, if that failed, to launch a new centre party. A few critics argued that Labour had missed a unique opportunity to win against such a feeble Tory leader. But most acknowledged that Corbyn's personal triumph gave him the right to lead the party into another election.
Labour hopes that will come soon but will be disappointed: if there is one thing that unites the Tories, it is a desire to delay an election until 2022.
By then May will be gone from Number 10, as her party will not allow her to lead it into another election. Yet she is still in office, if not power, after a year in which repeated reports of her political death proved exaggerated. It was such a difficult year that having a Budget which did not backfire and merely surviving until Parliament's Christmas recess seemed like quite an achievement. Indeed, she taunted Corbyn that she was still standing at the year's final session of Prime Minister's Questions, while he had failed to make good his own prediction of being PM "by Christmas".
May knows that many battles lie ahead; on the fraught EU negotiations, they have only just begun. Indeed, the final verdict on 2017 will be delivered only when the Brexit saga finally draws to a close.
Register for free to continue reading
Registration is a free and easy way to support our truly independent journalism
By registering, you will also enjoy limited access to Premium articles, exclusive newsletters, commenting, and virtual events with our leading journalists
Already have an account? sign in
Register for free to continue reading
Registration is a free and easy way to support our truly independent journalism
By registering, you will also enjoy limited access to Premium articles, exclusive newsletters, commenting, and virtual events with our leading journalists
Already have an account? sign in
Join our new commenting forum
Join thought-provoking conversations, follow other Independent readers and see their replies