Blaming Saudi Arabia for the war in Yemen is doing nothing to achieve peace – we need to understand Iran's key role in the conflict
Any plan to end the conflict without putting more pressure on Iran to dismantle its Quds forces is highly likely to fail, as we've seen since the beginning of this conflict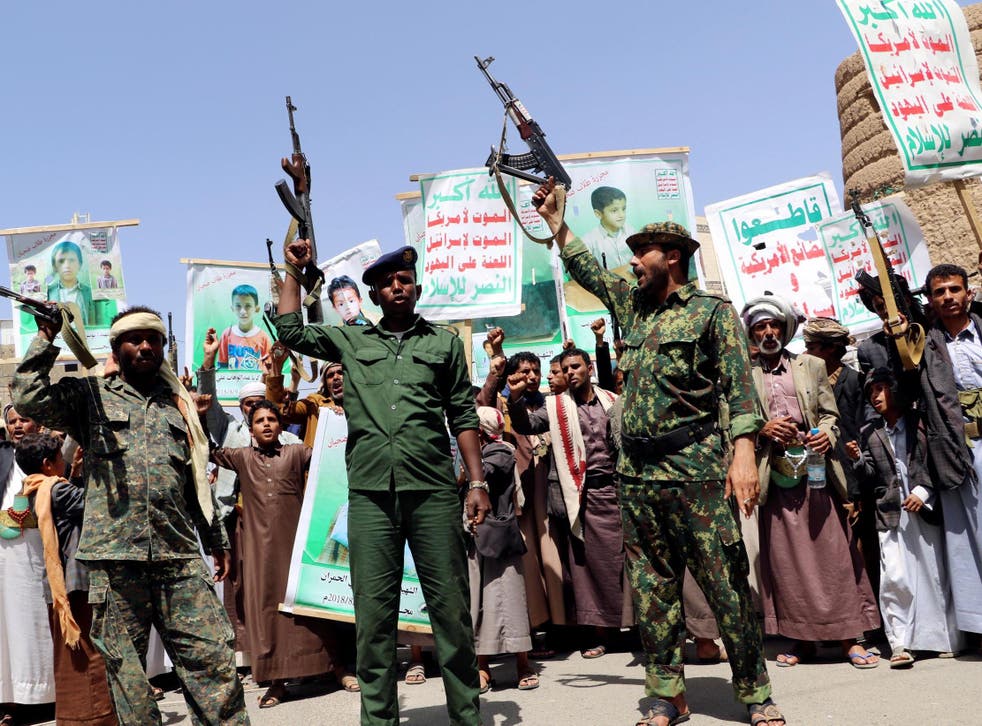 This week, Yemen's internationally recognised government agreed to take part in peace talks in Sweden after a leader in the Houthi rebel group called for a halt to military operations.
Since the Houthi uprising in 2015, the war has turned Yemen into one of the world's worst humanitarian disasters. The bulk of the criticism has been placed on the Saudi-led coalition as well as the western countries which arm it. But if we want to achieve peace in the region we need to start to take into consideration the atrocities the Houthi rebels have also committed.
In September 2014, Houthi rebels, who only represent a small minority of the population in Yemen, attacked the capital city of Sanaa and seized it. Many Yemenis called this a coup against the elected and internationally recognised Yemeni government.
The Houthis were able to take the capital in just a few days thanks to the backing they received from Iran, which has been providing Houthi rebels with missiles which have targeted Saudi Arabia, and seems likely to continue to do so regardless of UN sanctions.
The war in Yemen is a proxy for Iran's war against Saudi Arabia, as part of its wider Shia Crescent strategy, which aims to link a network of allies spanning from the border with Iraq to Lebanon in a crescent shape.
Malnutrition centre in Mukalla, Yemen provides care for children suffering hunger and famine
In February 2014, the head of the Islamic Revolutionary Guards Corps (IRGC) Quds forces, Qasem Soleimani, in a meeting with Iranian armed forces, explained the motivation behind Iran's strategy in the region, dubbed the Shia Crescent. He said: "The Shia Crescent is not political but it is actually an economic crescent, as Shias hold 80 per cent of the world's oil in Bahrain, Saudi Arabia, Yemen, Iraq, Syria and Iran."
Without understanding this core reason behind the Houthi offensive, achieving peace in Yemen is nigh on impossible – any plan to end the war without putting more pressure on Iran to dismantle its Quds forces is highly likely to fail, as we've seen since the beginning of this conflict.
Houthis are merely a proxy of the IRGC's Quds forces. However, now that Iran is under intense pressure by the current US administration and its own people, it can no longer continue to arm and sponsor the Houthis like before. Consequently, Houthi rebels have been pushed to show willingness in negotiations for the time being.
Nevertheless, it is important to remember that Houthi rebels have refused to join any peace talks to end the war in Yemen in the past.
According to Kamal Kharrazi, the head of Iran's Strategic Council on Foreign Relations, Tehran is negotiating with European countries about the Yemen crisis and, according to Iranian media, the war was the top priority of the discussion between British foreign secretary Jeremy Hunt and Iranian officials on Monday.
Children suffering from acute malnutrition in Yemen

Show all 17
But from the Iranian perspective, a ceasefire in Yemen is only crucial for the time being because it needs to focus on domestic economic challenges as the country hopes to ease US sanctions. It is hard to imagine they are truly seeking a peaceful resolution to the conflict, as it remains a key part of their wider regional strategy of expanding their influence. Indeed, look at other countries where Iran has sought to impose its influence – namely Iraq, Syria, Lebanon and Palestine, which are extremely divided and unstable. There is little reason to assume Iran's intentions are different in Yemen. This suggests the main reason behind Houthi rebels announcing halting attacks on the Saudi-led coalition is linked to Iran's current domestic problems, as opposed to a genuine willingness to find peace in the region.
Yemen is not an isolated war but intrinsically linked to Iran's wider regional strategy. Unless this aspect begins to be highlighted more insistently, it is difficult to see any lasting peace in Yemen – a treaty could be signed, but as Iran faces other problems it could return to destabilising Yemen because it is a crucial part of Iran's Shia Crescent into Saudi Arabia.
It is highly unlikely Iran will stop pursuing its belligerent efforts to establish its Shia Crescent in the long run because that is the very essence and purpose of the Islamic regime of Iran. This poses a great threat to the stability in the region, and threatens Saudi Arabia and Bahrain which have significant Shia population in their countries.
In relation to this, James Mattis, US defence secretary, recently stated that the US has significant evidence which indicates Iran has been transferring a significant amount of weapons into Bahrain. Such evidence is an indication of how serious Iran's destabilising role in the region is, and how determined it is to establish a Shia Crescent, which must be taken into consideration by the international community.
It is crucial to put pressure on Iran to dismantle its Quds forces because herein lies the key to peace in the region and in Yemen. The wars in the Middle East are part of wider geopolitical tensions, and Yemen cannot be dealt with in isolation of the rest of the region's instability, which the Quds forces have a lot to answer for.
Raman Ghavami is a Middle East commentator and campaigner for Kurdish rights
Register for free to continue reading
Registration is a free and easy way to support our truly independent journalism
By registering, you will also enjoy limited access to Premium articles, exclusive newsletters, commenting, and virtual events with our leading journalists
Already have an account? sign in
Register for free to continue reading
Registration is a free and easy way to support our truly independent journalism
By registering, you will also enjoy limited access to Premium articles, exclusive newsletters, commenting, and virtual events with our leading journalists
Already have an account? sign in
Join our new commenting forum
Join thought-provoking conversations, follow other Independent readers and see their replies