Young people, here's what no one is telling you about the general election: you could swing it
The Tories have tried to strip you of your benefits while enriching an ageing population that one day you will be responsible for caring and paying for, and sections of the media have tried to make you feel embarrassed or naive for backing Corbyn's ideals. But you have nothing to be embarrassed about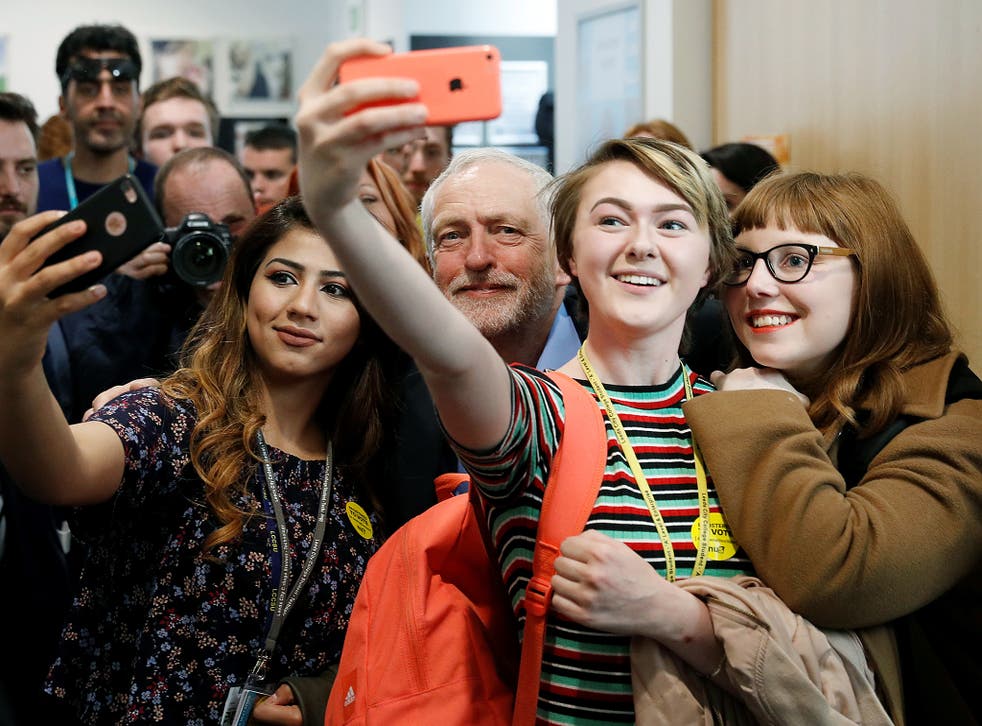 This is a letter to the young adults of Britain.
I know in the months since the decision was made to leave the EU, the direction of politics has solidified into a depressing festival of right-wing bulls**t, and that now a snap election has been called our course towards a hardline Tory government is seemingly inevitable. That is how they want you to feel. Because if a certain course feels inevitable, then why bother trying to fight it?
But I want you to try something for a moment. I want you to remember how you felt on the morning of the EU referendum and reconnect with that anger. All those opportunities stripped away by a generation who largely don't give a toss about your right to live, work and travel to other countries; about the jobs, friends and relationships you might miss out on because of their desire to return Britain to some pre-1950s version of itself rather than the global, thriving dynamic country we would like to be a part of.
We have grown up lucky enough to be in possession of European citizenship. It is all we have ever known. Now that element of our identities is being taken away by a Tory government intent on a hard Brexit. It will be a disaster.
You might feel like a spectator to the game of politics, but you're not. You have a part to play. Sections of the media may be acting as though this election is a foregone conclusion, but it doesn't have to be. There is power in numbers, and there are millions of you. As a young person, you have been ignored for a very long time. You have been let down by those in power again and again.
Jeremy Corbyn and Labour: All you need to know
The Tories have proven themselves unable to provide you with affordable housing, debt-free higher education, secure employment, living wages, tenant rights, and paid internships. You've spent years being pushed through the exam sausage factory only to leave school with much less opportunity than you were promised. They have tried to strip you of your benefits while enriching an ageing population that one day you will be responsible for caring and paying for.
The Conservatives don't give a flying f**k what you think.
But you have the chance to force politicians to listen.
I'm asking – no, begging – you to register to vote. It's ridiculously simple. It takes about as much time as a bowl of spinach and ricotta tortellini. You can do it here.
And then, on 8 June, I'm asking you to vote for the candidate in your constituency that is most likely to get the Tories out. You can find out who that is here.
If you are under 25 and you are reading this, will you share this plea, pass it on to all your friends? It relates to one of the most important decisions you might ever have to make. The country is at a crossroads and though you might not believe it, you actually do have the power to set it on the right path. You almost did it during the referendum. This is your chance to show you matter. Register to vote, and then vote the Tories out.
UK General Election 2017

Show all 47
I want you to believe that you can make a difference.
You may have reservations about Labour. That's fine: so do I. But anything, anything has to be better than this disastrous course the Tories are setting us on. The political establishment and the media have succeeded in making anyone who wants a fairer and more progressive future seem like a naive fool. They have made it embarrassing to admit that you find some of Corbyn's ideas appealing. But it isn't embarrassing. You should be proud that you still believe that there is a fairer and better way of building a society.
The Tories promise a country that is strong and stable. I want you to ask: strong and stable for who? For you? Do you think they can deliver that?
You only get one youth. I don't want yours to be overshadowed by a Tory government.
I didn't vote in 2010. Then I had to stand by and watch tuition fees rise to £9,000 a year. It felt gutting. My twenties and those of millions like me have been defined by high rents and precarious employment. I don't want this for you, or for your little brothers and sisters.
The outcome of this election will affect you for decades, perhaps your whole lives.
I want you to remember that you are one of millions. I want you to believe that your voice matters. You are not alone – adults all over the world in other countries think Britain has taken leave of its senses. You have backup.
This is your chance to prove you believe in a better future. The older generation are failing us. Show them you won't stand for it anymore.
Register for free to continue reading
Registration is a free and easy way to support our truly independent journalism
By registering, you will also enjoy limited access to Premium articles, exclusive newsletters, commenting, and virtual events with our leading journalists
Already have an account? sign in
Join our new commenting forum
Join thought-provoking conversations, follow other Independent readers and see their replies