Zsa Zsa Gabor, the first (and last) celebrity to live privately in public
Today, one can imagine Gabor being obliged to eat mealworms in 'I'm A Celebrity', publish a novel, weep on 'This Morning', promote Burberry and be an ambassador for the Brownies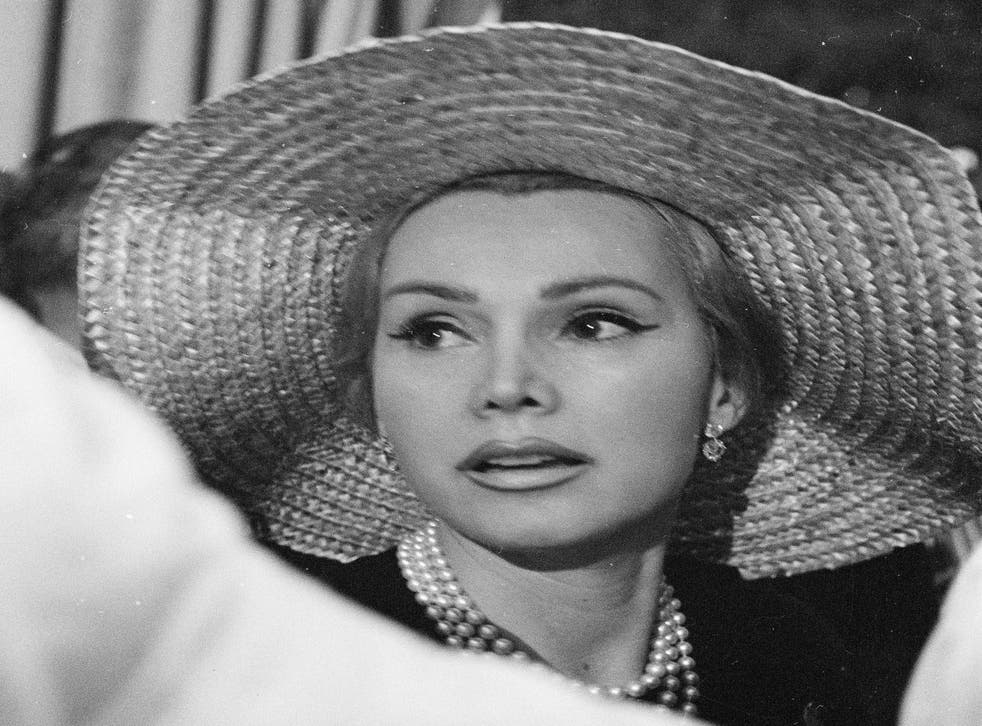 Farewell, Zsa Zsa Gabor, she of the tip-tilted eyes, the diamonds, the ridiculously oversexy demeanour and of course the husbands, all nine of them. Her place in the history of popular culture is assured, not because of all the above but because Gabor was the first person of whom one could say was 'famous for being famous', a hopelessly overworn title now; but back then, in the dying days of B-movies and the studio system, a unique and fascinating selling point, and one which the former Miss Hungary worked with gusto for the rest of her long life.
The Zsa Zsa format was straightforward. Beautiful with a cartoonishly sexy name, she turned up at film premieres covered in diamonds and kept a fabulous stash of sassy one-liners which reflected her brand. Sample Gabor: "I'm a marvellous housekeeper. Every time I leave a man I keep his house." That was it. For decades. Growing up in the 1970s it seemed to me that Zsa Zsa had an almost permanent slot on commercial radio, since she was always on air, promoting diamonds in an impossibly sexy whisper. For a long time I was unsure whether she was anything other than a De Beers invention.
Zsa Zsa Gabor dies aged 99
Was there a real person behind the eyelashes and the baguette-cut necklaces? Of course. Did anyone try to find it? Not really. The press was less intrusive and celebrities less minded to be seen from all angles. There was only one angle with Zsa Zsa, and that was in full make-up, with a bank of lights and an up-do. Today, one can imagine Gabor being obliged to eat mealworms in 'I'm A Celebrity', publish a novel, weep on 'This Morning', promote Burberry and be an ambassador for the Brownies. In the same week. Why not? Nowadays, there are Zsa Zsas doing just this everywhere you look, although her torch is most firmly gripped by the likes of Liz Hurley, Paris Hilton, most of the Gogglebox cast and the entire Kardashian clan.
Indeed, as the matriarch of the group, Zsa Zsa ought to be held responsible not only for creating people such as Kerry Katona but for the fact that many children now cite 'being famous' as a serviceable career option. Even though going through so many divorces may have been more painful than her public persona would allow. When asked, "How many husbands have you had, Miss Gabor," she would respond, "You mean other than my own?" Boom tish.
Perhaps the very fact that the paparazzi more or less forgot about her in her old age, during which she endured a car crash, several strokes and the amputation of half a leg means that it could actually be the resolutely B-list Gabor who eventually casts the longer cultural shadow rather than (say) her fellow diamond junkie and oft-married peer, Elizabeth Taylor. Taylor, a true movie superstar with far more talent and skill in her little finger than Zsa Zsa, had the misfortune to allow her public pain and descent into age to be gruesomely catalogued by the media and is now remembered as much for being a wheelchair-bound face of venom beneath a lurid turban as she is the violet-eyed siren of Hollywood.
Whereas Zsa Zsa will always be sexy and glittering, a blonde bombshell who just couldn't stop walking up the aisle.
Register for free to continue reading
Registration is a free and easy way to support our truly independent journalism
By registering, you will also enjoy limited access to Premium articles, exclusive newsletters, commenting, and virtual events with our leading journalists
Already have an account? sign in
Register for free to continue reading
Registration is a free and easy way to support our truly independent journalism
By registering, you will also enjoy limited access to Premium articles, exclusive newsletters, commenting, and virtual events with our leading journalists
Already have an account? sign in
Join our new commenting forum
Join thought-provoking conversations, follow other Independent readers and see their replies