Drops in the ocean: The Norwegian sparkling wine aged at the bottom of the sea
Kate Ng sails to the coast of Sandnessjøen for a sip of the world's first sea-sunken sparkling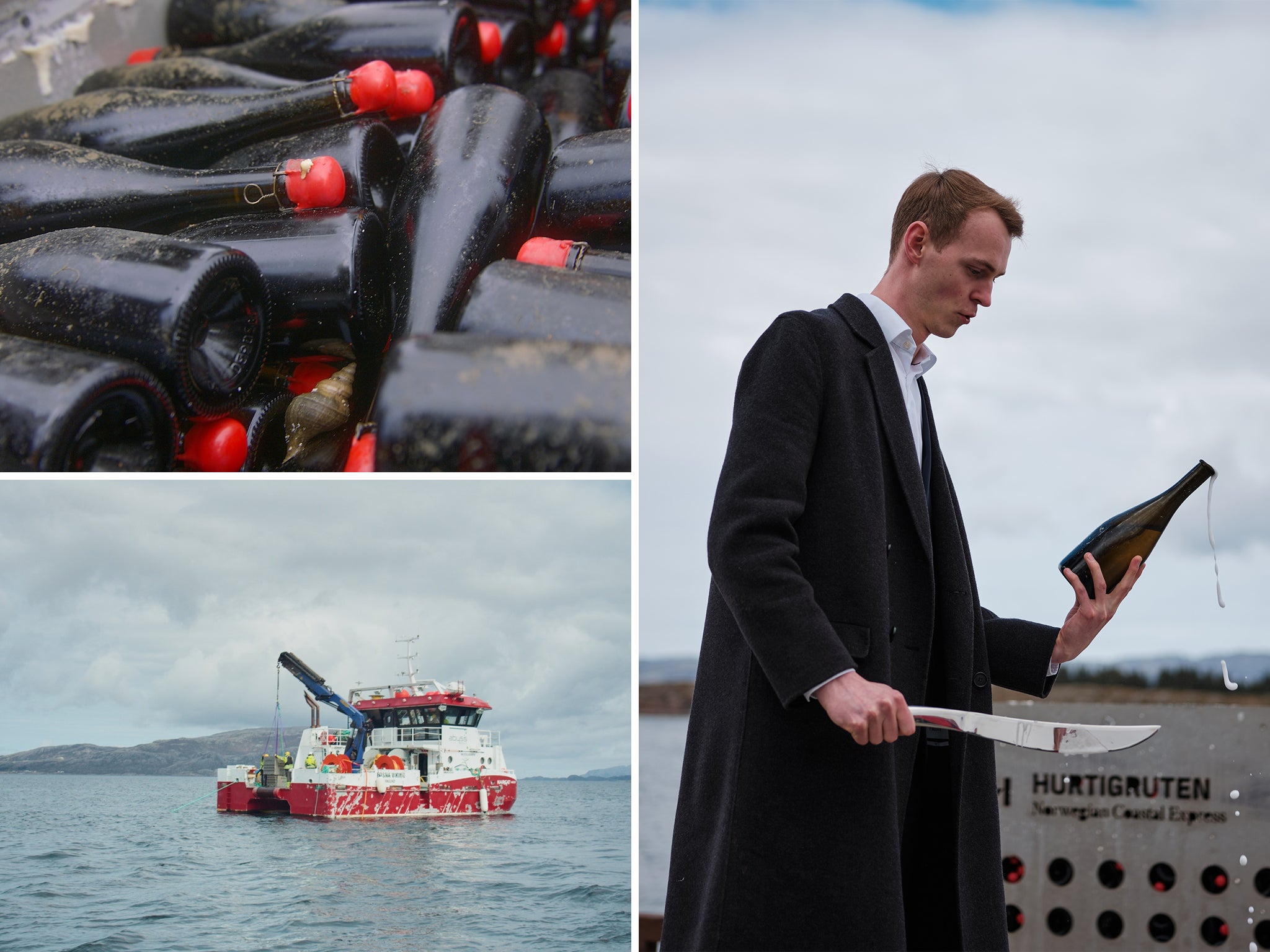 The moment the first crates of English sparkling wine were pulled up from the depths of the Arctic Ocean off the coast of Sandnessjøen, Tani Gurra, the director of beverages for Norway's Hurtigruten Coastal Express, shed a tear.
Or so I'm told – I'm currently watching the raising of the third crate of wine from a boat alongside other members of the press. Prior to this bright but teeth-chatteringly cold day, all 1,700 bottles had been sitting 30 metres below the surface of the Arctic Ocean for six months, the first time any wine has been aged in these waters.
It's an exciting day for the Hurtigruten team and Rathfinny Wine Estate, the Sussex winery where the bottles have been sourced. Husband and wife team Mark and Sarah Driver are here, watching the dark bottles of their 2018 classic cuvee emerge from black Nordic waters. Everyone is anxious to see if they have survived their time under immense (43.5psi) pressure. To our relief, every bottle and wax-sealed cork ascend intact.
Love wine but don't know where to start? The Independent Wine Club features curated cases from small growers and expert advice on how to enjoy wine. Sign up now for free.
Around 24 hours before this jubilant moment, I found myself on a Hurtigruten ship, sailing from the Lofoten archipelago to Tromsø. With it being late spring, we were quickly approaching midnight sun territory; at 12am, we were invited onto the deck to view the majestic Trollfjord. But instead of the pitch black of midnight, we were surrounded by the distinct blueness of twilight. The remaining snowcaps on the fjord almost glowed in the dark.
Even though it's been around for 130 years, Hurtigruten struggles to define itself – it's not a ferry, despite ferrying thousands of Norwegians from town to town along the coast, nor is it a cruise, despite giving tourists who spend days fjord-watching a rather luxurious experience. Several times throughout the trip, people would ask: "So is it a cruise or a ferry?" And each time, the answer was something along the lines of: "It's sort of both, and neither."
The ships have immense charm, despite their neither-here-nor-there status. The number of passengers each one can take varies, but the MS Nordkapp, on which I am sailing, boasts capacity for up to 590 passengers, around 480 of which can book cabins if they want to join 12-day voyages that will take them to numerous ports along the way. They are nowhere near as large as the behemoth cruiseliners that groan with the weight of on-board casinos, theme parks, ballrooms and spas, burping and farting tons of chemicals into the ocean. Hurtigruten's fleet is tiny in comparison and each vessel has a limited number of facilities: two small hot tubs in lieu of a spa, a gym, a cafe with a bakery and an ice cream bar, a fine dining restaurant, and a bar with panoramic views of the outside world.
From June, the ships will offer passengers hankering after a glass of bubbly a taste of their sea-sunken sparkling. The collaboration between Hurtigruten and Rathfinny is part of its 130th anniversary celebrations, but the goal is to make the wine their house sparkling. The classic cuvee is the estate's "house-style" Sussex sparkling and gained critical acclaim almost immediately after it hit the market. The Independent named it the best classic cuvee in 2022 and described it as "exemplary English winemaking", noting "precise flavours of citrus and apricots and hints of cream".
But sinking the bottles is something Rathfinny has never tried before, until now. It was Gurra's idea. He and Andre Petterson, vice president of hotel operations at Hurtigruten, decided to give the method a shot after seeing news that a group of divers found 168 bottles of French champagne on an underwater shipwreck in 2010. The bottles, discovered in the Baltic Sea, were 170 years old and had spent decades in what could have been a watery grave – but instead turned out to be the perfect temperature-controlled cellar for ageing wine.
"I started thinking and talking about it, and thought, 'Why not? Why can't we do something like this? The Arctic Sea is a part of us, and we already source food from all along the coast of Norway," Gurra tells me. "For us, the fjords are fish stocks, the mountains are our vegetable and herb gardens. Why not the sea for wine?" But Norway is better known for its spirits, not its wine. They cast their eyes towards England, from which a significant portion of their passengers hail, and landed on Rathfinny.
It is rather poetic that the Rathfinny Wine Estate has on its label the Seven Sisters – the iconic chalk sea cliffs that make the Sussex coastline so recognisable. The location where they've chosen to age their wines has its own Seven Sisters: a mountain range on the island of Alsten in Alstahaug Municipality. Mark and Sarah are buzzing to show off their label and the unexpected connection with Norway during the uncorking of their wines. Mark says: "We are really proud to showcase Sussex in Norway. English wines have been making a name for themselves and it really is something special for us to be on Hurtigruten ships, especially as they are really popular with English tourists."
I had the chance to taste the Rathfinny classic cuvee before and after the undersea ageing process. The before-wine was a lovely, dry sparkling; my notes read "sharp bubbles, fruity". It's easy to see why it's a firm favourite among wine-lovers, considering its versatility and ease of drinking. How could six months underwater possibly change it, I wondered?
During the uncorking, I am pleasantly surprised. The time the wine has spent in the sea has made it somehow rounder, gentler on the tongue. Gurra describes it as having a more "feminine touch" and being "softer, smoother" to drink. Nikolai Haram Svorte, who was crowned Norway's best sommelier this year, was invited to be the first to try the wine and give his verdict. Against a steely grey sky, he sabered the first bottle and tasted a glass, declaring it "the start of something truly exciting". He added: "The wine has retained more freshness than I anticipated. From the refreshing citrus tones to a mineral salty finish, like an oyster, it's clear to me that this hugely intriguing experiment has revealed a unique setting to store and age sparkling wine."
My own feeling is that the newly aged bubbles will be a big hit among passengers of Hurtigruten. The softer mouthfeel makes it even easier to drink, and I can envision clinking glasses while watching Norway's majestic landscape float past.
Join our commenting forum
Join thought-provoking conversations, follow other Independent readers and see their replies