Exclusive wildlife photographs for Independent readers to help stop illegal wildlife trade
World famous photographers David Yarrow and Adrian Steirn's images, which have never been seen before, are available to buy from now until 9 December, with all proceeds going to our conservation charity partner Space for Giants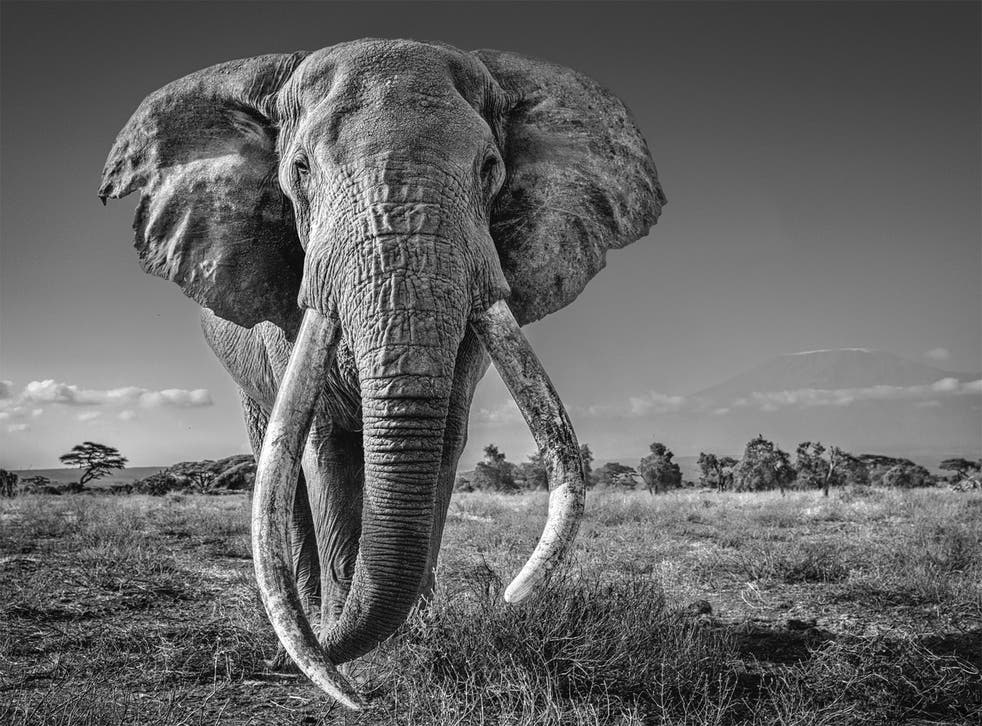 Internationally renowned photographers David Yarrow and Adrian Steirn have joined forces to support The Independent's Stop The Illegal Wildlife Trade campaign.
Today, the pair exclusively release two never seen before shots of endangered animals, which are on sale here until 9 December to raise urgently needed funds for Space for Giants, our campaign's charity partner.
This is the first time the world-leading photographers have teamed up to shine a light on a conservation campaign together, which they hope will raise £1 million to further Space for Giants' work protecting nature.
Yarrow's arresting image features Craig the elephant, one of the world's few remaining 'big tuskers', taken in Kenya's Amboseli National Park during lockdown.
One in four elephants that were alive in 2007 have since been killed, most slaughtered for their ivory by criminals involved in the global trade of wildlife.
In Steirn's shot, an adult male leopard approaches the waters edge as night falls in South Africa's Singita game reserve.
Prints of the two images, which are signed and numbered on the reverse, have been released on a never-to-be-repeated limited run, lasting from today until 9 December. They are available to buy now at Heni Editions, priced at £495/$650 each or £912/$1,200 for the pair, with all proceeds going to Space for Giants.
Fine art photographer Yarrow's images have appeared in every notable magazine worldwide, and he has exhibited internationally. He tells The Independent "there has never been a more critical time to protect wildlife, but the truth is there is never an uncritical time.
"Humankind's legacy is that we have presided over the most unprecedented diminishment of our planet's wildlife. That legacy has got to change.
"The only way to do that is by involving governments and working on the ground to protect endangered animals, both of which Space for Giants does."
The Independent's Stop The Illegal Wildlife Trade campaign was launched in early 2020 to help prevent future pandemics by protecting wildlife and stopping the illegal wildlife trade.
Our conservation charity partner Space for Giants works to protect wildlife at risk from poachers due to the conservation funding crisis caused by the pandemic, helping to support wildlife rangers, local communities and law enforcement personnel to prevent wildlife crime.
Scientific consensus is that an illegally trafficked pangolin in a wildlife market was the source of the deadly virus which has killed more than a million people around the world.
Steirn's work as a conservationist, photographer and filmmaker has seen him drive a successful campaign to raise awareness of pangolin trafficking.
His series The Pangolin Men, which documented a conservation project in Zimbabwe, reached more then 240 million people and Steirn is highly involved with anti-poaching units across his homeland South Africa.
"We are capable of terrible cruelty and indulgence, as well as great kindness and beauty," Steirn tells The Independent. "I have seen the enormous impact of poaching up close, and it's horrific.
"But no one chooses to be a poacher, it's a socio economic symptom. We need to recognise that our systems need to shift, and we must be brave enough to take action to protect wildlife now."
The prints of the elephant and leopard, two of the planet's most endangered species, are beautiful reminders of the truth that the wellbeing of humanity is inextricably tied to the wellbeing of the planet.
During this era of plague and division, both Yarrow and Steirn remain hopeful for the future.
"We get to choose how we write the next chapter," says Steirn. "Life after the pandemic is our story to tell and our adventure to live."
Yarrow adds "amid all the news about Covid, civil unrest, and the American election, there are actually good things happening to protect wildlife. But charities like Space for Giants need support to continue. Every penny counts, and we really can make a difference."
To buy the photographs visit Heni Editions.
Join our new commenting forum
Join thought-provoking conversations, follow other Independent readers and see their replies