How cities around the world saw in 2021
In this unprecedented year, we take a look at what cities worldwide look like as clock strikes midnight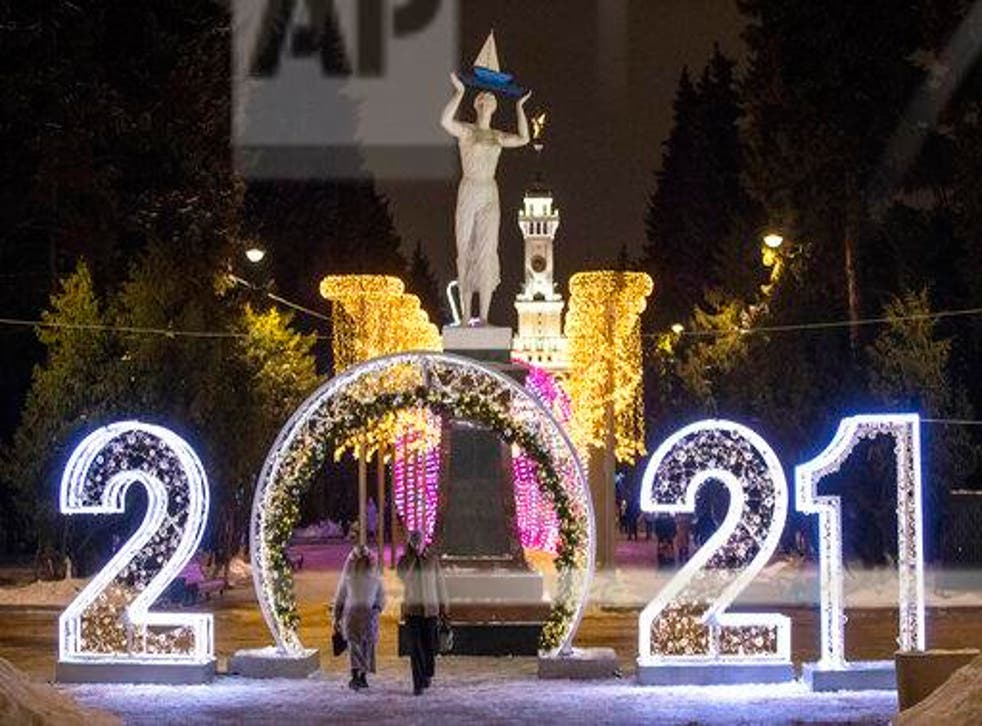 Leer en Español
Like everything in 2020, this New Year's Eve will be like no other. The majority of people will be staying at home to see in 2021, with few of the usual celebrations happening. 
In this unprecedented year, we take a look at what cities around the world look like as the clock strikes midnight. 
Auckland, New Zealand
New Zealand is considered to have had one of the best government responses to Covid-19, and the country currently has no community cases of the virus. 
As a result of its low death and case rate, the country has been able to return to relative normality.
In Auckland, New Zealand's biggest city, crowds were able to watch as midnight fireworks were launched to wave goodbye to 2020.
Sydney, Australia
The traditional fireworks display in Sydney brightened up the sky to bring in 2021, but the event went crowd-free as authorities battle a new spike in Covid infections.
One million people would usually crowd the Sydney Harbor to watch the annual fireworks that centre on the Sydney Harbour Bridge.
But this year authorities advised revellers to watch the fireworks on television as the two most populous states, New South Wales and Victoria battle to curb new Covid outbreaks.
Seoul, South Korea
A quiet picture is painted of the South Korean capital, where the annual New Year's Eve bell-ringing ceremony was cancelled for the first time since its inception in 1953. Usually, 100,000 come to celebrate.
Bangkok, Thailand
Fireworks were let off over the Chao Phraya river in central Bangkok.
In recent days, officials in the Thai capital announced new restrictions, including the closure of some entertainment facilities during the New Year's holiday, as infections continued to rise following a recent coronavirus outbreak.
After months of seeming to have the Covid-19 situation under control, Thailand has seen two major clusters developing since mid-December that threatened to undo its progress.
One has mainly infected hundreds of migrant workers from Myanmar at a seafood market near Bangkok, the capital, while in recent days a cluster has grown connected to a gambling den in an eastern province.
Hong Kong
Hong Kong scaled back celebrations this year. The harbour, pictured, would normally be very busy with light displays and fireworks to celebrate New Year.
Tokyo, Japan
Much of Japan welcomed 2021 quietly at home, alarmed after Tokyo reported a record daily number of confirmed coronavirus cases, topping 1,000 for the first time.
Many skipped a chance to return to ancestral homes for the holidays, hoping to lessen health risks for extended families.
Emperor Naruhito will deliver a video message for the new year, instead of waving to cheering crowds from a balcony outside the palace.
Jakarta, Indonesia
Police patrolled the deserted streets in Jakarta as some residents welcomed in the New Year.
Elsewhere, fireworks lit up the sky, although the government requested residents to stay home due to a rise in coronavirus infections.
Moscow, Russia
Moscow's mayor, Sergei Sobyanin, announced in November that New Year's Eve celebrations would be cancelled this year, but fireworks were still set off at midnight behind the Kremlin's Spasskaya Tower, near St Basil's Cathedral.
Residents were seen gathering behind barriers in Manezhnaya Square, but access to the Red Square was restricted from 6pm.
Dubai, United Arab Emirates
Dubai rang in the new year with its usual flair, holding one of its most expensive firework displays yet and allowing thousands of people to gather for the spectacle.
The crowds were under strict instructions to practice social distancing, stood at marked areas while wearing a face mask during the firework show, which saw the Burj Khalifa lit up for almost seven minutes.
Hanoi, Vietnam
Thousands of people crowded in Hanoi to enjoy outdoor concerts and high-altitude firework displays to ring in the New Year with gusto.
Beirut, Lebanon
People mostly stayed indoors to celebrate the arrival of 2021 in Beirut - but The Independent's Middle East correspondent Bel Trew shared a video on social media of gunfire being shot into the sky all over the city at midnight.
Some people visited pubs for quiet, muted celebrations and hotels in the city said bookings for parties had exceeded expectations, but many were unable to open due to damage from the port explosion in August.
Athens, Greece
More than 10,000 police patrolled the streets of Greece to ensure citizens complied with strict social distancing measures, which included a 10pm curfew on New Year's Eve that will last until 5am on New Year's Day.
No more than nine people from two households are allowed to gather in private homes, and anyone caught violating the curfew face fines - which meant Athens was largely empty at midnight.
Cairo, Egypt
Fireworks were set off over the Tahya Misr Bridge in Cairo, the widest cable-stayed bridge in the world.
However, no spectators were present to watch the display as Egypt cancelled New Year's Eve celebrations last week to avoid mass gatherings and curb the spread of coronavirus.
Paris, France
Police were seen patrolling the area in and around the Champs Elysees avenue and the Trocadero on New Year's Eve after celebrations and gatherings were banned in France. An 8pm to 6am curfew was imposed as France struggles to tamp down rising infection rates.
Berlin, Germany
The words "Welcome 2021" were projected on the iconic Brandenburg Gate in Berlin as the new year approached, and artists performed at a concert with no audience. The traditional fireworks were cancelled this year due to coronavirus restrictions.
Register for free to continue reading
Registration is a free and easy way to support our truly independent journalism
By registering, you will also enjoy limited access to Premium articles, exclusive newsletters, commenting, and virtual events with our leading journalists
Already have an account? sign in
Register for free to continue reading
Registration is a free and easy way to support our truly independent journalism
By registering, you will also enjoy limited access to Premium articles, exclusive newsletters, commenting, and virtual events with our leading journalists
Already have an account? sign in
Join our new commenting forum
Join thought-provoking conversations, follow other Independent readers and see their replies