Your baby's first means of transport will probably be a baby walker. Whether you want one with a buzzing play centre, or minimal stimulation and room for their own toys, we've got just the thing to get them from A to B while having a whole lot of fun along the way.
1. Chicco 1,2,3 Activity Station: £60, Amazon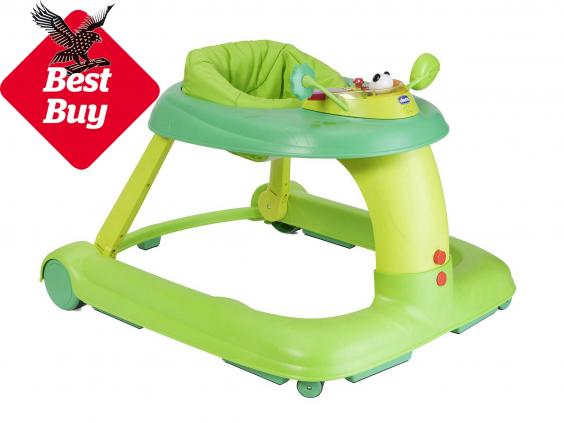 This versatile walker can be quickly adapted to grow with your baby. Use the multi-functional activity centre from six months as a baby walker, then at nine months take away some support so that it becomes a first-steps aid and then at 18 months, add the seat to use as a ride-on until they're three. 
2. My Child Walk-n-Rock: £47.49, Amazon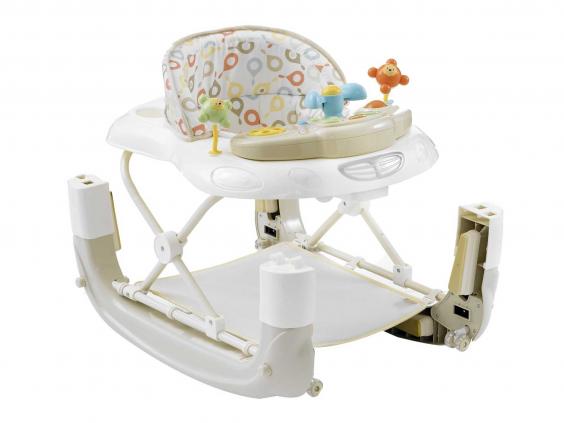 This converts from rocker, for when baby is smaller, to walker when they're getting steady on their feet. The play tray with buttons to press and toys to play with detaches so it can also be used as a feeding chair before baby is big enough for a high chair. Comes in three different colours. From six months.
3. Bebe Style Deluxe Teddy Baby Walker: £18.99, Amazon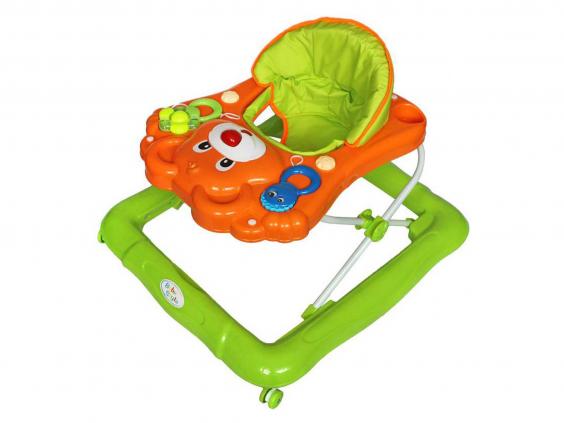 Scoot around with a helping hand from Teddy. The toys are held in place by cords meaning they aren't easily lost like other walker attachments. It has adjustable height settings and non-slip sections to keep baby safe. Great value and suitable from six months. 
4. Chicco Dance Babywalker: £44.95, Amazon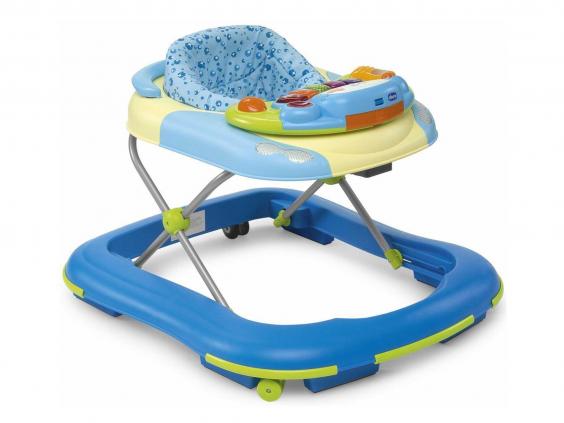 No risk of annoying music here, as this one features an MP3 hook-up, so you pick the tunes. It's very easy to assemble and collapses for transport and storage. It also has bumper guards to protect your walls from overenthusiastic drivers. From six months.
5. VTech Sit-to-Stand Learning Walker: £24.99, Amazon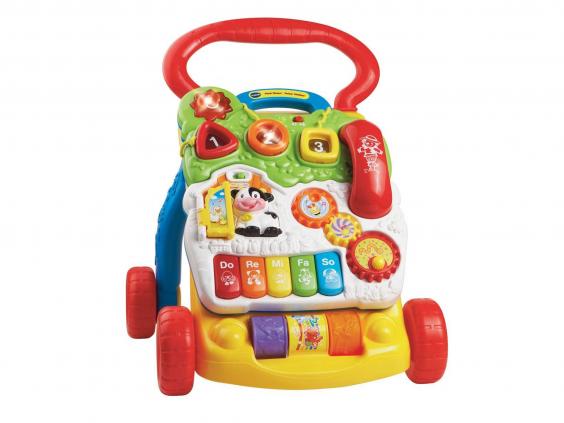 With a whole host of fun activities on offer, don't be surprised if your baby would rather spend time stationary at the activity centre. It features animal noises, a piano, a singing phone, a shape sorter and more. From six months.
6. Mattel Fisher-Price K9875 Activity Walker: £35.99, Amazon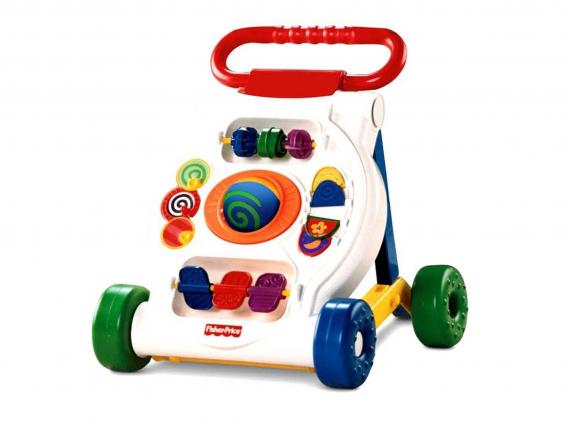 Inspire your baby's curiosity with this hands-on walker which easily folds into a fun learning centre featuring a spinning ball, flipping panels, sliding beads and plenty of bright colours. Comes pre-assembled and ready to go. From nine months.
7. Plan Toys Yellow Walker Van: £38.69, Amazon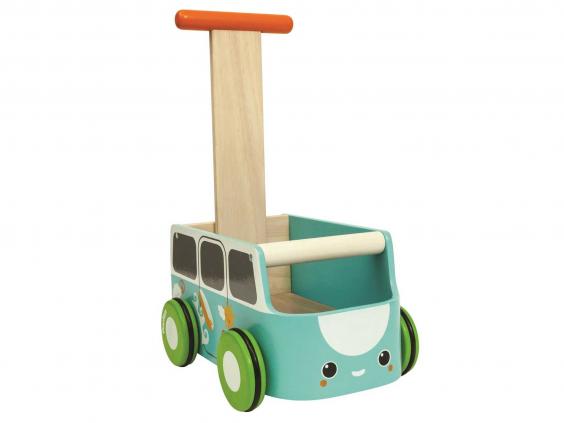 Reminiscent of a VW camper fan, this cute walker will bring out your baby's inner flower child. They'll love filling it up with their toys and then unpacking it again on their toddling adventures. Made from traditional wood, it's better looking than many plastic offerings. From 10 months.
8. Pintoy Walker With Bricks: £42.59, Amazon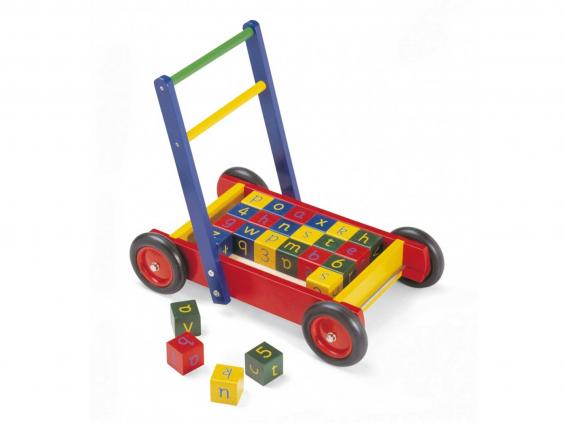 This is the most traditional baby walker on our list. It's sturdy, easy to assemble and won't run away with little feet. It's even stable enough on laminate flooring and can also be used outside. It's well built and hard wearing. From 12 months.
9. Wooden Activity Kitchen Walker: £36, ELC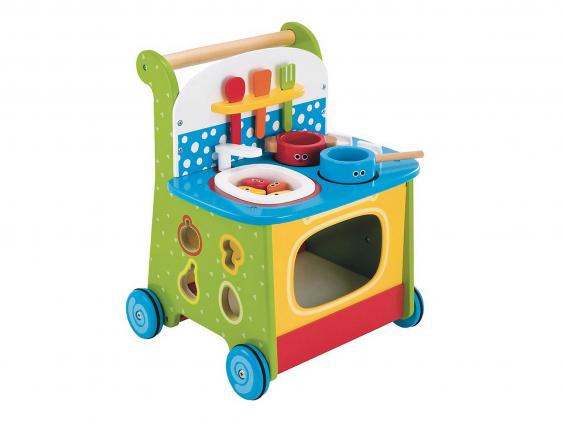 If you have a toddler you'll know that they are inexplicably obsessed with anything kitchen-related. So indulge your budding Jamie Oliver with this super cute, wooden kitchen walker. Complete with a mini stove and pots and pans, dinner is most definitely on them.  From 12 months.
10. Fisher-Price Musical Lion Walker: £36.43, Amazon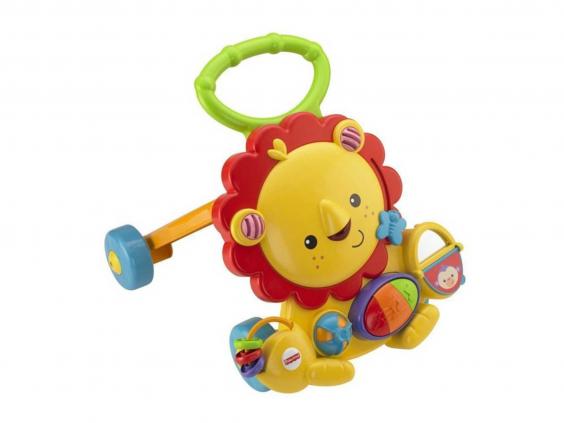 Younger babies can sit and play with the eight different hands on activities that Lion has to offer. Then, when they are feeling confident enough, they can lean on it virtually anywhere and it won't tip over like so many other walkers do. From six months.
Verdict
Our top pick is the Chicco 123. It's the most versatile on our list and will see your little one from multiple stages of development.
Reuse content